Divorce rate falls for heterosexual couples in England and Wales
The divorce rate for opposite-sex couples in England and Wales is at its lowest level in almost half a century, but marital bliss isn't entirely to blame for this decrease. Instead, problems processing applications for divorce are holding things up, leading to a fall in the overall number of finalised divorces.
In 2018, there were 90,871 divorces between heterosexual partners. This is a drop of 10.6% from the previous year and is the lowest number of annual divorces since 1971. This is according to information from the Office for National Statistics (ONS). 
In 2017, the divorce rate for married men and women was 8.4 per 1000. This fell to 7.5 per 1000 in 2018. In addition to a backlog of divorce applications, there is also evidence to suggest that fewer couples are making it down the aisle.
The combination of changing attitudes towards marriage and a backlog in the courts has led to the lowest divorce rates in almost half a century.
Fewer marriages lead to fewer divorces
Rather than going through the legal process of getting married, more couples are choosing to cohabit without legally confirming their relationship through marriage. In 2015, marriage rates dropped to an all-time low. There were just 239,020 marriages between mixed-sex couples in 2015. This marks a 3.4% decrease from the previous year.
Young people under the age of 20 seem to be driving this trend. The number of men getting married under the age of 20 has fallen by 56% and the number of women under the age of 20 getting married has fallen by 66%.
With relaxing societal expectations for couples to get married, it would appear that this is also translating into fewer divorces. The increasing cost of getting married could also be driving this trend, as young couples prioritise things like education and starting a business over tying the knot. 
The average cost of a wedding in 2018 was around £30,355. And it can be costly to get divorced, too. The average cost of a divorce in England and Wales is around £14,561 in terms and legal fees and lifestyle costs. And if there is property involved, this number can be much higher.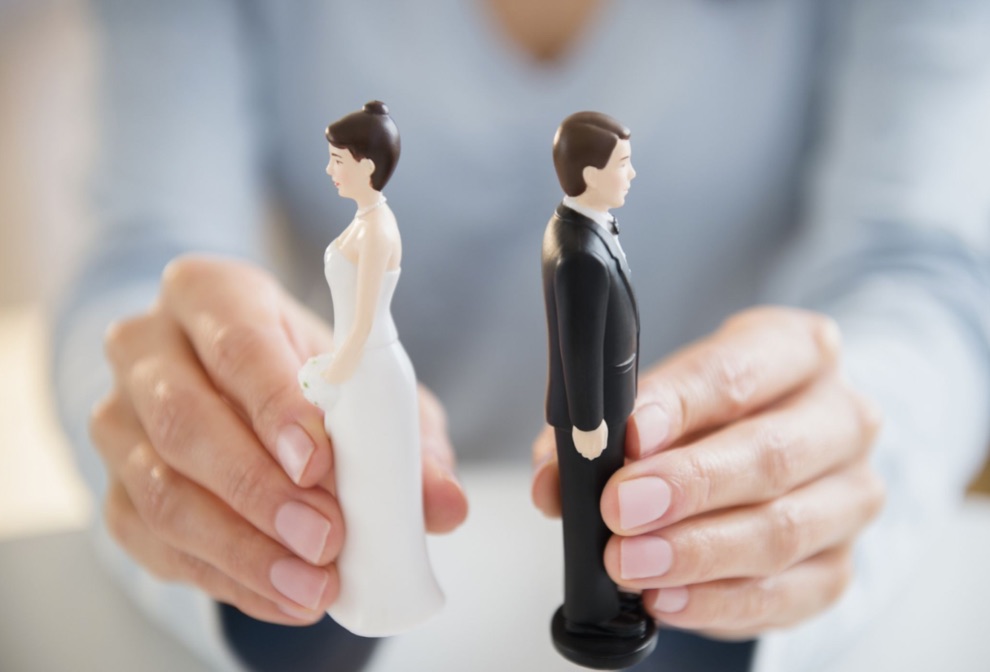 What is the most common reason for divorce?
There is only really one 'ground' for divorce, which is the irrevocable breakdown of a marriage. However, couples may cite several different reasons in their petition for divorce. These reasons are:
Unreasonable behaviour
Adultery
Desertion
Separation of 2 years (with consent)
Separation of 5 years (no consent required)
The process of getting divorced is a lot more complicated than many assume. It is a multi-step process which can be easily derailed by a disagreement. Under the Matrimonial Causes Act 1973 in England and Wales, anyone seeking a divorce has to prove that their partner is at fault, or that they are separated.
Couples can divorce after 2 years separation if both parties agree, and one party can petition for divorce after 5 years of separation without consent from their spouse.
The most popular reason for divorce is unreasonable behaviour, which can include infidelity. In 2018, 51.9% of women seeking a divorce did so on these grounds. In the same year, 36.8% of men cited unreasonable behaviour in their divorce petition.
What if neither party is at fault?
There are plans to introduce the "no-fault" divorce, but this has faced harsh criticism from religious groups. They believe this so-called "quickie" divorce would devalue marriage and lead to an increase in divorces and the breakdown of family life.
However, supporters of this bill cite the unfairness of the system which can put an unnecessary financial strain on couples. If no party is at fault, the only option is to get a divorce by first separating for two years.
A no-fault divorce would also remove the blame game and a lot of the animosity which can surround a divorce. Without needing to point fingers at who was to blame for the breakdown of the marriage, couples could then move forward with making arrangements for children and finances. 
A no-fault divorce could allow divorced couples to manage childcare arrangements without the resentment which can follow a bitter divorce.
Which day is most popular for divorce in England and Wales?
The first working Monday after the Christmas break is a popular time for couples to start the divorce process in England and Wales. It is thought that the pressures of the Christmas period coupled with the financial strain of January push some couples to the brink.
Divorce solicitors across the country often experience a spike in enquiries about their services during the first week back at work after Christmas. This could also be because some people want to delay the proceedings until after the festive period has passed.