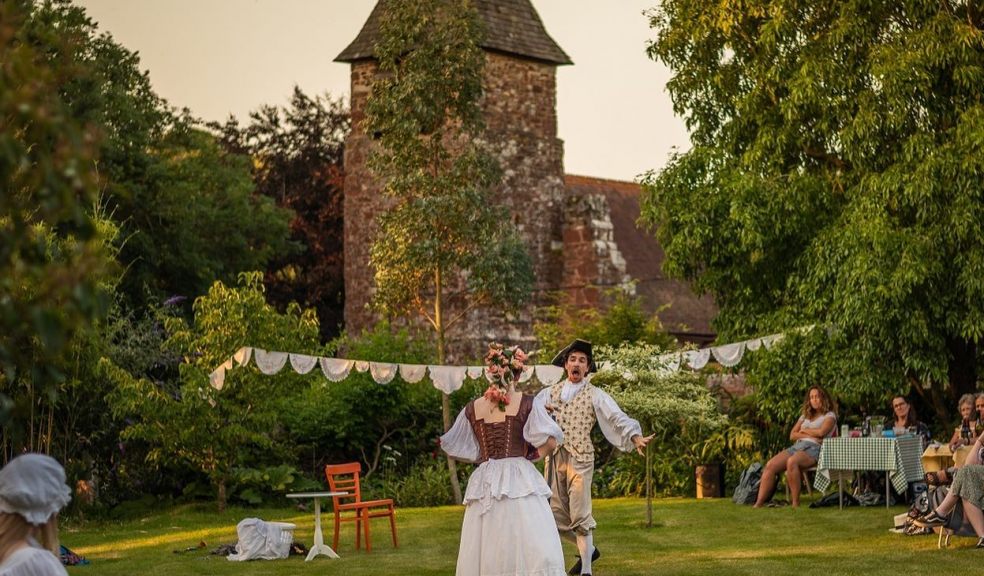 Cygnet Theatre Celebrates Forty Years with Open-Air Performance in Farringdon
Multi-award winning Cygnet Theatre is celebrating a phenomenal forty years of its acting training and drama school. To mark the occasion, they are staging the Cygnet Dream Festival, launched with the help of a celebratory cake baked in the shape of a swan.
Founder of the Farringdon Society of Arts and managing director of LittlePod vanilla, Janet Sawyer, is playing host to the Cygnet Theatre with an open-air performance of Twelfth Night in her garden at LittlePod HQ on July 20. 
"We are thankful and privileged to have such an outstanding theatre company in our midst, and invite everyone to LittlePod's lawn to raise a glass and celebrate Cygnet's milestone achievement of four decades," commented Janet. "The aim of the Cygnet Dream Festival is to bring art to unexpected places and help everyone find their creative spark. LittlePod is a proud supporter of the arts, especially at a local level," she added. "This theatre school has given countless young people so many wonderful opportunities - the least we could do was sponsor various activities as well as the wonderful celebratory cake which is being presented by our Real Vanilla Ambassador, chef Peter Gorton."
Peter Gorton, along with specialist cake-maker Dorota Wilska (technical manager at Tamar Fresh), will be presenting the special swan-shaped cake at Exeter's historic Guild Hall on the 2nd July with the Lord Mayor to celebrate the 40th anniversary of the Cygnet Theatre.
 Janet is also founder of LittlePod, a unique company of international renown which specialises in quality products made from ethically sourced vanilla.   
The drama school and working theatre was set up in 1982 by the late Monica Shallis, a playwright, artist and composer, along with support from local festival organiser Mary Evans.
A spokesman for the Cygnet Training Theatre explains: "When Monica began teaching after a successful stage career, she became aware of the lack of opportunity for young people interested in pursuing acting.  Boys were encouraged to be plumbers or electricians and acting was not an option if you came from a working class background.
"Two of her first students, Steve Bennett and Mark Currey, went on to train at RADA and Central respectively. John Gregor, an Exeter boy, decided to train at Cygnet before going on to have a successful 30 year acting career."
The spokesman continued: "In the 1970's, Monica was teaching students here in Devon, and they were going on to get big parts in London shows.  On one occasion she went up to London to see one of her former students, Chris May, in A Summer Night's Dream at the St Baron's Court training theatre in London.  What she learned was that 'his voice was the same as when he had left Exeter' and she realised she could do the training that was being offered in London back here."
It was during a meeting with Mary Evans at the 1975 Exeter Festival (organised by Mary and the then artistic director of the Northcott, Geoffrey Reeves) that a decision was made to develop a local theatre school.
"In 1982 Monica and Mary created Cygnet Theatre with a production of Hamlet, which went to Newton Abbot Community Centre, the Northcott Theatre and the Theatre Royal Plymouth. This summer's Dream Festival celebrates 40 years of Cygnet Training Theatre, bringing artists, communities and businesses together to create a festival for the people, by the people."
A wide range of events has been organised, including community workshops, children's shows, stand-up comedy at Topsham Brewery, folk music at the Corn Exchange, professional development workshops, storytelling at the Royal Albert Museum, music at St Nicholas Priory, youth shows, Shakespeare at Cygnet Theatre, and more.
To watch Cygnet Theatre perform Twelfth Night in LittlePod's garden on 20 July, tickets are on sale via WeGotTickets.