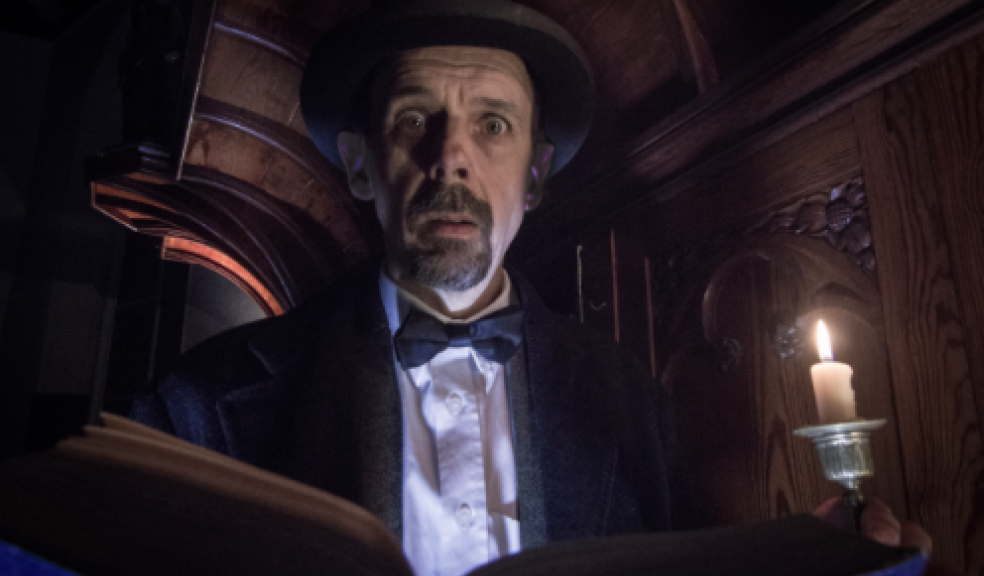 The Spirit Whistle - Christmas ghost show announced for Tiverton's Oak Room
Following last year's sell out production of 'Exceptional Mysteries', Iron Moon Arts return to the stage with 'The Spirit Whistle', a chilling ghost show for Christmas at Tiverton's Oak Room from Wednesday 7th to Saturday 17th December 2016 at 8pm.

Ghost puppetry, comedy, film and exceptional physical theatre skills will make The Spirit Whistle a thrilling experience for theatre-goers ages 10 and upwards. Full of surprise, fear and enchantment all played out in Tiverton's most exciting and haunted 17th century venue, The Oak Room.

Inspired by M. R. James' classic ghost story 'Oh, Whistle, and I'll Come to You, My Lad', his supernatural tales were intended to be read aloud, making them popular Christmas ghost stories.

Writer and director of The Spirit Whistle, Matthew Lawrenson said:
"We have sought to honour the much loved ghost story by M. R. James and combine it with myths and folklore of our Devon landscape. In our production, the growing tension of the tale, as told by a cast of five, is twinned with exploring how horror and humour can be used in relation to the element of surprise. This will makes it very rewarding for the audience.  

"It is physical comedy with a dark edge and uses multi-media and unique ecto-plasmic ghost puppets to create a high impact and entertaining re-enchantment of this classic Christmas ghost story."

M.R. James (1862-1936) has influenced countless writers and is arguably the finest ghost-story writer England has ever produced. Ruth Rendell once said of the author: 'There are some authors one wishes one had never read in order to have the joy of reading them for the first time. For me, M.R. James is one of these'.
The Spirit Whistle runs from Wednesday 7 December – Saturday 17 December 2016 8pm at The Oak Room, St Peter Street, Tiverton, EX16 6NU. Recommended for ages 10 upwards.

Ticket are £12 (£9 concessions), to book visit: www.oakroomtiverton.com/events or for more information about the company go to www.ironmoonarts.com or @ironmoonarts on Twitter.