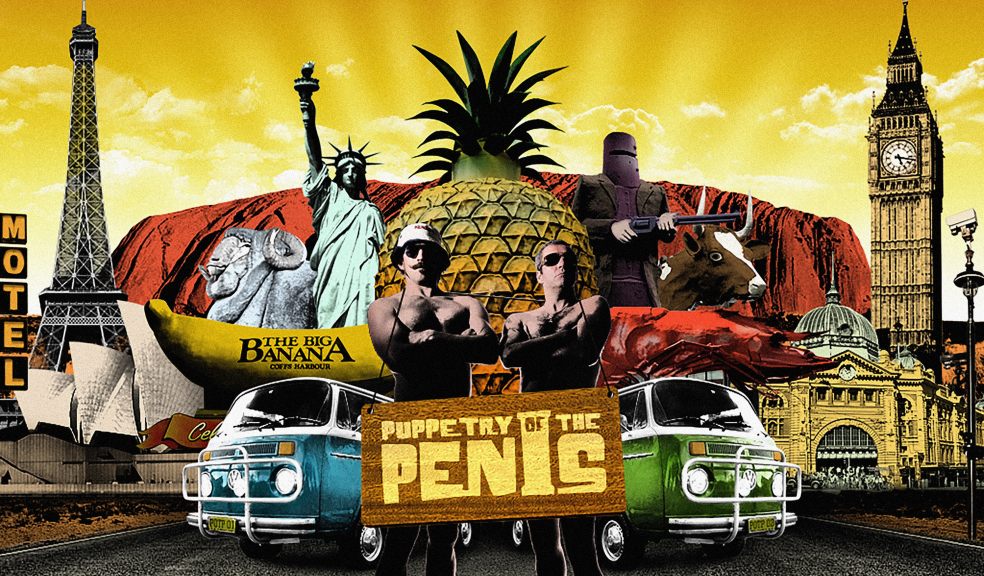 Puppetry of the Penis celebrate 20th anniversary with Greatest Bits UK Tour
In the past 20 years, vast swathes of the Western World has played host to Puppetry of the Penis; the show has played to literally millions of people in over 35 countries, and in five languages. Today Australia's greatest theatrical export, is celebrating their 20th Anniversary with the hilarious "Greatest Bits UK Tour" and are visiting Northcott Theatre, Exeter on October 26th.

For those of you unacquainted with the phenomenon that is Puppetry Of The Penis, who perhaps wonder how a show that started in 1998 featuring naked men manipulating their dangly bits, could possibly have gone on the conquer the world; creator Simon Morley will also be serving up some "Cocktale's" in what The Scotsman called "a gobsmackingly good story".

This brand new show brings you a collection of all of 'Puppetry Of The Penis' "Greatest Bits" designed and finessed with the intention of  making audiences roll in the aisles in uncontrollable fits of laughter.

A non-sexual show which certainly does contain full frontal male nudity. Audiences are invited to come celebrate the absurd, and laugh like no one's watching.

Puppetry of the Penis was born when Simon Morley teamed up with fellow puppeteer David Friend. Their first show at the 1998 Melbourne International Comedy Festival was named as the "Outright Best Show". When asked about how the show started, Simon Morley says, "To be honest, it was a party trick that has gone way too far...after a while, we found ourselves being invited to parties where we didn't know anyone. They would load us up with free beer and then "Go on! Give us a quick burger!" I just got sick of doing it for free so I put a cape on and started selling tickets."

After an eight-month tour of Australia, with sell-out runs in Sydney and Melbourne, and a sell out Edinburgh Fringe Festival in 2000, the show made it's way to London's West End where it ran for 6 months delighting Londoners and A-list celebrities alike, including Hugh Grant, Naomi Campbell, Elton John, Bono and The Beckhams. This was followed up by a sell out national tour of the United Kingdom and Ireland.

Next on their list was North America. They enjoyed a sold out six week run in Montreal, a sell out run in Toronto, before landing in New York City where the show opened on 42nd St and ran for nearly two years. While there, the genius idea of franchising the show emerged, and another four other companies were put on the road, enjoying sell out seasons in Chicago, Boston, LA and San Francisco to name a few. The year was capped off by a memorable appearance on The Tonight Show with Jay Leno, which was one of the highest rating shows of the year.

For much of the next decade the show continued to return for successful seasons in Australia, the UK, Canada, New Zealand, and the USA, while also conquering most of Europe and Scandinavia. In 2015 the Genitalia Juggxrnaught continue to expand, setting up a flagship show in the entertainment capital of the world, Las Vegas. This continues to run five nights per week and has cemented itself as a Vegas bucket list show.
When Simon Morley was asked if it took guts to do a show like this, he replied, "it does. It's an absolute prerequisite — and you also need a complete lack of shame.". He went on to say, "I find the male genitalia hilarious; this is the thing that always struck me. It is very laughable, but it's seen to be taboo. No one feels that they're allowed to laugh about genitalia, especially women and especially in other countries. However, I think it's very therapeutic, not just for women but also for men – to really have a good laugh at it, to put it up on a big video screen for an hour and really let go."
Now Puppetry of the Penis returns once more to the UK and comes to Exeter Northcott Theatre in Exeter on October 26th.
This is art at its most conceptual. And genitalia at its most flexible. Get your tickets here: https://exeternorthcott.co.uk/calendar/puppetry-of-the-penis-20th-anniversary/