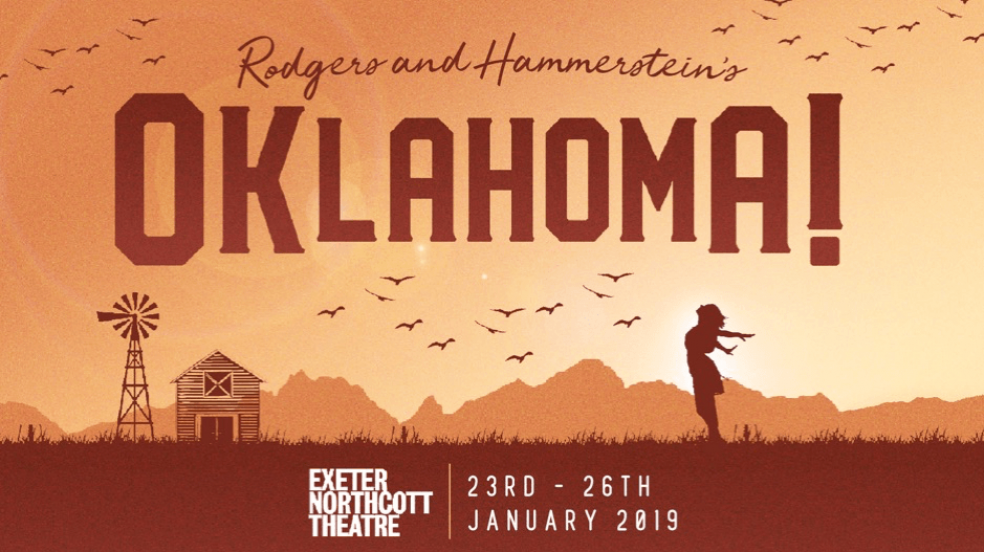 Exeter University Footlights present OKLAHOMA!
Footlights is Exeter University's largest Musical Theatre society, now in its 32nd year. Each year, we strive to create show-stopping student productions to a professional standard. Following four consecutive sell-out shows at Exeter's Northcott Theatre (West Side Story; Evita; The Phantom of the Opera; The Producers; Singin' In The Rain), we are now looking forward to our 2018 Northcott production of the legendary Oklahoma!
Footlights proudly presents OKLAHOMA! - an illustrious classic propelled by love, community and integrity. One of Rogers and Hammerstein's most beautiful but tough show has returned to Exeter Northcott. Based on the play "Green Grow the Lilacs" by Lynn Riggs, Oklahoma!'s classics include, "Oh What a Beautiful Mornin'" and "Surrey with a Fringe on Top." The creatives, cast, production team and band have worked non-stop since the end of September, and their hard work is sure to pay off. From a 9 minute dream ballet sequence performed by the entire cast, to a moving surrey made completely by the stage team.
At the turn of the century in Oklahoma Territory, the spirited rivalry between the local farmers and cowboys provides the backdrop for a love triangle between Curly, a self-assured cowboy, Laurey, a headstrong farm girl, and Jud, her farm hand. Laurey plays hard-to-get with earnest Curly and instead accepts Jud's invitation to the upcoming box social. Tensions rise between the men and capture the interest of the whole town. The path to true love is anything but smooth, but as the road to romance and statehood converge, the town prepares to weather the storm and start a new life in a brand new state: O-K-L-A-H-O-M-A – OKLAHOMA!
This is the first time Oklahoma! has been performed at the Exeter Northcott in over 10 years, which starred Will Young as Curly. The scale of a Footlights show requires great involvement from both students and the community. From performers to the audience, musicians to production team, this show requires a collaboration between a diverse group of people with varying backgrounds and ideas. This allows for the development of great friendships and intuitive ideas within a respectful and encouraging environment. With over 100 students involved from a variety of disciplines, this production creates a wide variety of opportunities.
With 6 performances, this show is bound to be another sell out! With times and prices for both students (tickets starting from just £10) and families (Wednesday and Saturday Matinees), this a show for all generations! Tickets on sale NOW!
Performances: Wednesday 23rd January (2.30pm and 7.30pm), Thursday 24th January (7.30pm), Friday 25th January (7.30pm), Saturday 26th January (2.30pm and 7.30pm)
Prices: Band A £19.50, Band B £18.00 (Concessions £16.50), Band C £15.50 (Concessions £14.00), Band D £14.00 (Concessions £12.50)
https://exeternorthcott.co.uk/calendar/oklahoma/