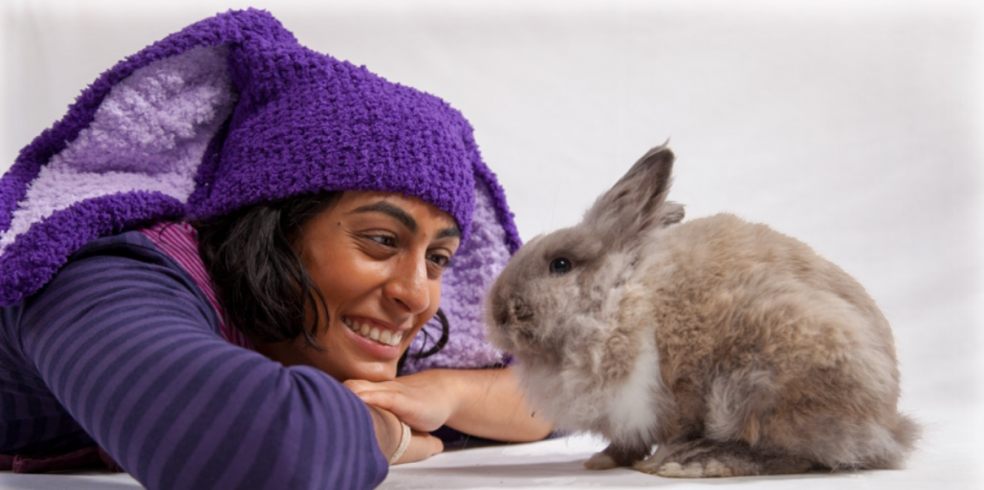 A Christmas show for families explores our attachment to the things we own
Quirk Theatre have given the original story of The Velveteen Rabbit a modern twist. The toy rabbit in the play is compared with iPads, LOL dolls and mobile phones, but manages to reach beyond the technology and touch her owner's heart. 

The company will be performing their new take on The Velveteen Rabbit during December. In the run up to the performance, they're encouraging people to think about childhood memories, moving on, and the value of the toys we play with.

The show will be at Exeter Phoenix and The Plough, Torrington during December. Quirk aim to entertain audiences but also to provoke thought. The Velveteen Rabbit explores change, the transition from child to older child to young adult, what toys mean to us, and letting go of things as you grow up.

In the production, the step-dad works from home and is very involved in his new role in the family. The mum is career focussed and the main earner, while the daughter is at a point of change in her life, about to go to big school. She sees a world ahead of her where she could be an engineer, a fashion designer, a famous chef, or a climate activist. 

Company Director Simon Hall said: "Our production will strike a chord with all ages, it will tug at your heart strings one minute and have you roaring with laughter the next. Having a good laugh is very important, but I think young people and their families want something to make them think as well. We want our show to provoke conversation between family members or between children and their teachers. We want to give children an experience that will stay with them for years to come, and to nurture a love of live theatre. It's the emotional truth in a performance that motivates me – giving the characters a proper value that people can relate to."

As part of the project, Exeter residents and their childhood cuddly toys are featured in a new exhibition by five young photographers.

The photos explore the special connection people have with their old favourite toys, and the stories behind them. The exhibition is the culmination of Quirk Theatre's project reflecting on the themes of their new Christmas Show.

The photography exhibition, TOY is at Exeter Phoenix from 12 Nov to 17 Dec

Quirk's Christmas show for children, their families and anyone who's ever been a child, will be at Exeter Phoenix and The Plough, Torrington:
The Plough Arts Centre, Great Torrington Saturday 7 December.
Exeter Phoenix 15-28 December.