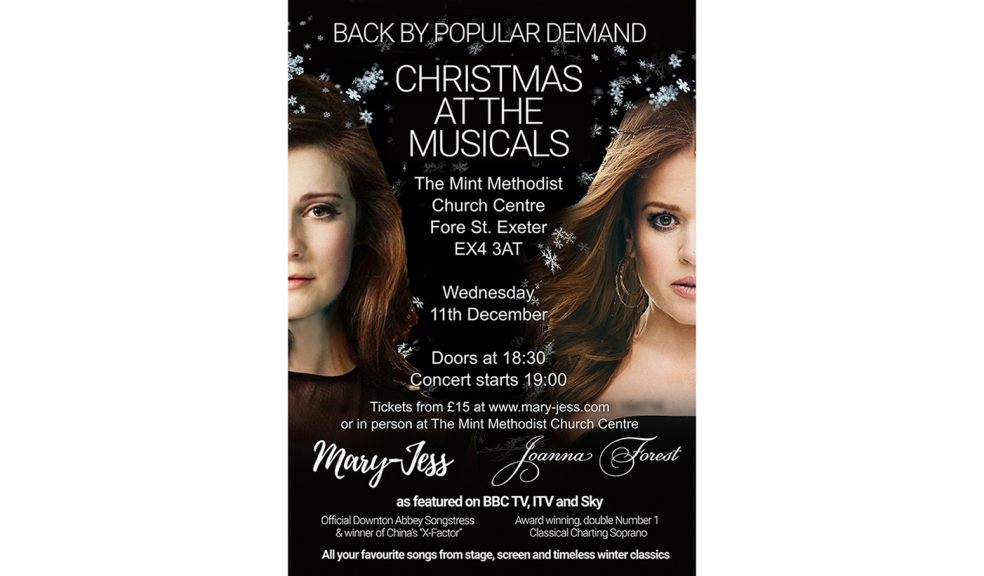 'Christmas at The Musicals' Concert
Mary-Jess (winner of the Chinese 'X Factor' and Official Downton Abbey Soprano) and Joanna Forest (two time UK Number 1 selling soprano) will be touring the UK this winter with their tour 'Christmas at the Musicals'! They'll sing all your favourites from the West End and Broadway along with timeless winter classics to really get you in to the Christmas spirit!
The tour is coming to Exeter - The Mint Church, Decemeber 11th. 
"I asked my friend Joanna to join me on stage for Christmas at the Musicals last year and it was just so successful that we've turned it in to a full tour for this year with an even bigger show and lots more dates added!" says Mary-Jess.
"I was so excited about the idea when Mary-Jess first pitched it to me" said Joanna, "We've each done solo tours up and down the country for years, but why not create a show that lets you tour with your best friend!? It's so much fun!"
"Mary-Jess and I sang together a few times before the tour was suggested, so we knew that our voices blended well" said Joanna. "Not only do I love the range and power of Mary-Jess' voice, but I love how she shares so much of herself with the audience at every show. Her stories are amazing, from growing up in a poor family in Gloucester to winning the Chinese X Factor and becoming a Government representative. She is a real example of how, now matter what your background, you can go on and achieve anything."
Whilst studying Mandarin Chinese in China, Mary-Jess won 民兴唱翻天 'The Chinese X Factor', a TV singing contest with a live viewing audience of over 70 million people. "I couldn't believe it when I won" said Mary-Jess. "I was the only Western person in the whole competition, I thought that the Chinese would want a Chinese person to win their version of the X Factor! But they voted for me!"
Since then, Mary-Jess has performed with Sir Tim Rice and Don Black, toured with Russell Watson and G4, sung to royalty in Windsor Castle, and she was asked to sing 'Abide With Me' at the FA Cup Final in front of a live audience of 90,000 people and a worldwide TV audience of 300 million people. She was also chosen to sing the lyric version of the Downton Abbey theme song, 'Did I Make the Most of Loving You?' which has now been included on three of the Official Soundtrack albums. "September was so busy for me with the Downton Abbey film coming out. The main theme with my voice on it has now been watched over one million times on YouTube and I've been invited to perform the song at events all over the world! It's amazing!"
When asked about her role as a Government representative, Mary-Jess describes the position as a 'true honour'; "After performing at The GREAT Festival of Creativity in Shanghai, the Foreign Office invited me to Number 10 Downing Street for tea where they asked me to represent UK music as an ambassador for The GREAT Britain Campaign in 144 countries around the world. It's a true honour."
Joanna Forest is no stranger to high profile performances herself. She has sung on the pitch at Premier League and Championship Football Grounds, on BBC's Songs of Praise, as lead soloist at the prestigious Bedford Park Proms and York's Castle Howard Proms, and in theatres up and down the UK for numerous shows including her own nationwide tours.
Joanna's first Musical Theatre show was at the Dominion Theatre at the tender age of just 13. She has starred in numerous productions since then, so she has a huge wealth of musical theatre experience. "Not only does Joanna have an amazing voice, but she's one of the most inspirational people I have ever met." Said Mary-Jess.
At age 21, Joanna had to put all her performing and recording dreams on hold indefinitely when she was diagnosed with breast cancer. "She beat the horrible disease and has since gone on to achieve her dream of creating a UK Classical Number One selling album, not once, but twice!" says Mary-Jess.
Joanna shot to fame in 2017 when she broke records; becoming the first independent artist to go straight to Number 1 in the Official Classical Album Charts with a debut album, "Stars Are Rising". Her 2nd album, "The Rhythm of Life", released in 2019, also shot straight to the top of the classical charts on release. Both albums received critical acclaim across TV, Radio and National Press including Album of the Week in The Daily Mirror.
"The album was scheduled to come out while Alfie Boe's, was firmly at the number one top spot. The competition that week was fierce. Alfie is amazing and so loved by his fans, and so bringing out a debut album at this time was going to be tough. I was so thrilled when The Official Charts announced that I'd clinched the Number One spot! And with my debut album! The support from my fans was just so incredible. We did it!"
"I guess my journey with breast cancer prepared me for a hard fight. I've really had to learn the hard way that when something is thrown at you, you just have to power through; you just have to carry on putting one foot in front of the other and never give up on your dreams. Now I am a passionate Breast Cancer awareness campaigner, sharing my journey with others as much as I can through the charity CoppaFeel!"
Further recordings from Joanna include a classical Number 1 single with "The Royal Platinum Love Song", released to celebrate 70 years of marriage between The Queen and Prince Philip, a Top 10 classical Christmas hit, "That is his Story" and a lead appearance on the Sir Paul McCartney backed "Choirs with Purpose" Stand Together album backed by a 600 strong choir. Joanna has recently hit the top spot again with her Classical No.1 new single 'By My Side'.
As a result of Joanna's chart success and her inspiring story, she was awarded the first ever "Future Classic Women" Award in May 2019.
For more info and tickets please visit mary-jess.com or joannaforest.com