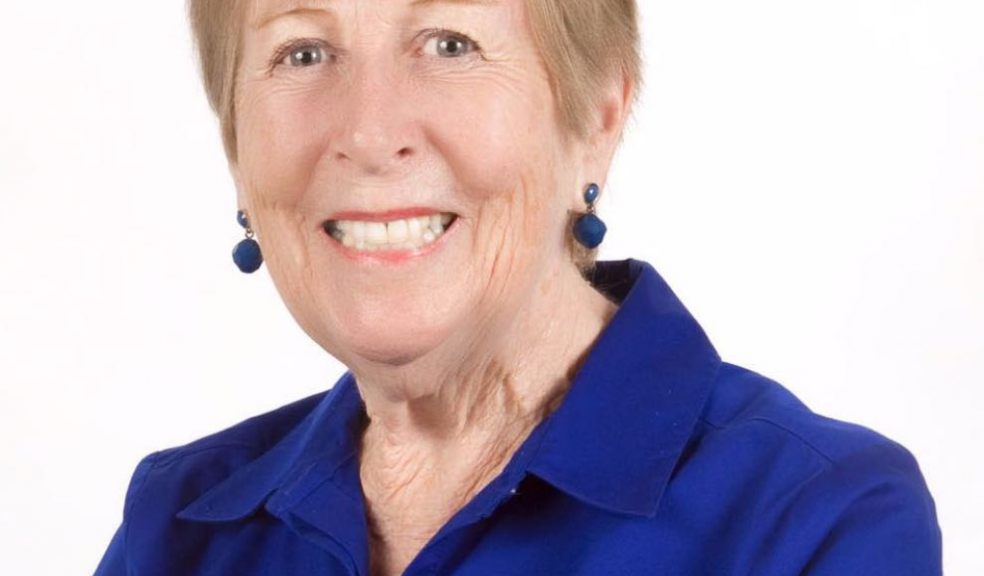 Age Ain't Nothing But A Number
Former Exeter College graduate and author Fay Knowles (nee Johanson) started writing at age nine and now at seventy-five years old, she says she doesn't plan on stopping any time soon! She has just released her fifth book, "Moonbeams from The Soul: A Collection of Fourteen Provocative Short Stories", available on Amazon as an e-book and in paperback. From wild temptations to dangerous decisions, "Moonbeams from the Soul" is an eclectic assortment of thought-provoking short stories.
Fay successfully completed a secretarial and business course at Exeter College in 1960 (when it was Exeter Technical College) and then trained as a reporter at the former Exeter News & Photographic Service, Sidwell Street. 
Fay has lived in The Bahamas for many years. She says: "We recently had a terrible natural disaster. Dorian, a Category Five Hurricane, struck the Grand Bahama and Abaco islands with maximum sustained winds of 185 m.p.h., gusting to over 200 m.p.h. It caused death, destruction, injuries and much homelessness for the inhabitants of those islands. To date the official death count is sixty, with more than 600 persons declared missing."
Fay explains that many of the evacuees fled to The Bahamas' capital of Nassau, New Providence, which is where she lives. Others relocated to various Family Islands and some were taken in temporarily by the U.S. and Canada.
New Providence and the rest of the islands throughout the archipelago were untouched by Hurricane Dorian, although Fay says: "We did have some heavy rain and a little flooding in low areas on New Providence from Dorian's outer bands." Prime Minister Hubert Minnis has emphasized to the world that The Bahamas, a popular tourist destination, is "still open for business!"      
This catastrophe will no doubt have very far reaching effects for The Bahamas, well into the distant future. Fay says: "Thankfully, we have had an unprecedented outpouring of love and help from around the world. However, this little country will need assistance and support for many years to come."
The disaster has deeply saddened residents of The Bahamas, who continue to hear shocking stories from Dorian survivors, but Fay keeps on writing. "It's therapeutic," she says.
"Moonbeams from the Soul" is Fay's second book of short stories. The first was "Sunbeams from The Heart: A Collection of Twelve Romantic Short Stories". "The Lady" magazine wrote about one of Fay's short stories in Sunbeams, first published in The Lady: "Hugely popular…Charming and surprising!" 
"Eager for More from This Author!" states an Amazon Five Star Review of Moonbeams from the Soul. The review continues: "OMG! What a marvellous collection of stories. They will reel you in, entertain and refresh you, and have you eager to go on to the next one! I thoroughly enjoyed each of these fourteen short stories by Fay Knowles and can't wait for her next book."
Sunbeams from the Heart made Amazon's top 100 paid best-sellers' list in the Literature & Fiction/Short stories category shortly after it was first released, next to Stephen King's "Hearts in Atlantis" in Best Sellers in Literary Short Stories. And Sunbeams was also in the top 100 paid bestsellers' list in the Literature & Fiction/Short Stories category, alongside Agatha Christie's "Miss Marple - The Complete Short Stories". 
Fay's short stories have also appeared in "The Broadkill Review", Delaware, U.S.A. 
Other books by Fay Knowles are "Love at Sunset: A Romantic Suspense" (Book One in her Buchanan Mystery Romance Series); "The Scottish Connection: A Journey Back – Mini-memoir" and a writer's guide "How to Be the Best Writer Ever", all available on Amazon. A hurricane features in part of Love at Sunset.
Fay is currently working on a new novel "Oleanders End", which will be her sixth book and Book Two in her Buchanan Mystery Romance Series. She says her training as a newspaper reporter in her teens has given her much food for thought when it comes to writing suspense! And she attributes her bright style, engaging characterization and descriptive scenes to having moved around a lot as a child (Scotland, Australia and England) and travelling abroad when she became an adult. Her father was in the Australian Air Force during the Second World War. He met her Scottish WRAF mother, in Scotland, where they married and where Fay was born. 
At age twenty, Fay emigrated to Canada by ship and worked for a while in Toronto as an Editorial Assistant. Then to avoid a Canadian winter, she travelled by Greyhound coach from Toronto to Miami and flew to Nassau, Bahamas, where she intended staying for only three months. However, she met her husband Erskine, a Long Island Bahamian, a month later and they were married the following year! Apart from several years living twice in the UK with her husband and sons, she says she has actually lived in The Bahamas more years than anywhere else. However, she still has a fondness for Devon, as she and her family spent many happy years in Exeter, where her husband owned and operated St. David's General Stores and she worked for the National Health Service and British Telecom. 
Moonbeams from the Soul can be purchased online as an e-book and in paperback at mybook.to/MOONBEAMS and Sunbeams from the Heart at mybook.to/SUNBEAMS
For more information on books by Fay Knowles go to amazon.com/author/fayknowles and fayknowles.blogspot.com.
And to help with The Bahamas' Hurricane Dorian Relief go to www.npcconline.org/hurricane. NPCC (New Providence Community Centre/Church) has partnered with Rotary and many other hurricane relief organizations to assist the victims of Hurricane Dorian, and is coordinating much of the relief effort.