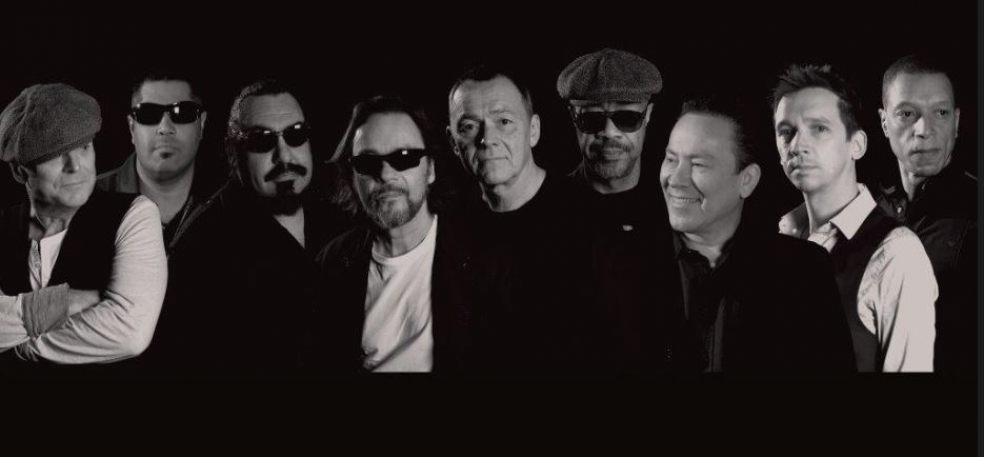 UB40 star Robin Campbell looks forward to a return to Devon with the legendary reggae band
UB40 star Robin Campbell is ready to get the party started as the iconic reggae band head to Devon to perform live at Newton Abbot Racecourse's Sounds of the Summer concert.
For the renowned guitarist it's a welcome return to South Devon, where UB40 will head a sensational line-up that includes pop band All Saints, Fine Young Cannibals (FYC) and eighties rock/pop band China Crisis on Sunday 16 July.
Robin is expecting a thumping atmosphere at the racecourse, as loyal fans of the Brummie superstars turn out alongside first-timers to party to UB40's unique sound. "It's a festival vibe, people are enjoying themselves all day,"  Robin said.
"You are not in your own crowd. Some fans are always there but you have a crowd that might have never otherwise come and see you. We always have a great time and there is always a great atmosphere."
There is still time to secure tickets for the concert at Newton Abbot Racecourse, which is fast becoming one of the region's leading live music venues.
"We have played at quite a few racecourses over the last few years and a few this summer and people have a great time, they are there to party," Robin said. Having recently returned from a European tour and four dates in India, UB40 are looking forward to heading to Devon next month.
The county's stunning coastline is familiar territory for Robin, who has spent many summers holidaying in the region or visiting friends in its seaside resorts.
"We are really looking forward to returning to Devon to play at Newton Abbot Racecourse," Robin said. "Devon is somewhere we've been to many times. We have played in Devon, I have holidayed on the coast in Devon and have visited friends in Paignton."
The renowned guitarist has lost count of the number of times he has performed in the county during a phenomenal career, which will see the band celebrate 40 years in the industry in 2018.
In their heyday the band sold 120 million albums, and had three UK and two US number one singles, and are still one of the UK's most successful bands. Massive hits including Red Red Wine, (I Can't Help) Falling in Love and Kingston Town will all feature in the band's 90-minute set at Newton Abbot Racecourse, alongside some of their latest recordings. "There are songs we have to perform," Robin said.
"There are half a dozen we always play; Red Red Wine, (I Can't Help) Falling in Love. Kingston Town is a must. "We have to do these and we love doing them because that's the whole point of these songs - the reaction from a live crowd.
"We try and do the songs everybody expects to hear, we play a few we want to play, a couple off our latest album, and we mix it up."
So does Robin have a favourite song? "It changes from week to week, day to day," he said.
"I guess it's probably whatever you are working on that's new at the time. "I do love playing the older songs. We never rehearse Red Red Wine anymore. In rehearsals no one wants to play it but when a live audience is in front of you and you hit those first lines, the reactions from the crowds make it wonderful."
Next month's appearance at the Sounds of the Summer concert will be a fleeting visit for UB40, who are busy recording a new album that is due for release later this year.
"People always say 'did you get to walk round?' It really doesn't happen that way. We tend to see airports and hotels and not much of the place we are visiting."
The release of the band's new album will coincidence with some major UK tour dates later this year before the band head overseas, with a return to India planned.
"I love what I do and never tire of it," Robin said. "It's a buzz. When you connect with your audience and they connect back to you there's nothing better. "I have never been a nervous type. Immediately before I go on stage I get nervous but the second I walk on I am totally relaxed and comfortable. The other place I feel that comfortable is in a studio. That has been my home for four decades."
With so many changes in the music industry in the past 40 years, Robin said it was now more important than ever for bands to be out on the road performing live. "It's a completely different world now, the whole business is completely different," Robin said.
"It is so much harder to get record deals. The major labels have been decimated by the internet. It's all about being a live band now. One of the reasons we are still around is that we have been a live band from the outset and we've always been about playing gigs. We've always played a lot of gigs. If you can't cut it live it's a lot harder nowadays." UB40 has also seen some major changes, with Duncan Campbell replacing brother Ali on vocals. However one thing that hasn't altered is the band's popularity. "If I knew (the secret to our success) I'd bottle it and sell it to other bands!" Robin said.
"We're lucky, we have an original, unique sound. People know it's us when they hear it. That's the first ingredient you need to have long-term success."
Robin added: "You always feel that if you get 5 to 10 years out of this career you are doing very well. To still be here and looking to celebrate 40 years as a band next year is incredible."
When he's not on stage, Robin likes nothing more than playing a game of snooker or relaxing with friends over a glass of (red, red) wine. "I enjoy good wine, good food and good friends," he said.
For more information and to buy tickets for the Sounds of the Summer concert visit www.newtonabbotracing.com or call 01626 353235.
Ticket Prices: Adult £30.25 inclusive of booking fee and Child under 16 £12.75 inclusive of booking fee(ID) Gold Circle tickets: Offering some of the best views of the Sounds of the Summer Concert from the Gold Circle area in front of the stage.
Just 200 Gold Circle tickets are now on sale, available only from the racecourse, priced at £52.75 inclusive of booking fee.
To buy your tickets, visit: www.newtonabbotracing.com or www.ticketmaster.co.uk Alternatively tickets can be purchased from the racecourse office or by calling 01626 353235.
Please note, Gold Circle, disabled and wheelchair viewing ramp tickets are only available directly from the racecourse.