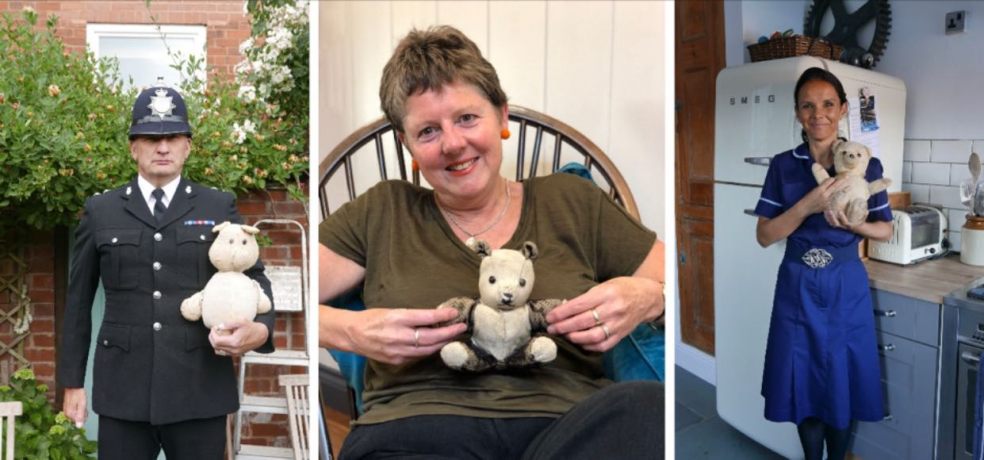 Theatre Show inspires cuddly toy portraits
A policeman, a City councillor and a nurse have all dug out their favourite childhood cuddly toys to help Quirk Theatre reflect on the theme of their new production.
 
The company will be performing their new take on The Velveteen Rabbit during December. In the run up to the performance, they're encouraging people to think about childhood memories, moving on, and the value of the toys we play with.
 
Quirk's Christmas show for children, their families and anyone who's ever been a child, will be at Exeter Phoenix and The Plough, Torrington during December. Quirk aim to entertain audiences but also to provoke thought. The Velveteen Rabbit explores change, the transition from child to older child to young adult, what toys mean to us, and letting go of things as you grow up.
 
Five young photographers have been selected to create an exhibition at Exeter Phoenix reflecting the theme of the production. Each emerging photographer has been paired with a professional mentor to help them to create portraits of Exeter people with their childhood toys. The TOY exhibition will be at Exeter Phoenix in December, giving an opportunity for members of the local community to tell their stories. 
 
To help provide inspiration, Detective Inspector Grant Leitch, Cllr Rachel Sutton and Nurse Marie Leitch have posed with their favourite cuddly toys.
 
The toy rabbit in the play is compared with iPads, LOL dolls and mobile phones, but manages to reach beyond the technology and touch her owner's heart – Quirk have set the original story in the present day.
 
In the production, the step-dad works from home and is very involved in his new role in the family. The mum is career focussed and the main earner, while the daughter is at a point of change in her life, about to go to big school. She sees a world ahead of her where she could be an engineer, a fashion designer, a famous chef, or a climate activist.
 
Company Director Simon Hall said:
"Our production will strike a chord with all ages, it will tug at your heart strings one minute and have you roaring with laughter the next. Having a good laugh is very important, but I think young people and their families want something to make them think as well. We want our show to provoke conversation between family members or between children and their teachers. We want to give children an experience that will stay with them for years to come, and to nurture a love of live theatre. It's the emotional truth in a performance that motivates me – giving the characters a proper value that people can relate to."
 
The main character in the show is worried about the approaching changes in her life, about going to a new school and how she will fit in – concerns shared by many young people through all stages of growing up.
 
Director Katie Villa said: "Our show will often be a child's first experience of live theatre. Who knows where that first experience will take them? This opportunity feels like a huge privilege for us and we want to use that opportunity carefully and wisely. We are committed to presenting important, relevant stories that have the potential to make the world a slightly better place. Through our shows, we have explored the refugee crisis, non-traditional family set ups and climate change, all through magical, hilarious and heart-warming stories of aliens, puffins, explorers and velveteen rabbits".
 
"Right at the heart of what we do is our commitment to creating opportunities for artists in the South West. It can be so hard to make a life as an artist outside of London, and we want to make it possible for more brilliant artists to stay in Exeter and make amazing work here."
 
Quirk have been nurturing young talent by working with Exeter University, offering an audition experience designed for new graduates, with a relaxed atmosphere and constructive feedback to help emerging actors to prepare for future auditions. Charice Bhardwaj, who plays the Rabbit, was selected through this process. The company has provided a springboard for careers in theatre – previous members have gone on to run their own theatre companies, toured internationally as actors, and been successful lighting designers and composers.
 
The photography exhibition is at Exeter Phoenix from 12 Nov to 17 Dec, after which it moves to CoLab Exeter.
 
The Velveteen Rabbit is at:
The Plough Arts Centre, Great Torrington. Performances for schools 4 to 6 December, public performance Sat 7 Dec
Exeter Phoenix Performances for schools 11 to 17 Dec, public performances 15 to 28 Dec.