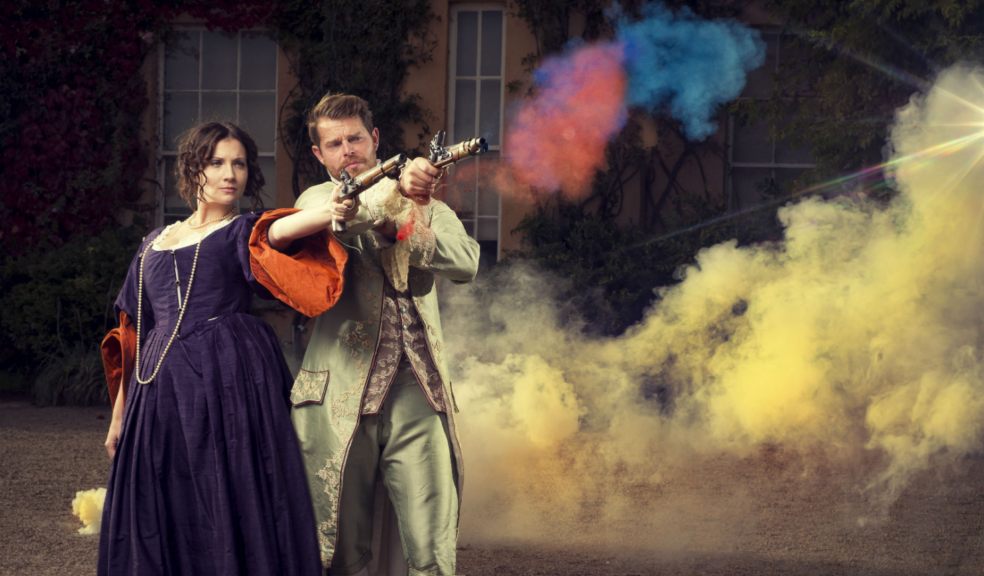 A rainbow of colour bursts into Killerton
A rainbow of rare designer pieces, 'toxic' colours and secret dye recipes are set to be revealed as the National Trust delves into its wardrobe of over 20,000 pieces from Killerton's fashion collection.
From 13th February, the latest exhibition, Fashion to dye for, will be opening its doors to invite people into the wardrobe and discover how colours, dyes and design shaped fashion history.
Would you risk your life in the name of fashion? If you think green is the colour to die for, find out how people used toxic arsenic to formulate a particular shade of green. If absorbed through the skin, it could be deadly. From a 50's red silk gown (said to have belonged to Princess Margaret), a young boy's red frock from c. 1855 and designer clothes by Emilio Pucci, Ossie Clark and an early Laura Ashley dress, the collection brings to life how colour can reveal much about the wearer and also looks into the origins, status and function of colours and dyes.
Learn about seasonality in fashion - why black is associated with mourning, white with weddings and why red is seen as racy but was also a masculine colour in the Tudor period. It also looks at cultural shifts in fashion – why young boys were often dressed in red frocks similar to girls' clothing until aged four, when they were dressed in trousers and had long curls cut. This 'breeching' was an important rite of passage for the child and his family.
Drawing on the extensive dress collection at Killerton, the largest in the National Trust, selected objects will tell the story of how colour in fashion has evolved and meant different things to people over time. Visitors can learn about colourful dress from the historic collection made of silk, wool, cotton and synthetic materials dyed both naturally and chemically.
Rare treats from Killerton's collection include:
•             Boys red wool frock, 1855
•             Man's denim jacket and flares, 1970s
•             Afternoon gown of printed yellow silk, 1860s
•             Evening dress in crimson jersey by Worth, 1950s,
•             Reception gown in red Chinese silk, 1950s, said to have belonged to HRH Princess Margaret
•             Designer clothes by Bernat Klein, Emilio Pucci and Ossie Clark, 1960s and 1970s
The exhibition explores how the First World War impacted on fashionable colours, from who invented synthetic dyes to why jeans are blue and includes an exciting display of over 100 pieces of work by Exeter College Art and Design students, inspired by the ever-changing colour palette of Killerton's estate.
Shelley Tobin, Costume Curator at Killerton said: "Turkey red, royal purple, denim blue – fashion comes in many shades and not only expresses the tastes and personality of the wearer but can also show wealth, rank and status. This exhibition will showcase some of the collections most vibrant fashion and explore the colourful history behind the pieces."
Shelley continued: "We're also showing brand new features for this year including a Cabinet of Curiosities displaying handbags, shoes and accessories from the collection. We're certain this exhibition is going to be the most visually exciting yet".