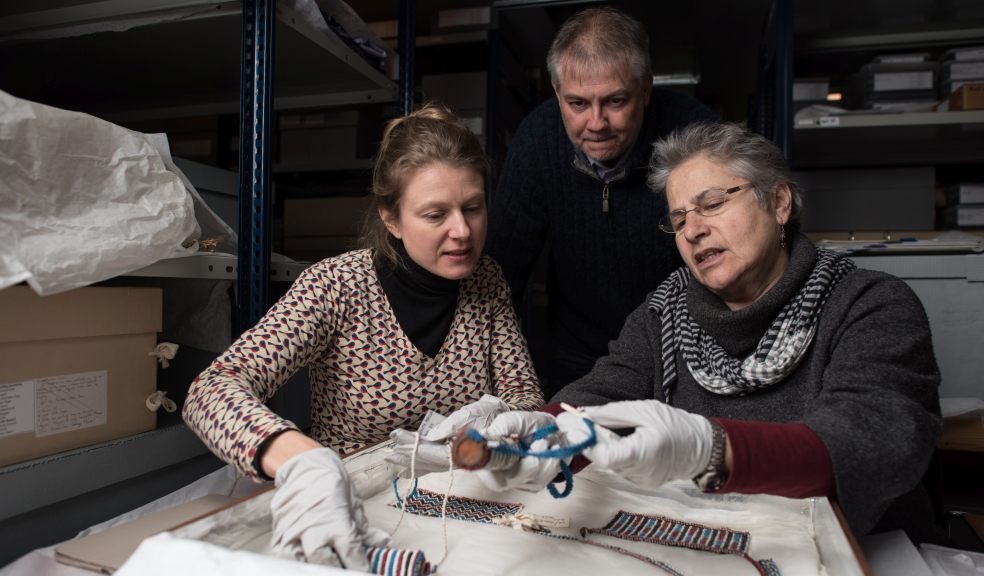 Major funding for RAMM's World Cultures galleries
Exeter's Royal Albert Memorial Museum (RAMM) will redisplay the World Cultures gallery with a new £190,000 grant from DCMS/Wolfson Museums and Galleries Improvement Fund.
The award was one of the £4 million grants announced by Matt Hancock, Minister of State for Digital and Culture, today.

Councillor Paul Bull, Exeter City Lead Councillor for Communities and Culture, said: "Exeter is proud to have one of the country's best World Cultures collections.
"We are ambitious in our desire to make Exeter's collections widely accessible, informative and enjoyable for visitors. We are grateful to the DCMS Wolfson fund for helping us share this national asset."

RAMM's World Cultures galleries were opened in 1999 after the ethnographic collection was awarded Designation status in recognition of the range and quality of objects from Africa, the Americas, Asia, the Middle East and the islands of the Pacific Ocean.

The grant will upgrade the galleries to match the 2007 to 2011 refurbishment that won RAMM the Museum of the Year Award in 2012. With the introduction of new showcases, 30% more of the collection will be on show, including Asian costume, African carving and beadwork, and star objects in changing displays at the entrance.
Increasing interactivity in the galleries will help engage families and young people with the central themes of diversity, society, faith, environment and identity. New interpretative material will increase engagement and better ventilation and lighting will improve access and enjoyment.

The newly re-furbished galleries will be ready in 2018, the 150th anniversary of the museum's public opening and 20th anniversary of the World Cultures collection being designated a collection of national importance.

Nationally 39 museums and galleries across England will benefit from grants totalling £4 million. Museums in the Southwest are well represented with eight museum securing £840,000 funding. These include Royal Cornwall Museum Truro, Russell Cotes Art Gallery & Museum in Bournemouth, SS Great Britain in Bristol and Tate St Ives.

Matt Hancock, Minister for Digital and Culture, said: "Our museums and galleries are among the best in the world and we should be rightly proud of these institutions.
"We want people to be able to enjoy world-leading culture wherever they live and whatever their background. These grants will make an important contribution toward increasing access to their wonderful collections and improving the visitor experience at museums right across the country.
"I applaud the Wolfson Foundation's generosity in once again matching the Government's investment pound for pound in this important work."

Paul Ramsbottom, CEO of the Wolfson Foundation, said: "This is a wonderful example of how a charity and government can work fruitfully together in partnership and we are grateful to government for matching our funding.
"The awards demonstrate the richness and variety of the country's museum collections. From Egyptian mummies in Leicester to a Roman fort on Tyneside, this is a gloriously diverse set of projects - but all demonstrate excellence and all will improve the visitor experience.
"In announcing these awards I also want to pay tribute to Giles Waterfield. He was a brilliant advisor to the programme from its inception and sparkled at an expert panel meeting in the very week in which he tragically and unexpectedly died. We all owe him a great deal."

The partnership between DCMS and Wolfson has now committed £44 million and funded 382 projects throughout England since the Museums and Galleries Improvement Fund was created in 2001.
This is the twelfth round of a joint fund which DCMS runs in partnership with the Wolfson Foundation. The fund aims to provide capital funding for museums and galleries across England to deliver projects in one or a number of the following key areas:
Renovation and improvement of the display of exhibits in permanent galleries and exhibition spaces;
Improvements to public spaces and access to the collection;
Physical improvements to access and facilities for disabled visitors;
Physical improvements to collection interpretation;
Improvements to environmental controls in public access spaces and galleries.
The Wolfson Foundation (www.wolfson.org.uk) is an independent charity that supports and promotes excellence in the fields of science, health, education and the arts and humanities.
It has awarded over £800 million (£1.7 billion in real terms) to some 10,000 projects across the UK, all on the basis of expert peer review. Established in 1955, the Wolfson Foundation celebrated its 60th anniversary in 2015.