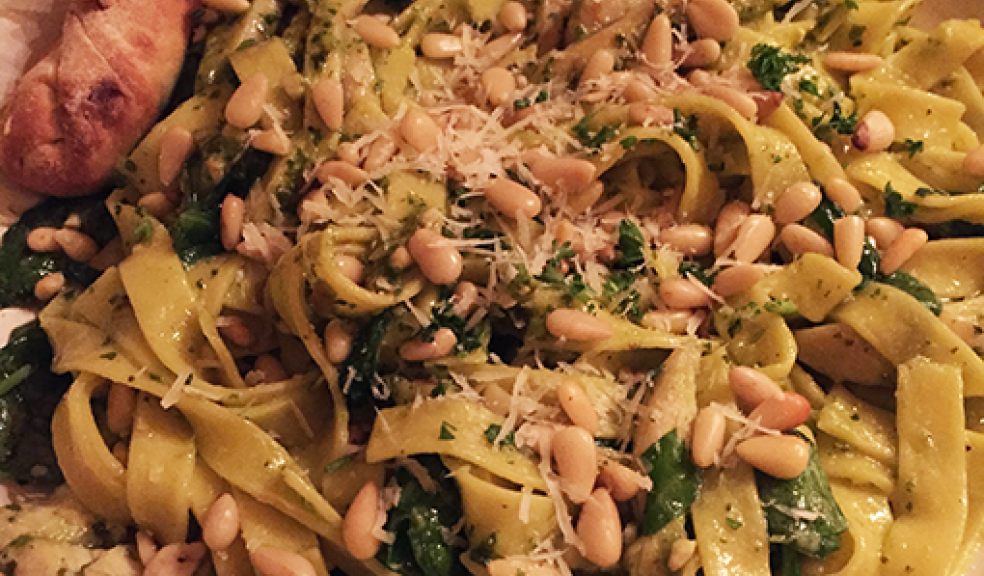 Bellissimo dining at Bella Italia
This week, I was sent on a mission to sample Rylan Clark's new dish created exclusively for Bella Italia, Pesto Pollo Pasta.
Now, I have to admit that I have lived just outside Exeter for eight years and I had never stepped foot inside Bella Italia on Queen Street before . If you haven't ventured inside either, then you are most definitely missing out on a little treasure amongst the eateries of Exeter.
The ambiance is wonderful – relaxed, intimate and cosy with delicious typically Italian aromas of garlic and basil. Having spent a week in Sorrento eleven years ago, this almost took me back there. It really is a charming little restaurant with quirky decor, wonderful staff who make you feel most welcome and is centrally located.
We were warmly welcomed and showed to our table right in the window and were given menus and a wine list. We selected a bottle of white wine, the Trebbiano, Poggio della Quercia which was delightful – fresh and zesty with flavours of pear, apples and citrus fruits. Our waiter for the evening was an Italian called Manuel (yes, honestly!) he was from Rome and told us how he had arrived from Italy four years ago not able to speak a word of English and loved the food so much, he wanted to work there! Now, there is a recommendation if ever there was one.
I chose the Polpette – baked spiced pork & beef meatballs in a rich tomato sauce, topped with melting mozzarella, served with a warm ciabatta slice. My guest opted for Gamberi – succulent king prawns baked in garlic & chilli butter, also served with ciabatta. Both starters were delicious. There was just enough kick and pepper in the tomato sauce with the meatballs and the dish was the perfect size for a starter.
The tomato sauce was rich and I was glad of the bread to mop up every last bit of the sauce. There was the fabulous aromatic classic Italian combination of garlic and basil and this was one of those dishes you wanted to savour slowly and enjoy every last mouthful. I was informed that the prawns were fabulous and cooked to perfection. They certainly looked meaty and were smothered in garlic butter. I didn't try one as I have never been a fan of fish and shellfish!
Other starters on the Bella Italia menu include such Italian delights as Bruschetta; Funghi Arrosto – baked mushrooms in a mascarpone, garlic and spinach sauce; Arancini Funghi – mushroom risotto balls with melting mozzarella served with rocket leaves and Pizza Spirale – twisted pizza dough filled with melted mozzarella, oven baked and served with fiery arrabbiata dip.
I ordered Rylan Clark's special dish he developed for Bella Italia along with the executive chef Vittorio Lettieri, Pesto Pollo Pasta. Rylan, who first appeared on X-Factor, reached the final of Celebrity Masterchef and has a passion for Italian food. His creation combines fresh egg tagliatelle, pesto, roast chicken and baby spinach leaves, topped with roasted pine nuts.
My dining guest ordered the Pollo Cacciatore – an Italian chicken stew with roasted red onions in a rich tomato, smoked bacon and mushroom sauce. (I was relieved this wasn't another fish dish as it meant I could sample this one!). It didn't disappoint, the stew was served in an individual casserole dish and was piping hot, rich and flavoursome.
But back to Rylan's dish. What can I say? It was amazing. Now, a plate of tagliatelle could be heavy going and leave you feeling somewhat full, but I left the restaurant feeling I had enjoyed a beautiful meal without that 'stuffed' feeling. The pasta was perfectly cooked and the combination of chicken, pesto and spinach was wonderful. I asked for a little parmesan on top which along with the roasted pine nuts topped it off to perfection. Sometimes the simplest dishes are the best and I was only sorry to read that this dish is only available for a limited time. Please, Bella Italia, add it to your menu permanently – it is sure to become a firm favourite.
All I can honestly say is "Molto delizioso". If you love Pasta and Italian food then you have to give this a try. The side salad I ordered to accompany the dish was amazing and worth a mention for the dressing alone. It was simply a fresh and crispy mix of red onion, lettuce, peppers, tomato and cucumber but it was the citrusy dressing that made it taste so good. Again, I tried to eat as slowly as possible as I wanted to enjoy every single mouthful of this hugely enjoyable meal.
After a brief pause on completing our main courses we perused the dessert menu. And what a disappointment – only because there were far too many tempting treats to choose from! Manuel recommended the ice-cream or Gelato, with flavours on offer like Honeycomb, Tiramisu, Hazelnut, Lemon Sorbet, Mint Chocolate Chip and Raspberry Sorbet but my guest chose Cocotella, a combination of coconut and swirls of Nutella. Apparently this is also Manuel's Gelato of choice! Now it is worth making a trip to Bella Italia for that ice-cream alone!
I opted for the novel Shot Desserts, a selection of mini puds served in individual shot glasses giving you the chance to try a selection of traditional Italian desserts without feeling like you are putting a huge amount of strain on the waistline! I chose Tiramisu Mousse, layers of coffee and mascarpone mousse, Mini Pannacotta topped with a morello cherry sauce and the Amaretto Chocolate Pot, a thick chocolate ganache topped with crushed Amaretti biscuits (well, a girl has to have a bit of chocolate every now and again!)
The jury is still out on which one was my favourite! They were all far too good! No trip to an Italian restaurant would be complete without a shot of Limoncello. This refreshing after-dinner 'digestivo' originated from Southern Italy and is at least 100 years old and is the perfect palate-cleanser after a fine meal.
It's been a long time since I raved about a meal or a venue all the way home, and for most of the following day, but I really was blown away by the restaurant for its atmosphere, staff and their friendliness and by the quality of the food and fabulous flavours. I can't believe this little gem of a place has been off my radar for the last eight years. I will be going back for more soon and I only hope that Rylan's Pesto Pollo Pasta becomes a regular dish on the menu. The pick and mix desserts would make a wonderful accompaniment to coffee during the day if you fancy a break from shopping. Visit the website at www.bellaitalia.co.uk to find offers like 25% off food from Sunday to Thursday or for a £5 student menu.
Thank you Bella Italia for a truly enjoyable evening of fantastic food and equally wonderful service – can't wait for my next visit.