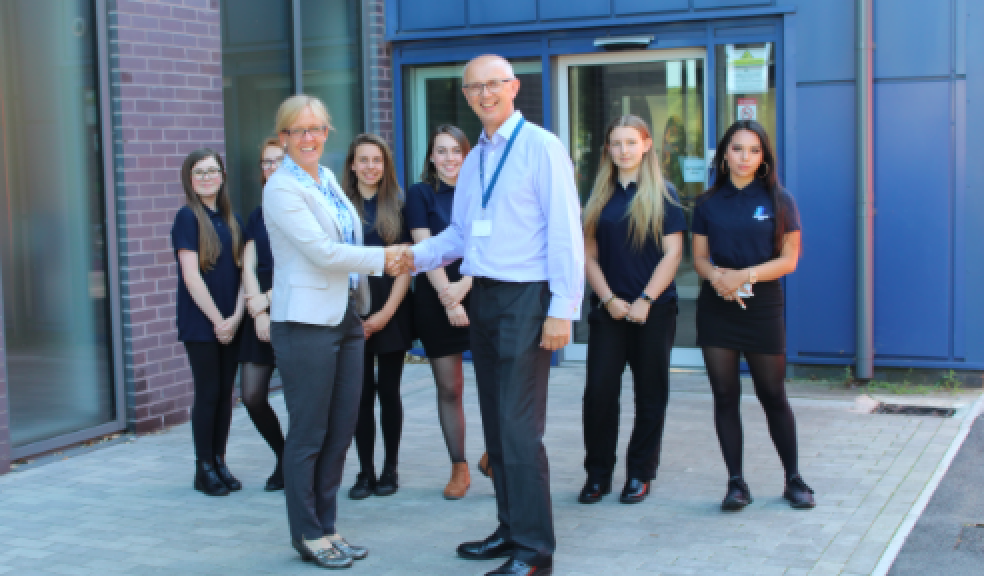 Woman of Science announced as new Head at Newton Abbot's pioneering college
South Devon University Technical College (UTC), Newton Abbot's specialist secondary school for science and engineering, is preparing to hand-over the leadership from Principal Ian Crews to Scientist and Educationalist, Claire Plumb.
Currently in the role as Vice Principal at South Devon UTC, Claire Plumb will take up the Principal role at the college from September 2018.  Claire, who has front-line experience of research and development in science, has worked alongside outgoing Principal Ian since the innovative school for young people with an interest in science, technology, engineering, and the environment launched in 2015.
Plymouth born and bred, Claire aims to continue to strengthen the College's reputation as a centre for excellence in STEM specialisms in South Devon and to ignite the spark of curiosity in the studies of Science, Technology, Engineering and the Environment for boys and girls in years 10-13.
The pioneering College on Kingsteignton Road, with its state of the art facilities, offers an innovative model of learning for students that provides professional academic and technical education aimed to 'develop a new generation of engineers, scientists and environmentalists'.
Newly appointed Claire commented: "I am absolutely delighted to take up this new role with responsibility for leading the College, Ian has done a tremendous job and I look forward to building on the first three years' achievements and guiding our students and the college to further success.   We offer a unique alternative to other schools in the region, our commitment at South Devon UTC is to nurture a population of ethically sound and environmentally considerate engineers and scientists.  Our hope is that we will have inspired our students to drive forward positive change that will significantly benefit our planet."
South Devon UTC offers the high-quality education of the standard school core curriculum, with subjects such as Maths, English Language, English Literature and Science, in addition to specialist technical subjects aimed at engineering, technological or science-based careers.  The curriculum also includes all year-round work experience opportunities and employability skills development. This is a key focus for students at South Devon UTC which results in an extremely high success rate for students achieving their further destination placements in higher level apprenticeships with local employers, University or with the Armed Forces. In summer 2017, 100% of their post 16 students got their desired placements and this summer's leavers look set to do the same.
Reflecting on his experience since his appointment in 2013, Ian commented: "I have acquired a wealth of special memories since my appointment as Principal of South Devon UTC and have witnessed the growth in confidence and competence of so many of our young people.  I am particularly grateful to our growing number of employer-partners as their input to the education of our students has empowered and inspired so many young people.  There is nothing more rewarding than to witness the motivating impact of learning in a professional and real-world environment.  It has been my utter pleasure to see how the College has equipped many students from across the region with the qualifications, skills and experience needed to progress successfully to university, higher level apprenticeship or employment.  We have seen great success here since we opened, thank you to all who have helped and supported us and I wish Claire, and all the staff and students every future success."
South Devon UTC is currently recruiting students for the 2018/19 academic year. Young people with a flair for science and engineering due to start Y10 or Y12 in September 2018 should contact the college as soon as possible for more information by calling 01626 240201 or visiting http://southdevonutc.org/open-evenings/