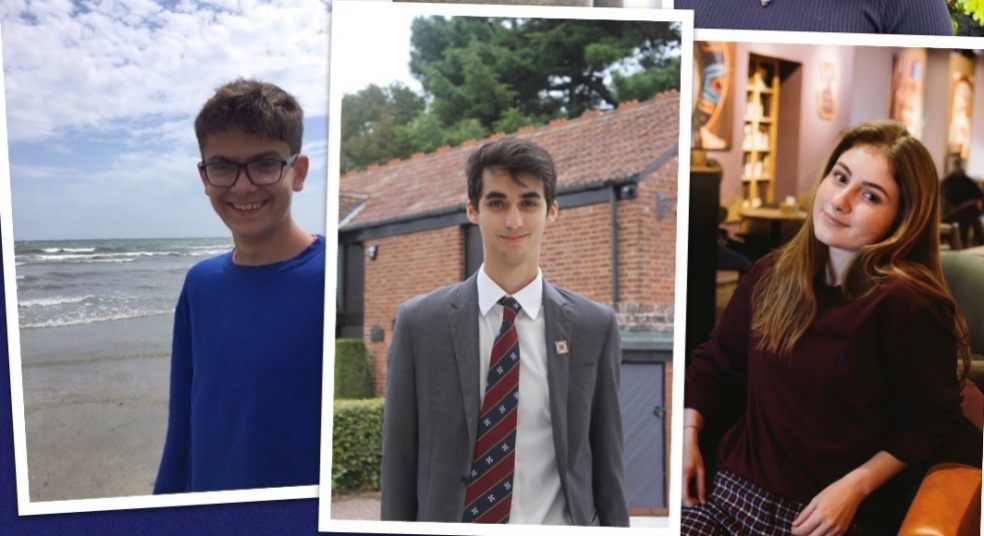 Nine Oxbridge offers for Exeter School
Exeter School is pleased to complete this year's Oxbridge admissions process with the announcement that nine pupils have been offered places.
This year's selection of candidates includes a former pupil and eight current pupils who all completed the admissions process online this year.
Seven pupils were offered places to study at the University of Cambridge and two at the University of Oxford this year.
Alumna Lily Alford has an unconditional offer to study history and Spanish at Selwyn College, Cambridge.
She said receiving an offer from Cambridge has definitely been the highlight of the past year
"I must thank my respective teachers in those A Level subjects who pushed me to my potential and continued supporting me throughout the application process even after I'd left the school.
"I grew a lot as an individual during my time at Exeter School, largely as a result of participating in music ensembles and sports teams. Taking on the role of joint student editor of the pupil magazine The Exonian helped me establish my roots in journalism and I have since set up my own history podcast 'Periods' in which I use history to tackle societal issues that might be uncomfortable to talk about. When I'm not studying over the next few years, I hope to continue building up my portfolio and - where possible - travel around Latin America."
Fellow linguists Ollie Bennett and Alexia Costache have been offered places to study modern and medieval languages at Sydney Sussex College and Murray Edwards College, Cambridge.
Ollie said: "My teachers went above and beyond to support me and were always happy to discuss any questions that I had. I'm really looking forward to what comes next!"
Alexia said when she visited Cambridge a few years ago as a tourist from her then home in Romania, she would have never imagined having the possibility of studying there in the near future.
"Arriving at Exeter School just four years ago I was initially worried about fitting in however everyone made me feel so welcome that very quickly I was thriving in my new environment.
"As someone from overseas without any immediate family members having applied to a UK university before, I was unfamiliar and initially somewhat daunted by the complexity of the application process and the personal statement submission.
"However, I need not have worried as all the staff at Exeter School were very supportive throughout the application process. The Oxbridge team guided us through it, the language department helped me with the interview practice as well as the preparation for the entrance exam and the submitted work."
Harry Cornford has an offer to read Anglo-Saxon, Norse and Celtic at Selywn College, Cambridge. He said he was absolutely thrilled and really excited for the possibility to study such an interesting and specific subject.
"The school was great help, and even though nobody had ever really applied for such a unique subject, my teachers did all they could to prepare me for the application process and they will no doubt to continue to push me so that I can attain the grades to make this dream a reality."
Two pupils have been made offers to study natural sciences. Rachel Hammond plans to study the subject at Churchill College, whereas Adam Wajed has an offer for Gonville and Caius, Cambridge.
Rachel said she was helped greatly throughout the application process by the staff at Exeter school, whether it was her head of house giving personal statement advice or heads of departments running mock interviews and practice examinations.
"I chose to study Biological Natural Sciences because of the breadth and flexibility this course offered. As I am not yet decided on which career I would like to pursue in later life, the range of subjects offered by the course was very appealing. The support and encouragement I have received throughout my years at Exeter School has enabled me to get to this point. "
Musical Theo Collins is pleased to receive an offer to read computer science at St Catharine's College, Cambridge.
He said he would not have got this far without the help of my teachers and the Oxbridge sessions run by Miss Hodgetts and Mr Parry.
"I must also mention the school music department – I doubt I would have been able to secure such an offer, or even attend Exeter School to begin with without their support and teaching.
"I chose Computer Science as my course because it's something I already enjoy and do at home. Not having done it at school is also a factor."
Prospective Oxford students Eleanor Clark and Bertie Hawkins have offers to read English literature and PPE at Merton and Exeter.
Eleanor said it was a demanding process which is almost impossible to self-assess.
"Throughout, and despite current circumstances, I've had a lot of support from school. I'm particularly grateful to my English teacher Mr Dobson for marking all my practice paper efforts and even arranging a practice interview via Google Meet with his friend in Kuala Lumpur, negotiating tropical storms and a ten-hour time difference.
"Many of my favourite writers have connections to Oxford, and some to Merton specifically and I'm looking forward especially to the prospect of 24/7 access to a copyright library, which should keep me occupied!
Bertie said it was a fantastic opportunity.
"A course that offers Politics, Philosophy and Economics in one degree really is my dream ticket. Studying PPE will also keep all my career doors open but I am particularly interested in exploring the world of politics, think tanks and public policy. 
"I am hugely grateful to Exeter School for getting me to the standard necessary.  Their specialist knowledge, with bucket-loads of encouragement, made all the difference."
Oxbridge Co Ordinator Ms Hodgetts said: "Despite the lockdown disruptions, virtual pre-tests and interviews via Zoom and remote whiteboards, the Exeter School Oxbridge applicants navigated all these extra challenges and deservedly won their fantastic offers at Cambridge and Oxford. This was a particularly demanding process for all concerned and the pupils coped magnificently. Many congratulations to them all."
In the last five years, 43 pupils have received Oxbridge offers and the school has an excellent record of success in placing pupils in a range of leading universities.