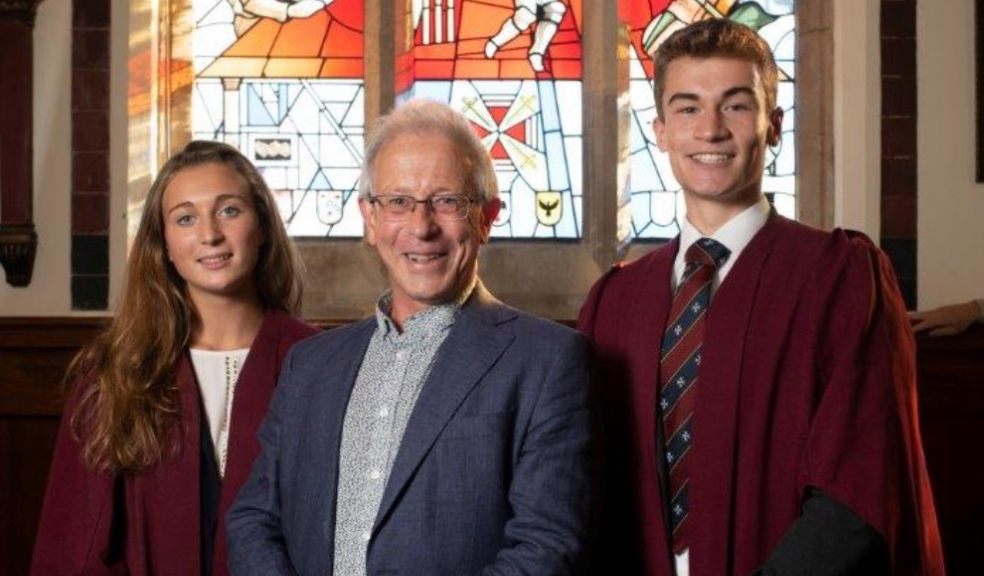 Exeter School Speech Day with co-founder of Surfers Against Sewage and guest of honour Chris Hines
Exeter School welcomed Guest of Honour, the co-founder of Surfers Against Sewage, Chris Hines, to its annual Speech Day. Chris gave an insightful talk on how he began campaigning to improve our coastlines, inspiring pupils, parents, teachers and governors on the evening of 19 September. 
A highly respected communicator and driver of positive change, as well as Director of Surfers Against Sewage for 10 years, Chris and his team were regarded as "some of the Government's most sophisticated environmental critics" by the BBC and "Britain's coolest pressure group" by The Independent, and helped deliver massive environmental improvements. 
As Sustainability Director at the Eden Project for five years, he conceived and delivered "Waste Neutral", an early version of the circular economy, helping embed the triple bottom line of sustainable business practice throughout the organisation. He's given evidence to the UK parliament, the Monopolies and Mergers Commission, the European Commission, briefed the President of the European Parliament, been a special advisor to the Minister for the Environment and appeared on a wide range of media from BBC World Service and Panorama to CNN. In 2008, he was awarded an MBE for "services to the environment" in the Queen's Birthday Honours and an Honorary Doctorate of Science from the University of Plymouth. He is also a Surfers Path Inaugural Green Wave Award winner.
Chris spent the day visiting Exeter School, spending time with Junior School, Senior School and Sixth Form pupils, including the school's EcoSoc, answering many questions and enthusing them about ways they can make a difference.
He said he was delighted to be asked to be Exeter School's Guest of Honour and enjoyed meeting the pupils and staff. 
"It was a brilliant day where I saw real hope that we can all collectively rise to the massive challenges that face us as humanity. From a class of nine and ten-year-olds firing off questions and insightful observations, to a deep debate with Upper Sixth students about how we all could aim for living within the carrying capacity of this wonderful planet and in harmony with it and each other. Truly a great day."
Chairman of Governors Andrew King led the Speech Day ceremony during which Headmaster Bob Griffin gave a summary of the year's achievements, praising senior pupils and their teachers upon the excellent public examination outcomes of Summer 2019.  
The school demonstrated continued consistency at A Level, with 21% of grades at A*, and 81% at A*, A or B. The U5 distinguished themselves at GCSE: 73.7% of all their grades were 9, 8 or 7, in a year in which twelve subjects were examined in new specifications for the first time.
Exeter Junior School's new Headmistress Saskia van Schalkywk congratulated pupils, staff, parents and Governors on a successful school year.
Head Girl Cesca Vercoe and Head Boy Ed O'Connor closed proceedings with a vote of thanks to the Guest Speaker and the Deputy Lord Mayor who was also in attendance.