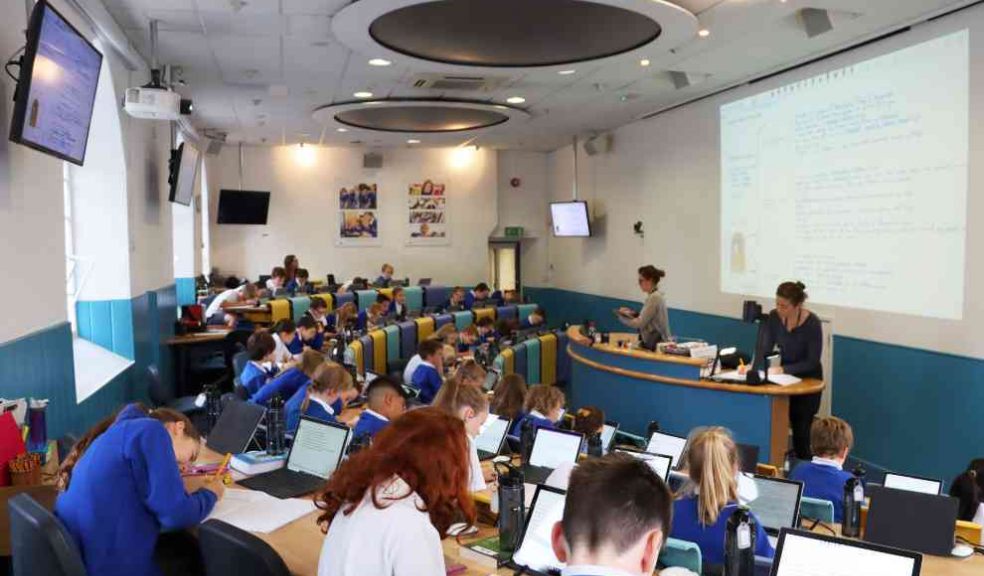 Headteacher reveals truth behind 'super-size' classroom story
Parents have hit back at what they claim were significant inaccuracies in a news story.
These were also addressed by Jonathan Bishop, Executive Headteacher of the Cornerstone Academy Trust (TCAT) in Devon after the Ofsted-outstanding Broadclyst Community Primary School (BCPS) was portrayed in media reports as being 'cash-strapped' and 'cramming' children into a classroom.
Parents of children at BCPS were quick to leap to the defence of the school when the story appeared on social media, with many citing the Ofsted outstanding status, as well as criticising what they say was inaccurate reporting.
"Trustees, teachers, children and parents are affronted at this representation of the school," said Mr Bishop. "The story does not represent the reality of what the children experience on a daily basis.
"Like all the schools in the Trust, BCPS invests heavily in children's education, delivering an exciting, relevant curriculum in rooms that are modern, efficient and effective in providing an education that fully prepares them for the 21st century.
"The children of year 6 are based in a lecture theatre, taught by two full-time teachers, and there are two teaching assistants also working there. Often the children will divide into smaller groups to focus on work assigned to them and they will work outside this classroom with specialist teachers, often reducing the ratio of teacher to child to 1:15 or lower.
"Each child in the room has their own digital device; a Microsoft Surface where the resources for the lesson are shared via Microsoft Teams and OneNote. This means that the teachers' board notes are synchronised in real time, via the cloud, to the child's own device. These resources and board notes can be accessed from home and the learning extended beyond the classroom.
"Throughout the school, children receive a broad, balanced and enriched curriculum which delivers outstanding results. Last year we had a combined score of nearly 90% of children achieving the expected standard in reading, writing and maths and 98% of children achieved the standard in reading. This is well above the national and regional averages."
Mr Bishop emphasised that it is high-quality teaching with good resources, not class size, that is the main factor in a good education. While BCPS does bring large groups together into the lecture theatre, where one teacher can introduce a new concept to all the children, team teaching and targeted group work ensure the high standards of achievement for which the school has an international reputation.
BCPS has been designated an English, Science and Computing Hub by the Secretary of State for Education, and the Cornerstone Teaching School is based there, forming a centre of excellence providing professional development to staff of other schools.