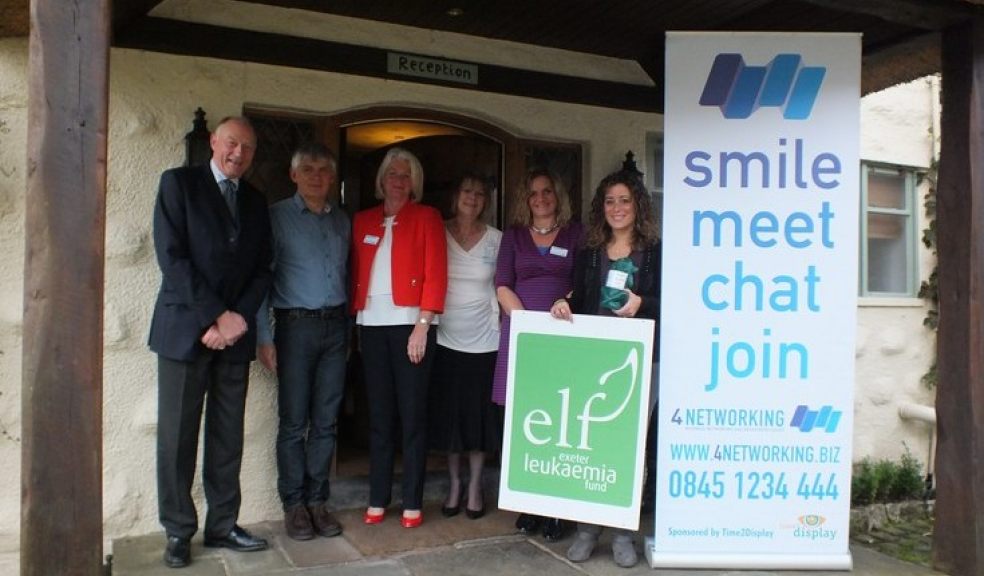 Local Business Network supports local charity
A group of local business people have been adding a new dimension to breakfast to raise much needed funds for Exeter Leukaemia Fund. The Honiton group of 4Networking used their fun fines system to fill an ELF collection box.

Group leader Dominique Bailhache explained, "We have really enjoyed raising money for ELF. 4Networking provides an environment for local business people to get together and get to know each other.  At each meeting we have what we call the 40-second round, where each person gets 40 seconds to explain what they are looking for or have gained from being a member.  If anyone goes over their allotted time limit they get "fined". 
Fines are also handed out for things like unfunny heckling or being late. It isn't compulsory to pay up but most people do because it is for such a good cause and all part of the fun."

Bridget Hill, Fundraising Manager for ELF, said "It is great that the Honiton group have been able to fundraise for ELF and we are very grateful.  One of their members, John Cragg of Hammond & Co, undertook a 15,000ft tandem parachute jump and everyone has been very supportive. They are a great group of people. Anyone looking for new business contacts and to have some fun should give it a go!  The money they have raised will help to fund our new Community Support Programme, which is providing transport, accommodation and advice services to patients of the Haematology Centre at the Royal Devon and Exeter Hospital and those closest to them."

Anyone interesting in joining 4Networking, which provides networking opportunities via groups all over the country, is invited to contact Dominique on 07791 019 864 or Peter Simmonds, Area Leader on 01392 875909.  Anyone interested in fundraising for Exeter Leukaemia Fund should contact the Fundraising Team on 01392 247725.