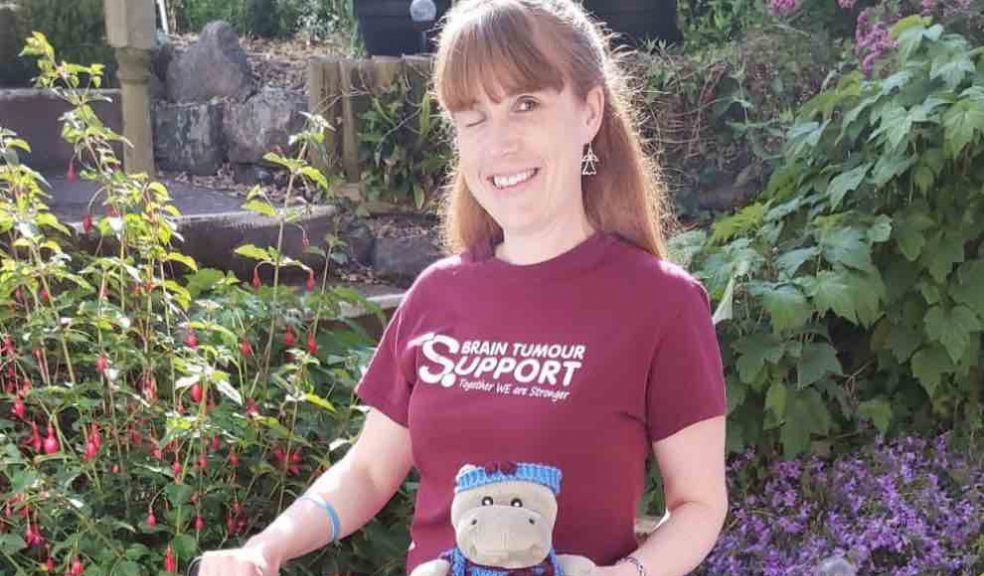 Local brain tumour survivor scoots from Exeter to Exmouth
Helen Patterson, who in 2018 had surgery to remove a brain tumour which left her with a titanium eye socket and an eyelid that won't open, is scooting from Exeter to Exmouth on Friday 14th June to raise money for the charity Brain Tumour Support.
"I've been fundraising for a year and am close to raising £1,000 for Brain Tumour Support before my big birthday in July," said Helen. "I wanted to do something different to raise the final £100. I started scootering back in 2016 but haven't done that much since my craniotomy in January 2018, as I'm still getting used to being a monocularist, and even negotiating the roads on foot is still a challenge. I'm hoping to get my driving licence back soon so I thought this would be good practice, and it will certainly be the furthest I've ever travelled on the scooter in one journey."
Helen, a mother of two who runs a Slimming World group in Topsham, was diagnosed with a meningioma in 2017. This is the same type of brain tumour that TV present Nicky Chapman recently had removed.
Helen's main symptom was that her right eye was protruding. "I ignored if for several months, but was then told that if I'd left it any longer, I would have gone blind," said Helen. The tumour had invaded so much of her eye socket that she had to have it replaced with a titanium plate and she has been left with nerve damage in her eyelid and part of her face. "I do still have the odd moment where I suddenly get upset at having lost the 'old me'," said Helen. "But it's ridiculous really, because let's face it, it's a broken eyelid. Perspective is everything in situations like this and if being alive means having to have a broken eyelid for the rest of my life, I think I got off lightly."
Helen regularly attends her local Brain Tumour Support Group in Exeter and finds this group a big help. "I found a lovely group of people with whom I can be brutally honest. We talk about everything and anything and I know they understand if I am having a rubbish day. They have also helped me realise that there is no 'back to normal' after the experience I have been through. There is instead a 'new normal'. And that's OK."
Please help Helen smash her target - you can sponsor Helen here:https://uk.virginmoneygiving.com/HelenPatterson10