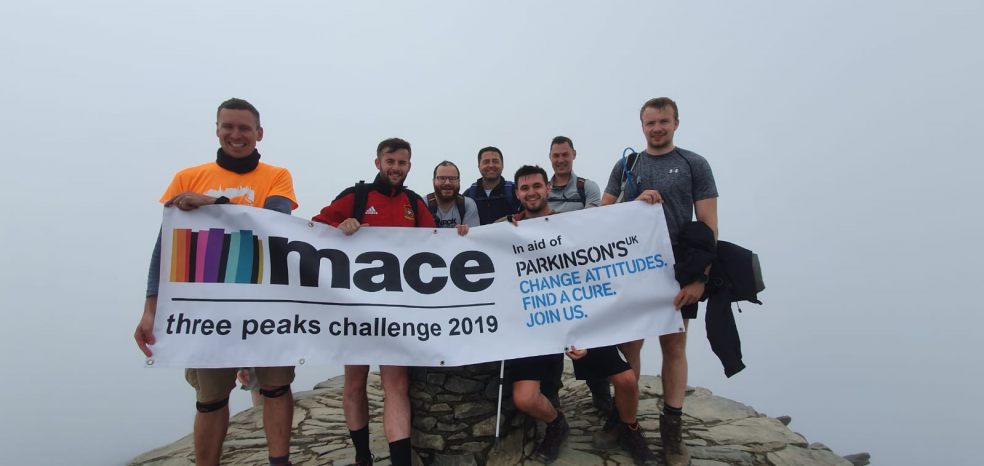 Exeter group conquer Three Peaks Challenge for charity
A group of fundraisers from Exeter completed the National Three Peaks Challenge in 24 hours on Friday 12 July, to raise vital funds for charity Parkinson's UK.  
The group were inspired to take on the climbing challenge by a family member of one of the climbers, who has been diagnosed with Parkinson's. They fundraised nearly £7,000 for the charity by completing the challenge.
The climbers were seven employees of Mace's local office in Exeter. Mace is an international consultancy and construction company, which has chosen Parkinson's UK as its charity partner for 2019. Mace employees, supported by the Mace Foundation, have raised over £83,000 for Parkinson's UK to date. 
Parkinson's is a progressive neurological condition for which there is currently no cure, and it affects around 148,000 people in the UK, including 121,927 in England.
Ray Webber, Projects Director at Mace, said: "It's an amazing feeling to have conquered the National Three Peaks Challenge. As a group we've felt a mixture of emotions, topped off by a great sense of achievement. We're now closer as a team, walked 23 miles up and down and been lucky enough to witness not only the able bodied, but also those less able to climb mountains in support of others. We'd do it all again in a heartbeat. It's not the recognition, it's the quiet satisfaction of knowing you've done something you didn't need to, to support someone you don't know who is living with Parkinson's. We're delighted to have raised funds for Parkinson's UK which will go towards the organisation's helpline."
Parkinson's UK estimate that there are more than 40 symptoms of the condition. As well as the most widely known symptom - tremor - these range from physical symptoms like muscle stiffness to depression, anxiety, hallucinations, memory problems and dementia, but Parkinson's affects everyone differently. The charity aims to find a cure and improve life for everyone affected by Parkinson's through pioneering research, information, support and campaigning.
Tom Ingram, Corporate Partnership Manager at Parkinson's UK, said:  "A huge thank you to the group for their incredible efforts to support Parkinson's UK. Our work supporting people with Parkinson's and research to find a cure for the condition is completely dependent on donations. To put it simply, without the support of our amazing fundraisers, the work we do just wouldn't be possible."
To sponsor the group, please visit https://www.justgiving.com/fundraising/macesouthwest3peakschallenge