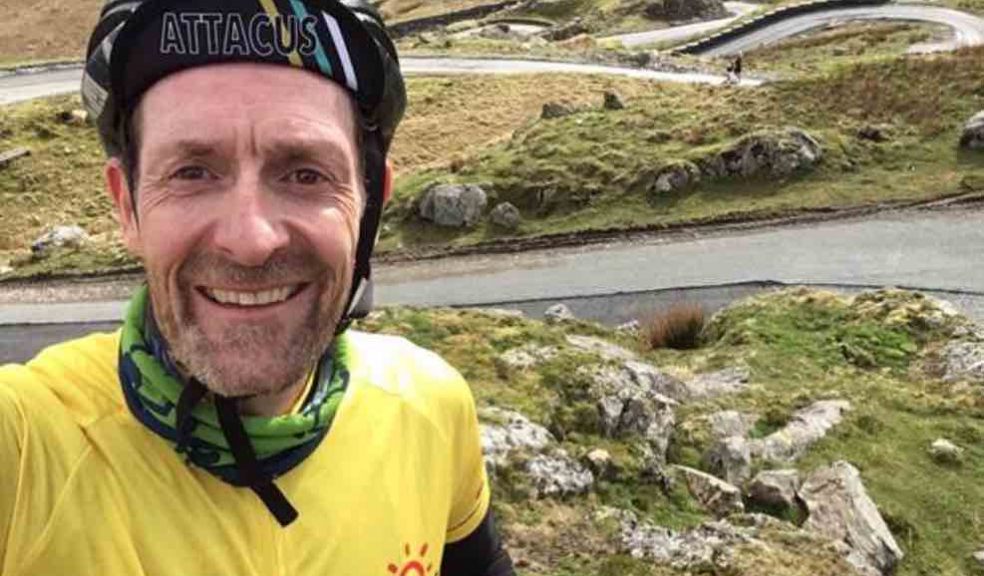 East Devon man takes on gruelling 8-day endurance event to raise funds for bereavement charity
An East Devon man is challenging himself to complete a gruelling endurance event to raise money for two charities, Child Bereavement UK and BigMoose.   In June, James Page will be completing a Classic Continuous Deca Iron Triathlon event, which will see him do a 24-mile swim, 1120-mile cycle ride and a 262 mile run, in just 10 days or less.  The current world record is 7 days 22 hours and the British record 8 days 6 hours.
James is no stranger to endurance events.   He combines his busy job and family life with a hectic training schedule and has been doing triathlons since 2006.  He has completed several events including Ultras, Marathons, long-distance cycling events and Ironmans, including The Brutal Double and Triple Iron Distance Triathlons set in North Wales.  
Remarkably, James hasn't always been so fit, and describes himself as having been an 'overweight smoker' in the past.  He changed his life following the birth of his daughter, who spent much of her first year in hospital.   James decided to support the hospitals that had saved her life by taking part in endurance events, losing weight and getting fit into the bargain. 
This will be the first time James has taken on the Deca as a solo challenge, and he's hoping to complete the event in record time.  The Deca is the equivalent of ten Iron Distance Triathlons and normally must be completed in a maximum of fourteen days.   James will start his challenge with a 15.5 hour swim at Middlemoor Police HQ swimming pool in Exeter, which will involve swimming 1,520 lengths in a 25 metre pool.
After a brief rest, James will continue the event with a 1120-mile cycle ride around the Blackdown Hills. With a strong team to support him, he'll complete the ride in four days, cycling 280 miles a day around a 26-mile loop, which he'll do 46 times!
James will complete the Deca with a 262-mile run across 5 days, running the equivalent of two marathons each day across fields and tracks in the Devon and Somerset area.   Again, James will be supported by his crew who will look after his safety.  At times James will have people cycling and running alongside him to help him through the demanding challenge.
Says James: "I have been truly overwhelmed by the support given to me by friends and family who have backed my idea about this event, aptly named 'The Longest Day Deca' (as it's due to finish on the longest day in June), and have been willing to give up their time to look after my safety during the event. Thank you also to all the kind people donating to my two chosen charities.  This event would not be possible without everyone's support and the strong team taking care of the logistics. With your support we can raise the vital funds together for these great charities."
One of the charities for which James is fundraising is Child Bereavement UK, which supports families and educates professionals both when a baby or child of any age dies or is dying, and when a child is facing bereavement.   The charity is close to James's heart as his wife's brother died when he was just 18 and, at the time, the support offered to bereaved families by Child Bereavement UK today was not available.
On the 20th anniversary of her brother's death, James's wife completed the London Marathon with her two sisters to raise funds for Child Bereavement UK, and since then the couple have also taken part in charity bike rides on behalf of the charity and volunteered at events.
James is also supporting Big Moose, a charity which James came across through the endurance events community.  The charity impressed him with the work they do enabling children with disabilities to take part in triathlons and supporting the homeless community in Cardiff.
If you would like to sponsor James, please  go to his website:   http://longestdaydeca.co.uk/donate.html