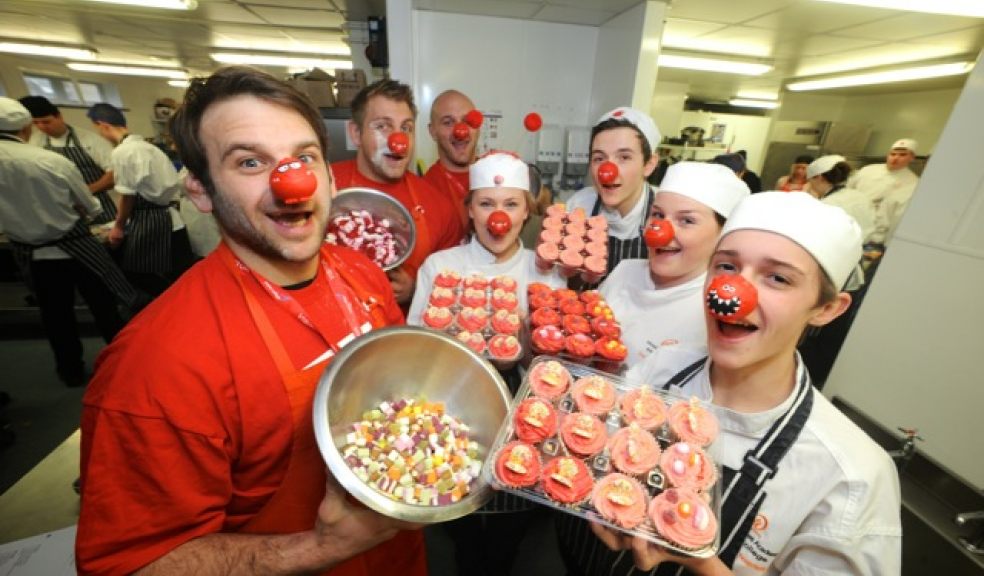 Comic Relief spirit sweeps through Exeter
Comic Relief marked its 25th year of helping children in Africa and the UK yesterday. Businesses, clubs and schools all over Exeter got involved by doing 'something funny for money' in a bid to make this year's Red Nose Day the best fundraiser yet.
Exeter College were hit by Comic Relief fever early on when they held a 'bake off' in their training kitchens between catering students and three of the Exeter Chiefs. Supported by the Rugby Players representative and with Sainsbury's and Silver Spoon providing the ingredients, the team kick started the Comic Relief season on the 28th February. They wanted to raise money and awareness for both the Comic Relief charity and Restart, a charity which offers help to the families of injured rugby players. Other past events include Timepiece's 'Wonkeylegs: Red Nose Day Special'- an evening of music and dancing where revellers were allowed in for free as long as they followed a bright red dress code- and a Clothes Exchange at the University, organised by their charity society, RAG (Raising and Giving). RAG was also in the Comic Relief spirit early, putting together a parody video of One Direction's official charity single to raise awareness of the day, which can be seen here http://www.youtube.com/watch?v=g7rN7LrdcFw.
The University Forum hosted a huge variety of fundraisers yesterday, including cake auctions, therapeutic laughing yoga, musical performances and an inter-residence sponsored chest wax, which was performed by beauticians from Richard Beaumont's salon. Many of the University's societies were present, encouraging students to get fundraising in inventive ways. The Circus Society, for example, offered a juggling workshop in exchange for a donation. The student library also got involved, offering students the opportunity to pay off their library fines as charitable donations. The campus radio station, Xpression FM, was also at the Forum covering the events live. They will be teaming up with RAG to host a 80s-themed night at the University's student club on Saturday night to raise even more money for the cause.
Exeter College students got into the Comic Relief spirit for the second time yesterday, raising £392 in their 'Bushtucker Trial' event, that saw students eating different types of meal worms.
Companies throughout Exeter also came up with inventive ways to fundraise. 72 year-old Michael Harding, who works at Ashfords solicitors, raised over £300 by having his beard and hair shaved off. He'd been growing the locks for 40 years. Regus had a duvet dress-down day, whilst Aspect Windows hosted a bake sale during the morning in a bid to raise £300 for Kirstie Allsop's Twitter Million campaign. The Magdalen Chapter painted guests' nails red during its 'Friday Fizz' event, which is popular with city workers for its cut-price after-work drinks. They gave customers spa vouchers to the value of their donations, which will be redeemable at a later date. Sous-chef at the hotel, Matt Downing, also got involved by having his chest waxed. He allowed his colleagues to 'take a strip off him' for £1.
After a hard day of fundraising, everybody could relax in front of BBC's Comic Relief - Funny for Money Show, which celebrated the nation's efforts and tried to rally up further support. EDF's Exeter Business Park site agreed to man phones with 300 volunteers who will work in shifts to take calls from donators during the show. The site featured as the regional live broadcast for the show, which also included a new ten-minute Vicar of Dibley sketch with the cast reassembled for the first time in seven years.