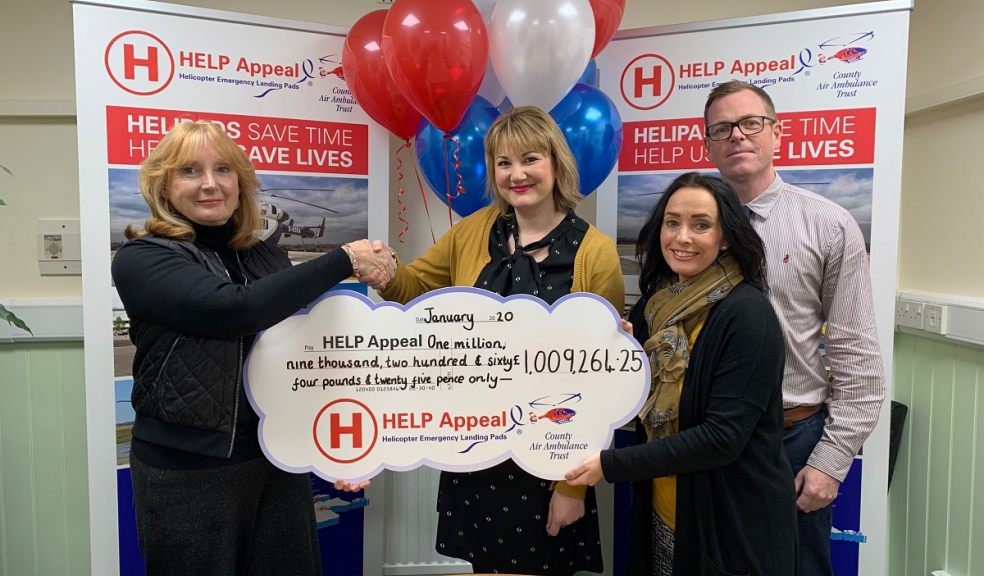 Charity will writing campaign raises £1 million for County Air Ambulance Trust HELP Appeal
A NATIONAL charity will writing campaign has smashed its £1 million fundraising target for the County Air Ambulance Trust HELP Appeal.
Since June 2014, Wills and Legal Services has provided people across the country with a professionally-written Will in exchange for a donation to the appeal.
And the Specialist Paralegal Law Firm reached the magical mark after raising £33,589 in December, bringing the overall total to £1,009,264.25.
The appeal funds life-saving helipads so air ambulances can land directly at hospitals throughout the UK.
Wills and Legal Services held a special presentation ceremony at its head office in Malvern, Worcestershire, on Wednesday, January 22, where Sally Abbott, Head of Fundraising, HELP Appeal, thanked staff for all their hard work. She handed out thank you gifts and told staff about some of the projects where funds have been invested. Sally was also presented with a cheque for £102, which came from a raffle of all gifts given to the company at Christmas.
Sarah Watson, director at Wills and Legal Services, said: "What a way to start the year! Our Charity Will Writing Offer has been a big success and it was only a matter of time before we reached £1 million for the HELP Appeal.
"We're proud to raise money for local and national charities through writing wills in exchange for a donation to one of our chosen charity partners.
"We're so pleased with how well this campaign has done - thank you to all our customers for helping us to reach this fantastic milestone. What this means is we're now looking towards the next million."
Sally Abbott, Head of Fundraising, HELP Appeal, said: "We aim to support any hospital that needs our help in building a helipad as close as possible to the Emergency Department, which will save time and save lives.
"It's only through game changing donations such as £1 million from WLS, that help to make our mission possible across the country.
"A huge thank you to the team at WLS and their clients. We simply couldn't do it without you."
Robert Bertram, Chief Executive of the HELP Appeal said: "£1 million from Wills and Legal Services has made a huge difference to our charity and the local projects that we help to fund. Thank you to WLS for supporting us with helipad projects across the country."
Visit helpappeal.org.uk to learn more about helipads the charity is funding in the future. In a double celebration for Wills & Legal Services, last month's total was a December record for the appeal.
The recommended donation for a Charity Will is just £40 per person, although this is optional and you can donate as much or as little as you like. Whatever you choose to give, 100% of the donation goes to the applicable charity.
The benefits to the charity are huge, helping them to continue their much needed work. Meanwhile our clients receive the same expert estate planning advice from our paralegals for a much reduced cost.
If you're interested in helping the HELP Appeal, and getting your will written in the comfort of your own home, please call us on 01885 490380. We can also help with Later Life Estate Planning, such as Lasting Power of Attorney, Trusts, Estate Administration, Mental Incapacity and Care Fee Advice.