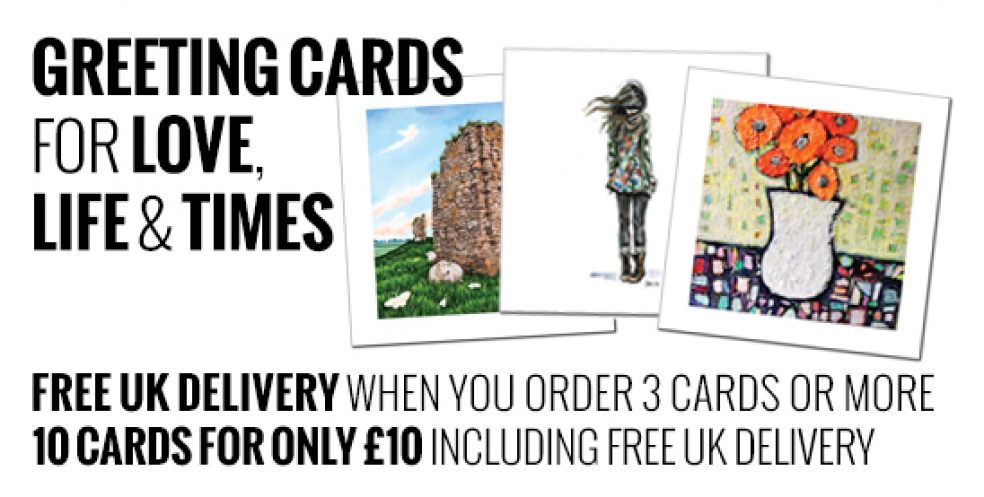 Greeting card company draws on SW artists' talent
The design of its greeting cards is critical to the success of spottedsheep.com and, in addition to paying a royalty for use of their artwork, spottedsheep.com includes the artist's name and website address on the back of each greeting card, so customers are able to purchase originals, prints and other products directly from the artist.
"From the very beginning, our aim has been that our artists as well as our customers benefit from a relationship with spottedsheep.com," says spottedsheep.com Managing Partner, Mike Temple, "they provide us with great designs and we provide a platform for promoting their work."
Apart from a select few, making a living from their work presents a constant challenge for artists and, in developing their range of greeting cards, spottedsheep.com wanted to provide a means for artists to monetise their work, as well as helping them reach a wider audience. The launch of the spottedsheep.com online greeting card store provides the platform for them to achieve both.
"Despite being represented by a number of galleries, there can be months between the sale of one piece and another," says Dartmoor-based oil painter, Gregory Mason, "so when spottedsheep.com approached me to license my work for use on their greeting cards, I saw it as a great opportunity to develop a more regular income, without me having to do any more work!"
Despite the increasing popularity of ecards, worldwide greeting cards sales remain buoyant, with the UK one of the largest markets for greeting cards. According to the UK Greeting Card Association, households purchase an average of 30 greeting cards per year. spottedsheep.com has supplemented this industry data with its own research into the behaviour of greeting card consumers of whom, when asked if they would buy greeting cards in greater quantities to benefit from discounted prices, almost 85% of those questioned responded positively.
spottedsheep.com is able to offer free delivery for UK customers on orders for three or more cards and 50% off orders for ten cards or more, by producing its own greeting cards and selling them directly through its online store. This approach means that, as well as passing on savings to its customers, spottedsheep.com is able to pay its artists a healthy royalty.
spottedsheep.com continues to develop relationships with local, national and international artists to provide a greater choice for its customers and is always eager to consider submissions from artists to supplement its range. Future plans for spottedsheep.com also include the development of a 'virtual greeting card' service which will enable its artists to reach an even wider audience for their work.
Founded in the UK in 2012, spottedsheep.com provides the very best creativity, quality and choice for customers, at exceptional value, by collaborating with artists across the world to produce and sell greeting cards direct to customers through at http://http://www.spottedsheep.com/greeting-cards.html
For more information contact Mike Temple on 07816 665500 or email mike@spottedsheep.com.