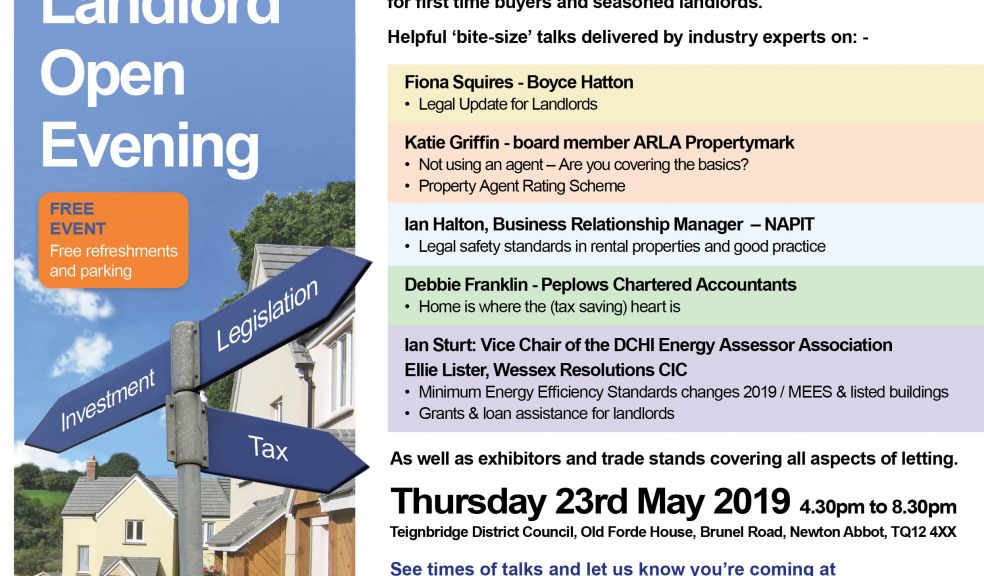 Teignbridge to host free landlord open evening
Private landlords, property investors and owners of empty homes are invited to a free Landlord Open Evening hosted by Teignbridge District Council on Thursday 23 May.

Open to all Teignbridge landlords, whether currently renting or thinking about renting, the event covers all areas of buy to let and brings together experts and industry providers under one roof. With an informal environment, landlords will have the opportunity to network and gain the information needed to run effective, safe and profitable tenancies.

As the buy to let market expands the government continues to legislate to improve management standards and the safety of tenanted properties. 

All landlords, regardless of whether letting a single property or portfolio must keep up-to-date with legislative changes to avoid costly mistakes. This is particularly relevant for landlords of properties with F and G rated energy performance certificates as they will need to act upon the amended Minimum Energy Efficiency Standards legislation by April 2020 so they can continue to let and avoid hefty fines.

A wide range of industry experts will be present during the evening to provide advice regarding all aspects of the letting business. There will also be bite-size talks from industry professionals covering legal updates, tax advice, safety standards, the Property Agents Rating Scheme (PARS) and the minimum energy efficiency standards. 

Since 2013 over 800 local landlords have attended this annual event, gaining vital knowledge to help support their business. 

This year's event takes place from 4.30pm to 8.30pm at Old Forde House, Brunel Road, Newton Abbot, TQ12 4XX. Free parking and refreshments are provided.

There's no need to book and for more information, and to sign up to receive regular newsletters visit www.teignbridge.gov.uk/landlordevening 

Amanda Pujol, Teignbridge District Council's Interim Head of Service Delivery and Improvement, said: "Teignbridge District Council is committed to improving both the standard of management, and the quality, of private rented properties in the District. This free event provides a real opportunity for landlord to find out about changes in legislation and network with other landlords and businesses which support the letting business and I would encourage all existing landlords, or anyone thinking of buying and letting a property to attend".