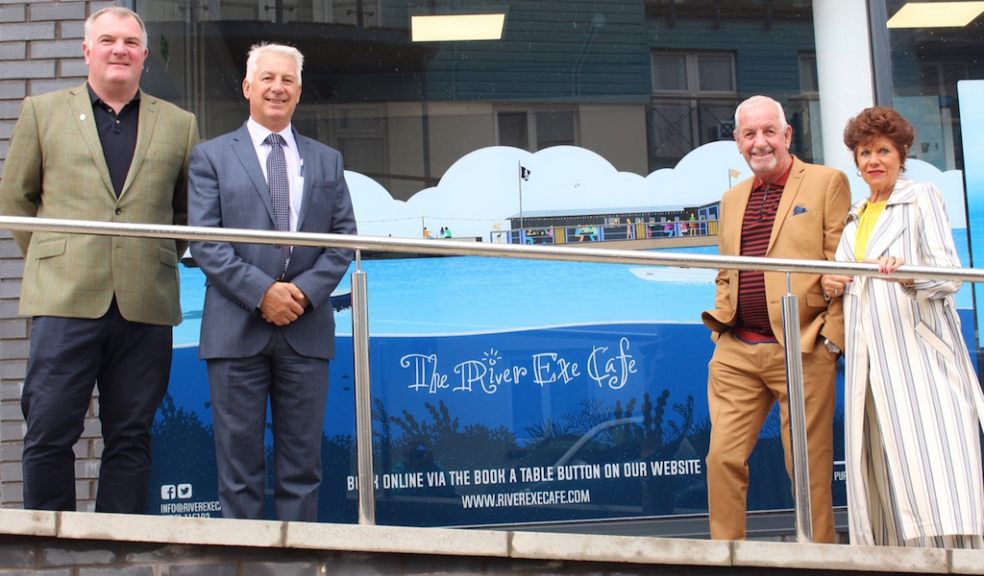 Exmouth Quay marks 28 years of regeneration
The transformation of a derelict docks to a thriving community were celebrated on Tuesday 12 June when Chris Fayers, Director of Exmouth Quay developers Eagle One Homes met up with the Quay's first residents Malcolm and Pam Carver and David Foa, Owner of the River Exe Cafe who has taken up the very last commercial unit.
In 1991, the docks at Exmouth Quay were derelict and the future for this end of Exmouth seafront looked bleak. But where others saw industrial decline Chris Fayers from Eagle One saw the opportunity to create an exceptional new residential area.
Chris said: "Developing Exmouth Quay has been twenty eight years of my life. I've made some brilliant friendships with residents, tenants, suppliers and contractors. 
I'm delighted that Pam and Malcolm who were the first to move into Schooner's Court have loved living here so much that 21 years later they are still part of the Quay community.
I had this vision to create contemporary waterside apartments not as some gated development but an asset to the town with public space, a real sense of community and thriving local businesses. 
David Foa, Owner of the River Exe cafe said: "Exmouth Quay is the perfect place to complement our unique floating cafe experience. I love the way the redevelopment has allowed the quay to be home to local businesses. It has a real buzzing atmosphere all year round."
River Exe Cafe has become the final tenant taking on the last business unit joining StuartLine cruises, Exmouth Marina Ltd, The Point Bar and Grill, Reflections, Peter Dixon Chandlery and Fish on the Quay.
Chris reflected: "To start with people were really not keen on the bright colours of the apartments and we had a quite a battle over it but I think the fact that Exmouth Quay is one of the most photographed developments in the South West vindicates our decision. 
"We have also made sure that this part of the seafront is properly protected from tidal flooding as we fully rebuilt the sea wall and harbour as well as investing in public spaces, walkways and car parks. I believe our decision to invest in this part of the town back in 1991 acted as a catalyst for Exmouth's renaissance into the lovely vibrant resort we have today. 
"This continues with investment in the Queen's Drive area and the multimillion pound watersports centre which will feature a restaurant from Michael Caines as well as Premier Inn and Rockfish all having developed along the sea front."
Historic elements such as the foundation stone from the original custom's house have been incorporated into the development