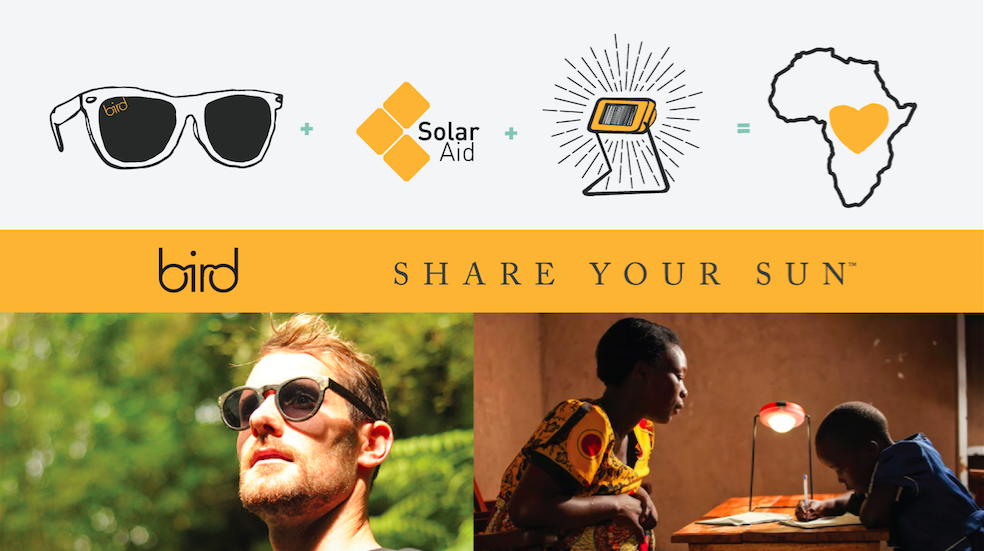 Devon-based sunglasses company has a clear vision for clean energy
A new Devon-based sunglasses company launches this month and is already drawing attention for its purpose-driven business model. Bird Sunglasses is a unique, stylish and thoughtful eyewear collection, and for every purchase, they distribute a solar light to families in Malawi, Zambia and Uganda through their 'Share Your Sun' partnership with Solar Aid.
598 million people in Africa alone have no access to electricity, relying on expensive and dangerous alternatives to light their homes. Many use homemade kerosene lamps which are a poor light source; emit toxic black smoke and eat up to 15% of a family's income.
But solar lamps, distributed through UK charity SolarAid, are safe, clean and affordable. They give off hours of light in the evening so families can earn, learn and feel safe after dark, transforming the fortunes of entire families.
Founder Ed Bird explains what drives his business model: "I wanted to design high quality, sustainable sunglasses that look great and feel good. But more than that – I was looking for a way to combine business, design and social purpose.  Share Your Sun is a way to connect with the bigger picture and contribute to a more sustainable world. Not only that, but research is showing that 'responsible consumption' brands have now overtaken 'conventional' brands in terms of growth rate. So increasingly it makes good business sense to take an approach that works from a triple bottom line – social, environmental and financial."
The sunglasses will be available online at the beginning of April, but supporters can gain early access to the products and other rewards through the Bird Sunglasses crowdfunder campaign, which reached 30% of its funding target in just two days. Models are available to ship as soon as the campaign ends.
Bird Sunglasses were the winner of Crowdfunder UK's 'Best Fashion Start-up Idea', winning funding support from website provider 123 Reg to boost their crowdfunding campaign. Nick Leech, 123 Reg Group Director, said: "123 Reg wanted to reward people with great business ideas by giving them a funding head start. We were delighted with the submission from Bird Sunglasses who have a truly compelling concept, and we look forward to helping them grow as a business."
Endorsement has also come from Dr Jeremy Leggett, Founder of SolarAid, who said: "At SolarAid, we see first hand the incredible power of a single solar light to transform lives among some of the poorest families in the world – money saved, food added to the table, seeds for the fields, on and on. People wearing Bird's amazing sunglasses will now know that they are adding fuel to this transformation in a big way: keeping sunlight out of their eyes while adding it to the African night, via the solar cells and batteries in the lights."
To find out more, visit
Crowdfunder:
http://www.crowdfunder.co.uk/share-your-sun 
Website:
or find them on Facebook, Twitter, Instagram or Pinterest with the handle @shareyoursun