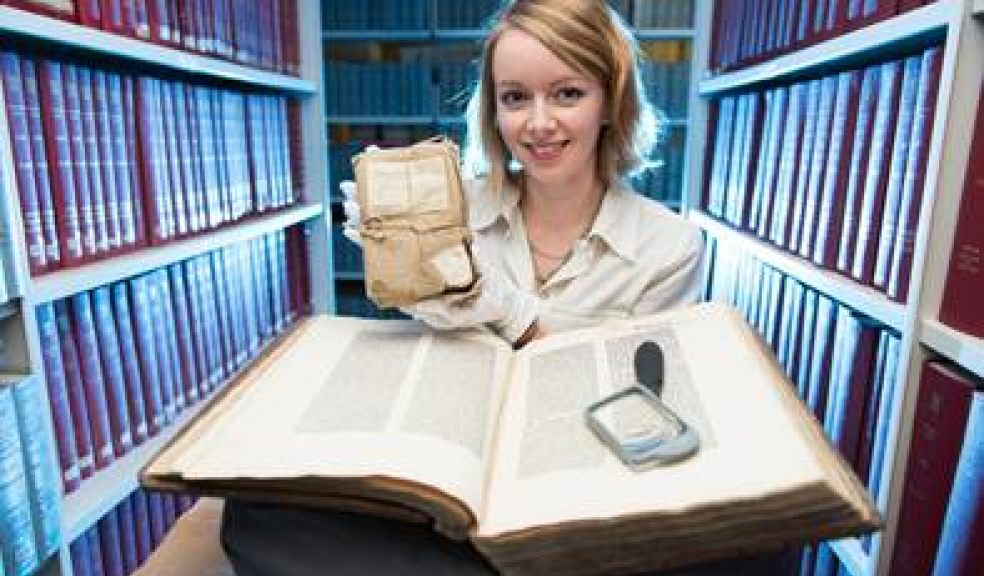 Professional storytellers adopt a tale from Exeter's past
Exeter-based KOR Communications has adopted a rare piece of the city's history, as part of Exeter Library's Adopt a Book initiative.
Launched by the Library's Senior Supervisor Joanne Cousins, the Adopt a Book scheme aims to raise funds for the restoration and preservation of a collection of rare and ancient books in the Library's special collection archives.
Run by Libraries Unlimited, the charity and social enterprise responsible for all of Devon's Library services, Exeter Library is home to over 6,000 rarely seen items, dating back to 1480. Joanne launched Adopt a Book in December last year in order to raise funds to restore some of the items and allow them to be exhibited at the city library for the public to discover these rare pieces of Exeter's past.
Award-winning public relations specialists, KOR Communications, chose to support the restoration of 'The English Men of Letters: The life of Thomas Gray' by Edmund Gosse, following a visit to the archive by Company Director and in-house photographer Guy Newman.
Guy was asked to photograph a selection of the items for the campaign's launch to bring the books to life.
Guy commented: "When I photographed Joanne with some of the books she talked me through their historical significance and I was particularly drawn to this one as I thought it was extraordinary that it was the only book in the library to survive the Exeter Blitz of 1942. When I came back and told the team about it, we couldn't resist saving this special part of Exeter's history so that more people can appreciate it's impressive past."
The oldest book in the special collections archive is an 'Incunable' (a book that was printed rather than written before 1501 in Europe) written by a Benedictine monk born in Sicily in 1386. This book dates back to 1480 and is one of only 80 copies in existence. Since the launch of the campaign, the Incunable, along with six other item have been adopted in full.
Joanne said: "I have worked at the library for years, and these books have always been there, kept safely in the archive so that their state doesn't deteriorate any further. I started to really pay attention to the books and how they ended up in this room, and I felt that is was a shame that they weren't able to be put on display so that the people of Devon could enjoy them and get to know their stories.
"Now it's great to be able to give them a new lease of life, thanks to the generous donations from organisations like KOR, the public will be able to enjoy these books once more."
Managing Director of KOR Communications, Annette Richman said: "As communication specialists, we love a good story told well and so the love and care that Joanne has for these books and the stories contained within them resonated with us.
She continued: "We are very pleased that our donation will help contribute to this brilliant campaign and preserve a little piece of Exeter's history and would encourage other individuals and organisations to make donations, both large and small, to make this a real success."
All of the items require varying levels of restoration, ranging from repairing damaged corners, lifting stains, re-sewing bindings and restoring damaged spines. Some of the items, including the Incunable, will have bespoke boxes made, to protect them from any further damage whilst maintaining this vital part of Devon's heritage.
For more information about the books or to make a donation to help save the books please visit http://www.devon.gov.uk/adoptabook