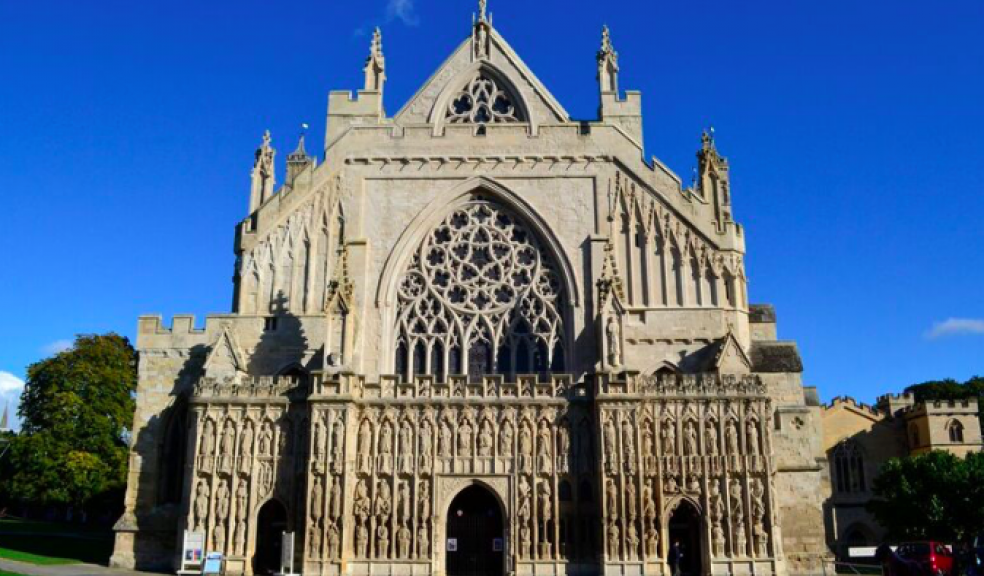 Major conservation project to preserve Cathedral's medieval statues
THE iconic image screen on the front of Exeter Cathedral is to undergo an extensive renovation – made possible thanks to the support of The Prince of Wales who made a donation through The Prince of Wales' Charitable Foundation.
The three rows of statues on the West Front were added to the already constructed Cathedral between 1340 and 1470, and depict angels, kings and prophets and disciples of Jesus.
Dozens of figures also peer out from the battlements above and the whole screen is decorated with plants and animals. Originally, the statues were coloured in bright paint, and the last few traces of that paint can still be seen by a close observer.
A specialist survey has been carried out to look at the state of the statues, and it specified cleaning and repair to prevent further decay. A protective lime shelter-coat will be put on the statues to protect them from further weather damage.
The work will be carried out by the Cathedral's own works department during April and May.
The Prince of Wales has long been a supporter of Exeter Cathedral, and was patron of its Third Millennium Campaign until 2013. His Royal Highness is Patron of the Friends of Exeter Cathedral and has been since 1979. He also met several of the stonemasons who will be carrying out the West Front work, during a visit in 2013.
The Dean, the Very Revd Jonathan Draper, said: "The Prince has been associated with the life of the Cathedral for 30 years and we are delighted to have his support for this important conservation project to the front of the cathedral."
The West Front statues are inspected every five years to try and halt further decay.
Clerk of Works at the Cathedral, Chris Sampson, said: "The image screen at Exeter is a world renowned iconic masterclass in medieval stonework and the skills of the crafts people involved in its creation.
"The more you study it, the more you discover and on a bright day close up you can clearly see traces of the coloured paint that once must have made it look truly spectacular. Although there have been interventions to the screen's architectural design and some of the figures have been replaced in the past, the volume of original work remaining warrants the very highest attention being given to it.
"The screen underwent a major repair program in the late 1970s and now as part of its care plan every five years we inspect, monitor and record its condition and implement the findings needed to keep the ravages of decay at halt.
"The majority of the structure is Beer stone from East Devon and has held up well but it is over 600 years old. This continued programme of care will ensure that the lasting impression of all future visitors to the Cathedral is one of awe of the complexity, and admiration for those that originally built it and now care for it today."