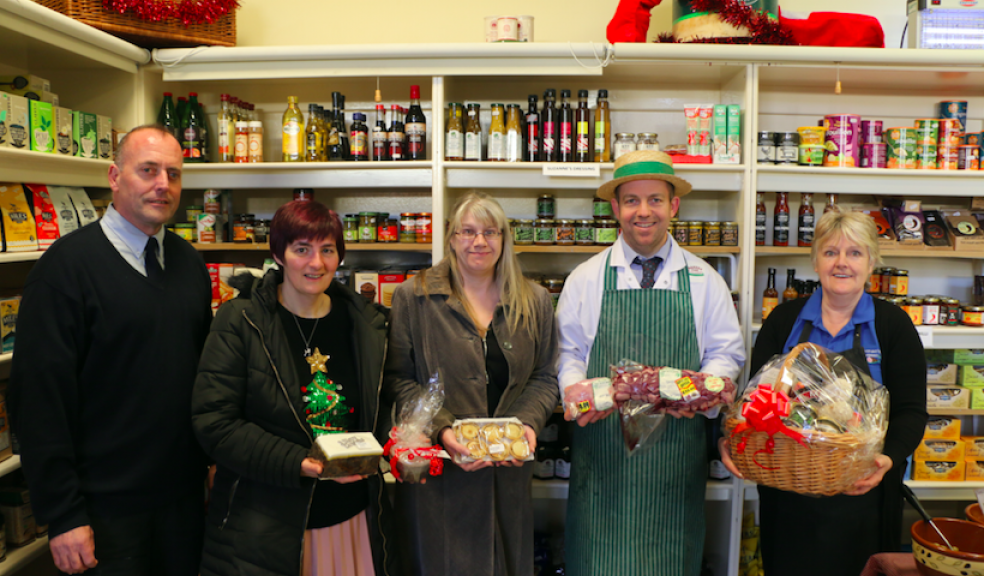 Festive surprise for Newton Abbot Market shopper
A trip to Newton Abbot's markets turned into a Christmas surprise for one lucky Teignbridge resident.
Nicola Ryan from Newton Abbot was drawn as the winner of a £100 Christmas hamper packed full of festive goodies supplied by Bakers the Butcher, Stonemans Deli and Home Bake - from Newton Abbot's Indoor Market. A popular annual event on the market calendar, the competition saw market shoppers completing an entry form for a chance to win the fantastic festive prize.
On 19 December, Teignbridge District Council's Planning Committee unanimously agreed plans for the first phase of the regeneration of Market Walk shopping centre. Tenders for the work are currently out and it is anticipated that works will commence before the end of February. Works will be completed in stages to minimise the disruption to the existing businesses over the summer.
The largest investment in Teignbridge's history, the acquisition of Market Walk shopping centre gives Teignbridge the ability to positively influence the future development of Newton Abbot's central shopping district.
Mike Walsh, Teignbridge District Council's Markets Manager for Newton Abbot, said: "Congratulations to Nicola and I am sure she will enjoy the delicious range of produce from our top quality butchers, deli and home bake cakes. I would like to take this opportunity on behalf of all the traders in the Market to wish all our customers a merry Christmas and a fantastic new year".
Newton Abbot is home to variety of indoor and outdoor markets, with something for everyone to enjoy and explore.
The Market Hall - Monday to Saturday, 9am to 4pm
The Food Hall - Monday to Saturday, 8am to 5pm
The Outdoor Market, operates in the Market Square and Courtenay Street - Wednesday and Saturday, 8am to 4pm
The Farmers' Market in Courtenay Street - every Friday, 9am to 3pm

Pictured: Mike Walsh, Teignbridge District Council's Markets Manager, Sharon Carpenter from Home Bake, hamper winner Nicola Ryan, Stuart Jones from Bakers the Butchers and Elizabeth Stoneman from Stoneman's Deli.