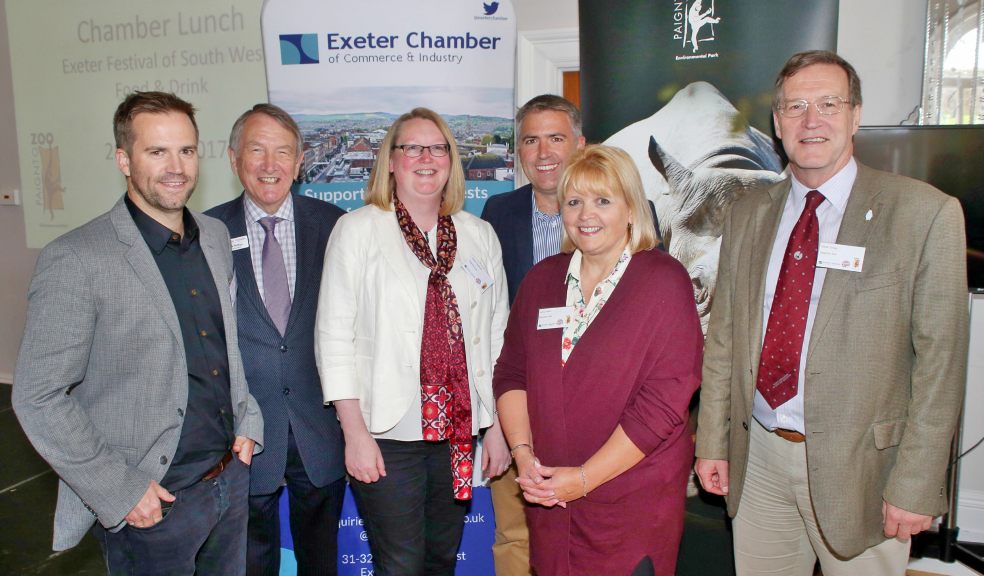 Exeter Chamber members enjoy networking lunch at Exeter Festival of Food & Drink
More than 120 guests attended the most recent Exeter Chamber of Commerce networking lunch which took place in conjunction with the 2017 Exeter Festival of South West Food & Drink.
The event was sponsored by Paignton Zoo and delegates were given a presentation on the business relationship between the Zoo and Paignton-based family run firm, Bays Brewery.
The speakers at this event included Mark Salmon, Director of Bays Brewery and Simon Tonge, Executive Director of Paignton Zoo who shared with delegates how their cause related marketing relationship has benefited various conservation projects over the last 3 years. With the various creations of specially brewed ale and lagers, Bays Brewery have raised over £11,000 for Paignton Zoo which has made an impact on the Zoo's conservation projects.
Simon Tonge, Executive Director of Paignton Zoo, said "It's really important for local charities like Paignton Zoo to work in partnership with local businesses like Bays Brewery and local business organisations like the Exeter Chamber. There are benefits for everyone concerned and together we can promote wildlife conservation and local enterprise to new audiences and make new connections."
Derek Phillips, Vice President of Exeter Chamber and Chairman of the Exeter Festival of South West Food and Drink, said "The Chamber lunch at the Food Festival, now a regular event in the Chamber calendar, is always extremely popular with our members. To have Paignton Zoo's sponsorship again this year is such a great support and hearing their talk about the benefits of local businesses working together was fantastic and just shows what a great business community we have in Devon."
The next Exeter Chamber networking lunch will be taking place on Wednesday 24th May at the Mercure Southgate Hotel. To book a place on this lunch, please visit the Exeter Chamber website, www.exeterchamber.co.uk or call 01392 431133.