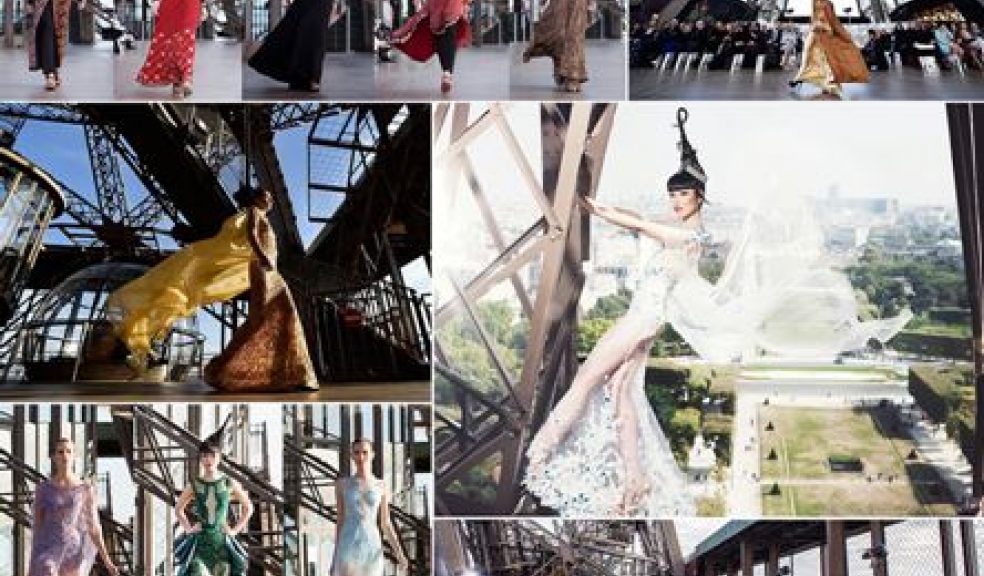 Devon print company joins Paris fashion phenomenon
Devon's very own creative print company, Inspirwood, has been handpicked by global fashion sensation Jessica Minh Anh to create exclusive VIP invitations for the highly anticipated J Autumn Fashion Show, which will take place on 29 October 2015 in Paris.
The show is part of Jessica Minh Anh's series of history making catwalks at the world's most iconic venues.  After the phenomenal success of the Eiffel Tower's first ever catwalk, the model and entrepreneur will transform the Seine's giant glass boat into a 100 meter floating catwalk.
The wooden boat-wheel invitations perfectly match with the theme of the show. All the pieces are produced using state-of-the-art laser cutting technology and 100% renewable energy. "We are very excited to join such a high profile production and wanted to create a unique product that reflects Jessica Minh Anh's extraordinary catwalk vision " said Pete Williams from Inspirwood "The invitations are also souvenirs for guests to take a piece of the show with them".

To create an illusion of models walking on water, Jessica will have guests seated facing the multi-faceted glass windows while the boat is cruising. As a result, Paris architectural wonders such as the Eiffel Tower, Notre Dame, the Louvre, and the 37 famous bridges will become the natural backdrop for the unique catwalk.

"We are extremely honored to work with Jessica Minh Anh on this special project" said Marco Goncalvez, Operation Manager of Compagnie des Bateaux Mouches. "We have been admiring her iconic productions at places such as the Grand Canyon Skywalk, Hudson River, London's Tower Bridge, and One World Trade Center for years. It is a privilege to have our venue added in Jessica's famous series of unconventional catwalks"
 
Similar to Jessica Minh Anh's previous theatrical catwalks, the highly anticipated J Autumn Fashion Show 2015 will combine of art, architecture, culture, and fashion.  Participating labels include Lebanese haute couture designer Rouba.G, Turkish talent Gülnur Güneş, Saudi Arabian fashion house OtKutyr, Peruvian artist Ani Álvarez Calderón, Kiwi heritage brand Iwi Creations, and 5.8.0 creative studio from Hong Kong.
Exclusive VIPs, including international fashion designers, country ambassadors, ministers, influencers in various industries, and international press, will enjoy the beauty of fashion and Paris in a new light.

Besides the exquisite haute couture and high-end ready-to-wear collections, Jessica Minh Anh's spectacular hairstyles are part of the attraction. Her architectural hairpieces, which are created by some of the most talented international artists, have graced numerous beauty publications as they compliment her extraordinary visions.
Jessica Minh Anh, who marked her 10th history-making production in July with the world's first solar powered catwalk, has worked with top designers and luxury brands including Montblanc, Graff Diamonds, Paul Costelloe, Addy van den Krommenacker, Shiatzy Chen, Yumi Katsura, Tony Ward, and Buccellati, while promoting exceptional talents from the new generation such as Rami Kadi, Shilpa Reddy, and Hoang Hai. Talking about her iconic locations, Jessica said "I believe the most outstanding designs should be showcased at the best of locations, using the most creative catwalk concepts. It's a challenging process, but very rewarding".

J Autumn Fashion Show 2015 is supported by Compagnie des Bateaux Mouches, Make Up For Ever Academy, Inspirwood UK, Onlineprinters GmbH, Salvatori & Zepanek among others. For more information, please visit www.jmodelmanagement.co.uk