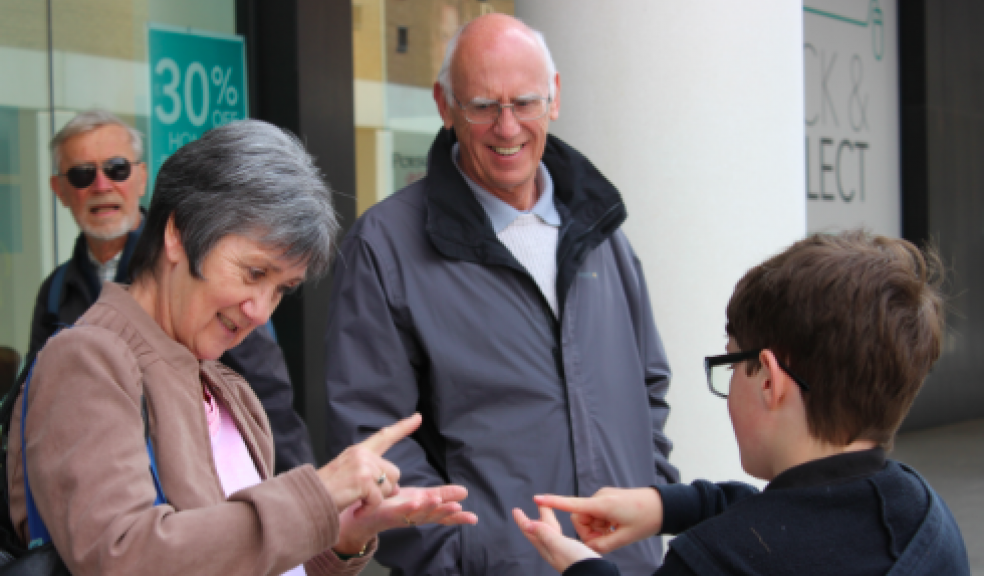 Deaf students mark national Deaf Awareness Week
Exeter Deaf Academy students will be teaching British Sign Language (BSL) and Deaf Awareness to schools, residential homes and shoppers in Exmouth and Exeter.
Activities include College students teaching Deaf Awareness to visitors in Princesshay shopping centre in Exeter, to staff parachuting 15,000 ft from a plane for a brave fundraising challenge in East Devon.
School students will also be creating beautiful sand sculptures on Exmouth beach to mark the national event which this year has the theme of 'A Celebration' to celebrate people across the community working together to support people who are deaf or who have a hearing loss.
Promoted by the UK Council on Deafness, Deaf Awareness Week is an opportunity to raise awareness that 1 in 6 people in the UK are deaf or have a hearing loss.  Craig Crowley, Chair of the UK Council on Deafness, said: "This year's Deaf Awareness Week is 'A Celebration' of collaboration and working together on a joint campaign for the benefit of people who are deaf or have a hearing loss".
Our students and staff will be uniting with the community to celebrate the achievements of Deaf young people and our Academy as follows:
• Monday (15 May): Our Year 7 and Primary School students will create stunning sand sculptures in a 'Tanglewood on the Beach' all-day art session, led by Academy Tutor John Lilley and Nick Mussell, founder of the Tanglewood Project, who runs our outdoor Forest School.
• Our College students will also join in the celebrations on Monday by holding a Deaf Awareness Session with residents at  Halsdown Nursing Home, in Exeter Road, Exmouth, from 2pm to 3pm.
• Tuesday (16 May): Our Year 8 and 9 students will teach British Sign Language (BSL) to visitors in Exmouth town centre, with support from Mark Stocks, Deputy Head of School and Nikki James, Deaf Instructor, time to be confirmed.
• Wednesday (17 May): College students and School Complex Needs students will take their turn to teach BSL, with our staff, in Exmouth Town centre, with Nikki, from 9.30am to 12.30pm.
• Thursday (18 May): Residents at Sheridan House care home in Douglas Avenue, Exmouth, will join in a Deaf Awareness session with College students from 3pm to 4pm.
• Friday (19 May): Exeter will join in the celebrations, with our College students supporting our School and College Complex Needs students to teach Deaf Awareness to visitors in Princesshay shopping centre, with our staff, from 10am to 12.30pm.
• Friday's events continue with plucky Student Support Worker Amy Ager's charity skydive at Dunkeswell airfield in the morning. To sponsor Amy, please visit her JustGiving page. She has already exceeded her £500 target by raising £785 from 34 supporters, and further donations are welcome to support the Academy's work helping young deaf people achieve their aspirations.
• Sunday (21 May): Our finale will be the Academy's involvement with the Exeter 10 Mile Race and Marathon on Exeter Quay, ranging from an opportunity for School students to join in a one-mile run, our students teaching BSL at our Academy gazebo and BSL storytelling and signed songs at the event.
The celebrations build on the momentum of our public consultation held this month to share plans for our new home in Exmouth. 
In conjunction with the architectural and town planning studios at Stride Treglown, we are now pleased to be able to present our inspiring proposal for the site, which both meets the ambitions of the Deaf Academy and hopefully the aspirations of the local community. 
Our plans can be viewed on our new build webpages and the public can submit feedback online from 10 May via an online survey which is open for 2 weeks.