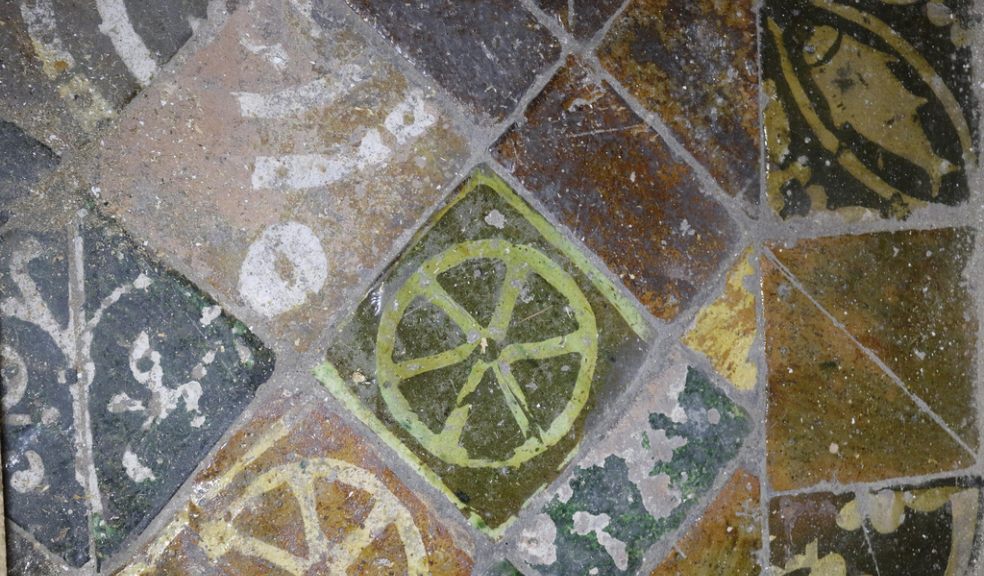 Ancient floor uncovered at Exeter Cathedral
An ancient tiled floor described as the "finest medieval tile pavement surviving in Devon and Cornwall" has been revealed for the first time in decades.
The floor has been uncovered as part of planned renovation work to the Cathedral. It is in a room above a Chapel, which in the Middle Ages was used as the Exchequer and in the 20th century as the Song School for boy choristers.
The decorative tiled floor has intricate patterns and was laid in the late 13th century.
The nearest similar medieval floor is in Winchester Cathedral.
The Cathedral's Archaeologist, John Allan, who who uncovered the tiles this week, said:  "I knew the floor was there from the Cathedral's own records in the Archives but no one had ever seen it.
"Around the edges, where it hasn't been walked on by decades of feet, the glazing of the tiles is still intact and they look as they were laid when they were new.
"It is believed to be the finest medieval tile pavement surviving in Devon and Cornwall.
"The Cathedral once had many areas of decorated tile pavement of this sort, laid in important areas of the Cathedral, but this is the only example which has survived intact."
The only other such decorative floor to have survived to modern times in the Cathedral was in the Chapel of St James, but this was destroyed in the Exeter Blitz.
Laurence Keen OBE, the chair of the Cathedral's Fabric Advisory Committee and former president of the British Archaeological Association said: "This is the most important rediscovery of decorated medieval tiles for 30 years."
The tile floor will be now cleaned and recorded and the Cathedral will examine ways in which the floor can be opened up for members of the public to view.