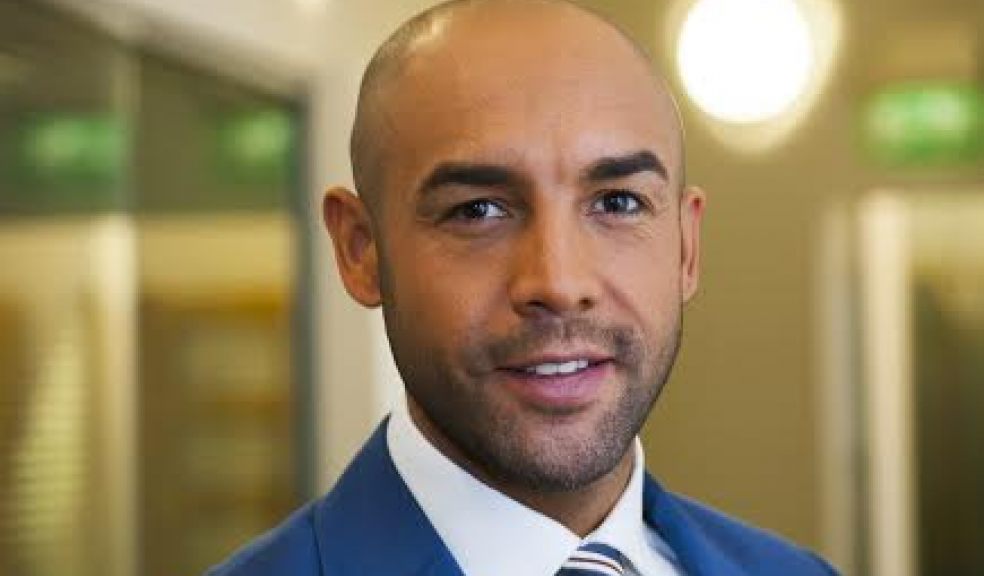 ITV journalist Alex Beresford launches 'Breaking Into News' competition
ITV News and Media Trust have launched 'Breaking Into News', a unique initiative that has been successfully running for six years and fronted by ITV's award-winning news broadcaster Charlene White and Alex Beresford for ITV West Country with the aim to unearth the next generation of diverse broadcast journalist talent from across the UK.
Alex Beresford is spearheading the campaign for ITV West Country and is encouraging applications from local budding broadcast journalists, who may have little to no relevant experience to apply. This is an opportunity for  those who have recently finished education and have limited media or broadcasting experience living in the area  to be mentored by leading news broadcasters, learn how to write and produce local news reports on a subject that matters to them and get the ultimate chance to break into news and media.
Now in its seventh year the 'Breaking Into News' competition is a collaboration between ITV News and Media Trust that has seen many talented individuals progress into careers in news journalism and media.
The competition launched today via the microsite www.breakingintonews.co.uk and applications are open for six weeks until its closing date on 9 April 2018.
Ten applicants will be shortlisted, representing one for each of the ten ITV regions across England, Wales and Northern Ireland. Those who are shortlisted will be paired with an ITV journalist, based in their region, and over the course of 6 weeks will be mentored on all aspects of broadcast journalism, including writing, reporting, production and how a newsroom works.
ITV Ambassador Alex Beresford for ITV West Country says, "There are so many ways you can break into news. I started off as an autocue operator, but dreamed of being on the other side of the camera. My dream became reality and I love my job so much."
The overall winner will be selected by an esteemed panel of judges including Roohi Hasan (ITV News, Senior News Producer), Kate Watkins Tutor (Head of TV News Training, School of Media and Communication, Leeds University), Margaret Emsley (Head of News at ITV Calendar) and Jasmine Dotiwala (Head of Youth Engagement at Media Trust) and will be awarded with £400 worth of journalistic equipment and the chance to have their local news report aired on ITV.  The overall winner will be revealed on 25 July 2018 at a special award ceremony in London.
Charlene White says, "Over six years, 'Breaking Into News' has consistently attracted some of the brightest and most promising new journalistic talent from across the country, especially amongst the harder to reach pool of diverse and underprivileged talent. It's about finding new and original voices in news and reflecting the society we live in, so I'm honoured to be fronting this fantastic competition once more and hugely passionate about providing more opportunity for those exceptionally talented to rise to the top and indeed break into news."
Mairi Ankers, Breaking into News Programme Manager at Media Trust added: "At Media Trust, we're passionate about creating exceptional opportunities for young people from diverse backgrounds to work in media. Programmes such as Breaking into News are a vital way of bridging the gap between the media industry and underrepresented communities and provide talented  individuals with a unique chance to break into the media sector and have a say on the issues that matter to them. We are delighted to be working with ITV News again on this programme and look forward to uncovering the next generation of newsroom talent."
A quote from previous 'Breaking Into News' finalist for ITV West Country, "I would definitely recommend the scheme to anyone interested in journalism. At the end of the scheme you'll have a professional news report to show people and put on a showreel for potential employers to view. I had so much fun making my report and learned so much, thanks to my mentor."
The ten ITV regions include:  ITV London, ITV Central, ITV Calendar, ITV Meridian, ITV Border & ITV Tyne Tees (combined regions), UTV, ITV Wales, ITV Granada, ITV Anglia and ITV West Country.
The full list of ten ITV ambassadors include: Donovan Blake (Anglia), Amani Ibrahimi (Tyne Tees & Border), Victoria Whittam (Calendar), Russell Hookey (Anglia), Sameena Ali-Khan (Central), Anna Youssef (Granada), Ria Chatterjee (London), Andrea Thomas (Meridian), Tahmeena Alam (Wales), Alex Beresford (West) and Nicola Alexander (UTV).