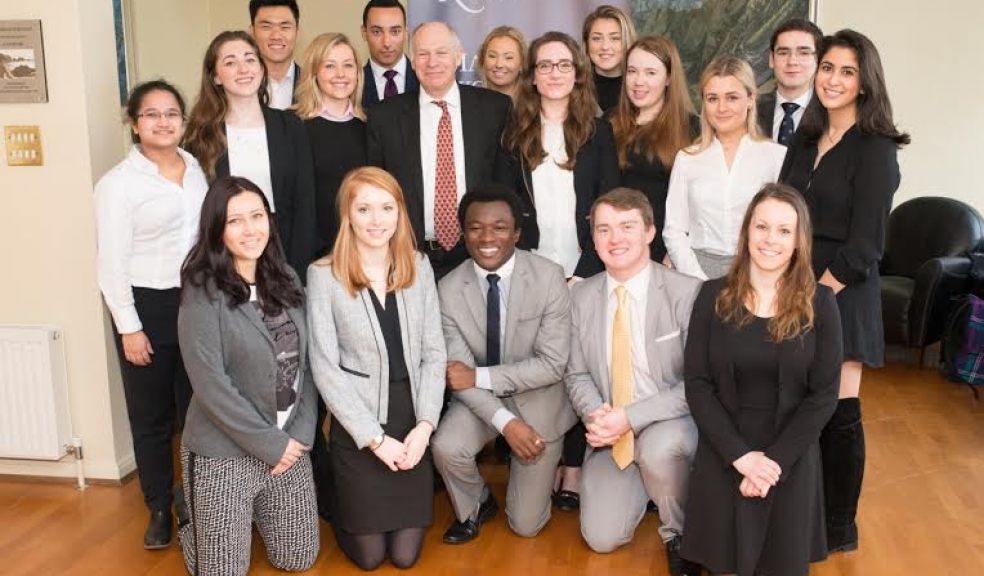 UK Supreme Court president visits University of Exeter
The Right Hon Lord Neuberger, President of the UK Supreme Court, has visited the University of Exeter to meet staff and students.
Lord Neuberger's informal visit came following an invitation from student Ammar Khan, who spent time shadowing him earlier this year. He asked to meet students during his time at the Streatham campus and spent an hour answering their questions on a wide variety of topics, including how to create a more diverse group of judges, the pressures faced by the judiciary and media coverage of court cases.
He met separately with undergraduates and postgraduates studying law during the visit on Friday, 29 January, and with Professor James Devenney, head of the Exeter Law School, and Professor Tim Quine, Interim Deputy Vice Chancellor (Education).
Richard Edwards, deputy head of the Exeter Law School, said: "We were delighted to welcome Lord Neuberger to the University of Exeter and very pleased he chose to visit us.
"This gave students the rare opportunity to hear from the pre-eminent judge of our age and we hope it inspired them."
Lord Neuberger of Abbotsbury is the second President of the Supreme Court. Before his appointment in 2012 he was Master of the Rolls. He studied chemistry at Christ Church, Oxford and worked at a merchant bank before becoming a barrister. He was a High Court judge and then Supervisory Chancery Judge for the Midland, Wales and Chester and Western Circuits from 2000 to 2004.
In January 2004 he was appointed a Lord Justice of Appeal. He also led an investigation for the Bar Council into widening access to the barrister profession. In 2007 he was made a Lord of Appeal in Ordinary and created a life peer as Baron Neuberger of Abbotsbury in the County of Dorset.