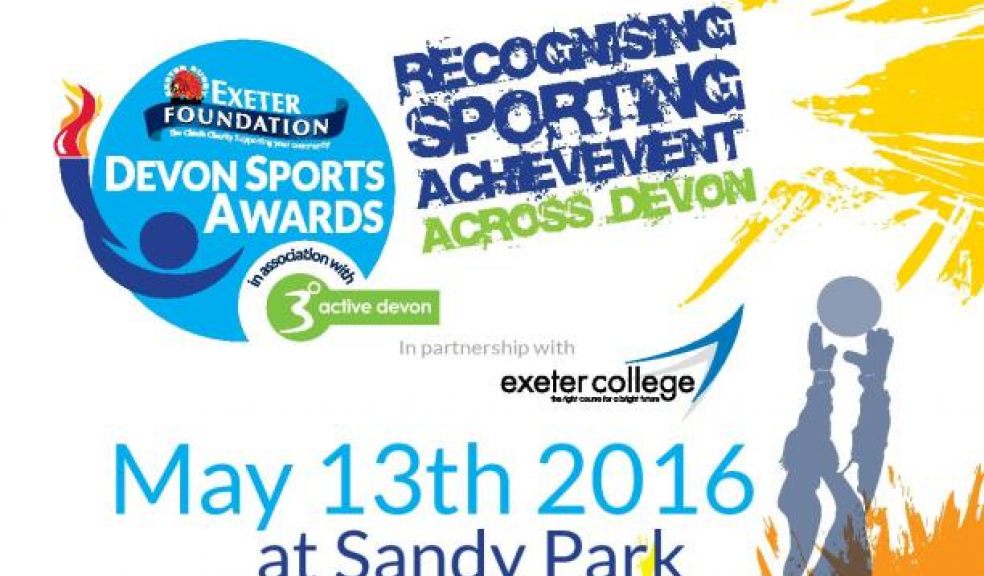 Nominations open for Devon Sports Awards
Nominations are now being accepted for the prestigious Exeter Foundation Devon Sports Awards, which will take place at the home of the Exeter Chiefs, Sandy Park, on 13th May 2016.
The awards, which are held in association with Active Devon and in partnership with Exeter College, celebrate the best in sport throughout Devon, with all funds going to the Exeter Foundation.
Organisers of the event are keen to celebrate a wide cross-section of sport from community to elite level and there has been a reorganisation of the categories from previous years to reflect this.
Performers and teams will be recognised in the 'Community Sport Performer of the Year' category, which this year will aim to acknowledge achievements from teams or individuals across a wide range of community sports in Devon thanks to additional support from various governing bodies.
As in previous years, coaches and volunteers will also be commended with the Devon Young Coach and Devon Coach of the Year awards, and Devon Young Volunteer and Devon Volunteer of the Year. In addition, those who have successfully increased opportunities for people with disabilities to participate in activity and sport in Devon can be nominated for the Contribution to Inclusive Sport award.
Outstanding clubs and elite performers can also be nominated, and there will be an Outstanding Contribution to Sport award decided from the winners of all of the other categories.
Exeter Foundation Chairman, Tony Rowe, said: "The Exeter Foundation Devon Sports Awards aim to recognise as many people as possible who contribute to all levels of sport throughout Devon.
"The county has a proud sporting history and it is a privilege of the Exeter Foundation, with Active Devon and Exeter College, to be able to celebrate this and the bright future of sport in Devon."
"The level of entries we have had over the past few years has been outstanding," said Matt Evans, Chief Executive of Active Devon. "It is always amazing to see the amount of voluntary effort that underpins sport in Devon and enables the teams and performers to achieve great things."
The nomination form can be accessed at www.activedevon.org/dsa2016 and should be submitted online before the closing date of 31st January.
For any queries with the Devon Sports Awards, please contact active@devon.gov.uk

The full list of categories for nomination are:
• Community Sport Performer of the Year
• Devon Young Coach of the Year
• Devon Coach of the Year
• Devon Volunteer of the Year
• Devon Young Volunteer of the Year
• Contribution to Inclusive Sport
• Devon Club of the Year
• Outstanding Performance in Elite Sport
Photographs from last year's event can be viewed here