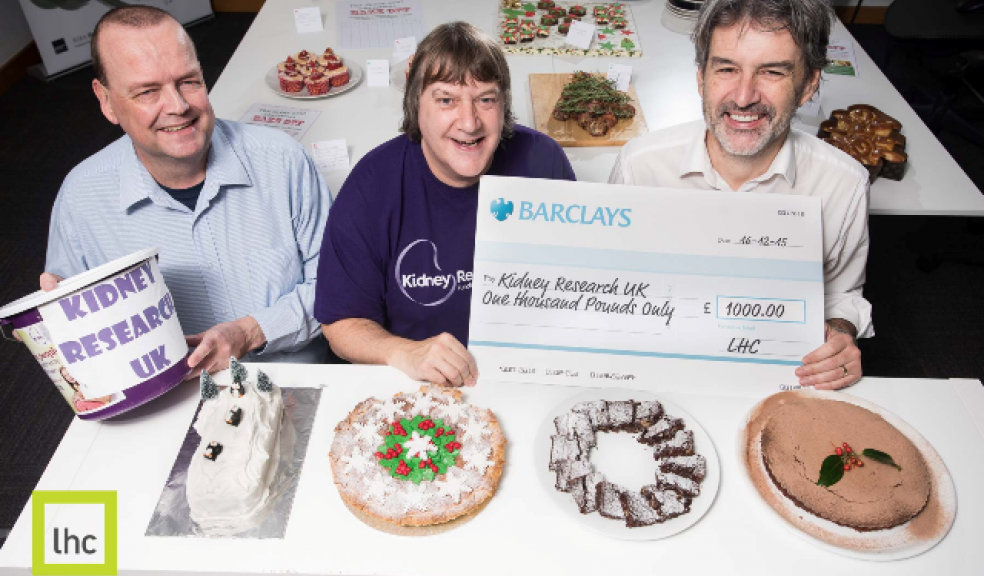 LHC cook up £1,000 donation for charity
LHC Architecture + Urbanism have raised more than £1,000 for one of their chosen charities of the year by hosting their very own Bake Off contests.
Following weeks of fierce competition between the team of architects and urban designers at the Exeter and Plymouth studios, LHC cooked up a special surprise for staff at the Kidney Research shop in Exeter and handed over an impressive cheque.  
To celebrate handing over the grand total of £1,000, LHC organised a final Christmas Signature Bake Off and baked some impressive goodies to share with staff from the local charity shop, one of only four the charity has across the country.
Over the weeks, staff rose to the challenge and produced some winning bakes, including a 3D representation of the LHC Exeter studio made from shortbread and an LHC logo inspired sausage roll. Staff also took part in a monthly office lottery – the 50/50 Club, which was the secret ingredient that boosted the overall total.
Kidney Research UK holds a special significance for the firm after Architectural Technician, Mike Huxtable, underwent a life changing kidney transplant earlier this year. Mike had suffered from kidney problems from birth, and prior to his kidney transplant had been on a dialysis machine three times a week after his kidneys failed.
Mike's colleagues at LHC decided to make Kidney Research UK one of their chosen charities of the year and have been raising funds and donating to the Exeter Kidney Research shop throughout the year.
Urban Design Director Paul Osborne said: "It has been great fun taking part in the LHC Bake Off, but more importantly, it has raised an impressive amount of money for a charity that provides vital help and support for people like Mike.
He continued: "We are so pleased to have Mike back with us following his transplant and raising this money is just one way that we can say thank you and support this charity to continue its work in finding better treatments and hopefully a cure for kidney disease."
Darryl Hagley, Manager of the Exeter Kidney Research shop, said: "We are so grateful to the staff at LHC for going to so much effort to raise this money. We rely solely on donations from the public, so having a company like LHC on board makes all the difference to us.
All of the money raised goes towards lifesaving research into kidney disease and a donation of this size will help to accelerate research and improve lives now and in the future."
LHC Architecture + Urbanism have also been supporting local charity Hannahs, completing a 58 mile sponsored cycle ride in the summer and raising more than £3,000. The firm will be selecting a new charity to support for 2016 shortly.
To find out more about LHC Architecture + Urbanism visit www.lhc.net/ or follow the team on Twitter @LHCArchitecture