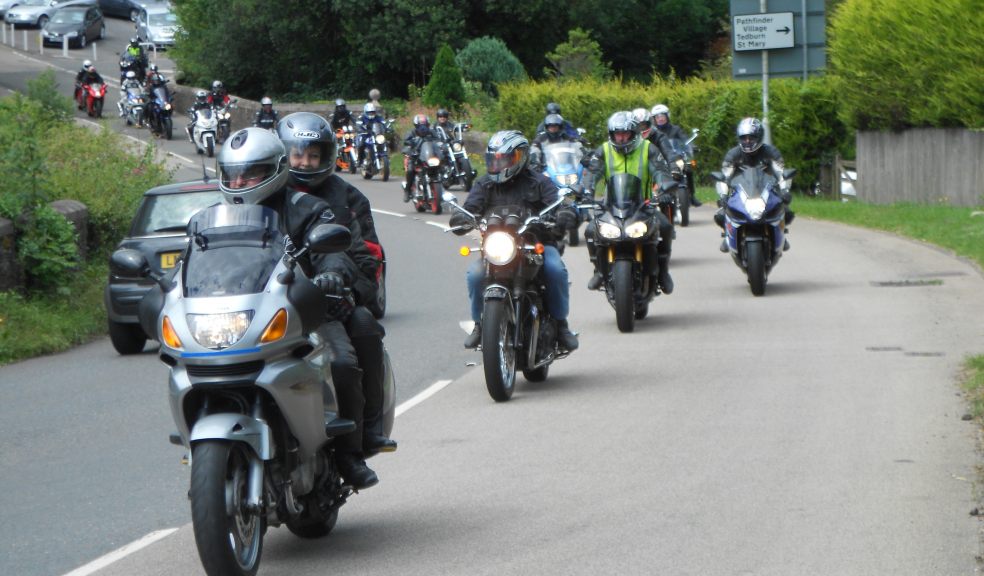 Devon Air Ambulance's annual Motorcycle Ride Out returns
Devon Air Ambulance (DAA) are excited to announce that this year's Motorcycle Ride Out, sponsored by Bridge Motorcycles, will return to the Den, Teignmouth on Sunday 9th July 2017.
It is anticipated in the region of 1000 bikes will enter this year's Ride Out which will start from Trago Mills, Newton Abbot, from where the bikes will set off in small groups from 10:30am.
Registration will open at 9am. The bikes will then follow an approximate 80 miles marshalled route through the stunning Devon countryside before arriving at the Den, Teignmouth, from lunch time.
Entry is only £5 and all pre-registered entrants will receive our free, ever popular, limited edition Ride Out t-shirt on the day. You can register on the DAA website at www.daat.org/event/motorcycle-ride-out-2017
This year DAA are encouraging all riders to raise sponsorship, if each rider raised just £1 per mile they would each raise an additional £80 for the Charity. To create an online giving page please visit DAA's Just Giving page at https://www.justgiving.com/daat or for sponsor forms please email fundraising@daat.org.
The Ride Out will be followed with an afternoon of live music, trade stalls and refreshment stands on the Den, Teignmouth. The bikers are expected to arrive at lunchtime with live music starting at 1pm. The afternoon of live music is free for all to attend and DAA warmly encourages friends and families of the bikers to come along and join them for a fun filled afternoon, as well as biker enthusiasts, holiday makers and locals looking for a great day out.
DAA have an excellent line up of live music for the afternoon, including Littermouth from 1pm, Five Finger Discount at 2pm, Thick as Thieves at 3pm and The Rock Section at 4pm. Big Bear Recordings will kindly be providing the tech for the afternoon.
On sale at the refreshment stands will be Down Draught ale, brewed by Black Tor Brewery in celebration of DAA's 25th years of service. So, for those arriving for the afternoon by public transport why not give it a try?
Devon Air Ambulance Fundraising Director Caroline Creer added "We would like to thank all of our regular supporters who join us year on year for this great day out and we also look forward to welcoming lots of new faces. Every year the event has a great atmosphere enjoyed by bikers and non-bikers alike. We'd like to thank Bridge Motorcycles for sponsoring the event and Trago Mills for once again supporting the start. We're really excited to be returning to the Den, which we know is a brilliant venue for the event."
Bridge Motorcycles Director Anthony Lee added ""Motorcycles are, above all, a lifestyle where family, passion and technical innovation meet. The passion for motorcycles runs in my blood with both my Father and Grandfather having worked at Bridge Motorcycle. I truly believe that two wheels move the soul, and this is why we feel it is so important to support charities like DAA who help motorcyclists in their time of need!"
Enter today to secure your place and your free Ride Out t-shirt at https://www.daat.org/event/motorcycle-ride-out-2017. For more information about the event please follow the DAAT Ride Out Facebook page at @DAATMRO 
Devon Air Ambulance's Motorcycle Ride Out promotes riding safely in Devon and the event is not a race.