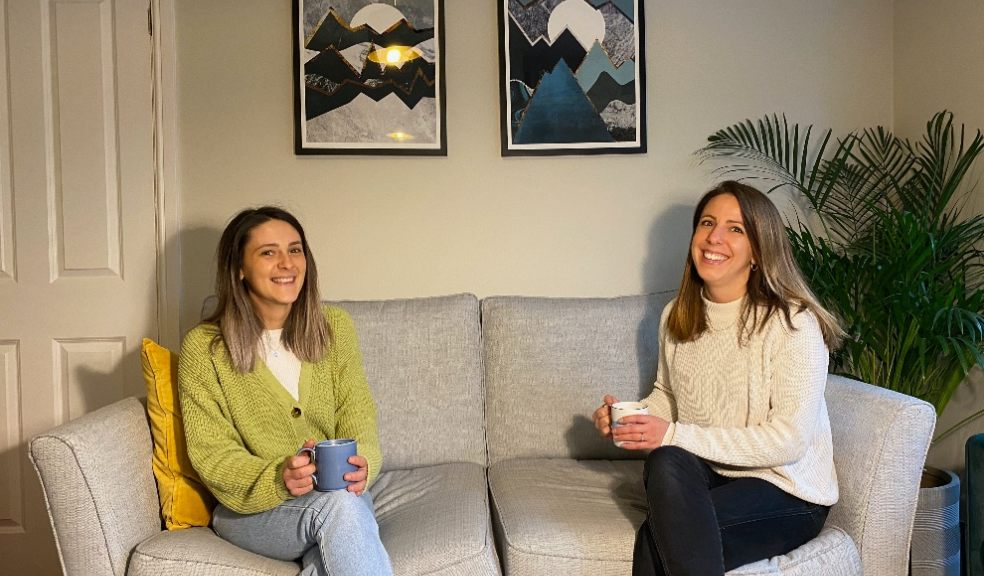 From Central America and the French Alps to Devon's capital city
In March 2020, as airlines around the world began to shut down, like so many people, work and travel plans for two young Exeter ladies were put on hold.
As news of the pandemic spread across the globe, back-packer Georgia Wilkinson wrestled with the dilemma of holing-up in Mexico City whilst sister, Emily Turner, and husband Iain postponed plans to spend a second spell working their UK jobs from the beautiful alpine town of Chamonix.
A last-minute Trans-Atlantic flight and a Heathrow pick-up by Mr and Mrs Turner, saw the two former Maynards School girls unexpectedly reunited and back living together in Devon's capital city -  first self-isolating, then in full lockdown – with no work and facing, who knew how long, of Joe Wicks work-out videos, sourdough baking, vegetarian cooking and – like everyone else – doing whatever they could to keep sane?
Whilst Iain continued with his London-based work from their Exeter home, the two sisters considered their options.
More used to meeting new people and enjoying the outdoors, what could they do together that would earn them a living, they would enjoy, enable them to use their skills and get out and about – safely?  
All this coincided with a virtual shut-down of the property market preventing "in person" viewings and a rapidly growing demand for online property viewing videos. 
Documentary film professional, Emily, saw the opportunity and the two approached market leading estate agency, Wilkinson Grant & Co (yes, there is a connection!) with an offer to produce high quality narrated "walk – around" property videos, exclusively for the company's clients.
Almost a year later, with the videos attracting over 20,000 online views and hundreds of very satisfied clients, the venture has been a tremendous success according to agency principal, Roger Wilkinson: "The re-opening of the property market after 'Lockdown One' saw a massive surge in online property viewings, a trend that is now set to be a permanent and important feature of property marketing going forward.
"Whilst many agents have chosen to create their own, the team were delighted when Georgia and Emily showed us the quality of video they could produce."
Emily recounted her own story: "In 2019, Iain and I spent seven weeks living and working remotely in Chamonix. A stop-gap between London, where we worked for eleven years and moving back down to Exeter (our home town).
"We absolutely loved it and had grand ideas to spend another couple of months in the French Alps last year (with me picking up odd TV contracts), but obviously COVID had other ideas. 
"I was sad for Georgia that her travels had to be cut short, but excited by the novelty of living together as adults (Georgia was 11 when I last lived at home). We spent a lot of time discussing future life plans, doing lots of exercise video classes and cooking and baking far too much.
"Initially, I was working part-time at a local cafe and Georgia was picking up odd bits of work whilst doing online courses. When it started becoming apparent that hospitality would be out of action for some time, I knew I'd have to get to thinking what else I could turn my focus to. 
"I always keep my eye on what's coming-up in the property market in Exeter and I had seen some videos being uploaded....some OK, but many just not worthwhile. Cue shots of old carpets, curved walls and camera sways, making you feel dizzy! And some of the "agents speak" voice-overs ...who talks like that in real life?
"If they were to stand-out , we knew our videos had to be authentic, interesting and engaging. So, we practiced and practiced. Who knows, we might even post some of our early "out-takes" – they are hilarious!
"We were a little cautious at first. We knew the most important issue was health and safety – but once we realised how careful the agency was on strictly following government guidelines, it quickly became clear that insisting first viewings are online is an essential part of that process.
"After some chats with the agents at Wilkinson Grant, Georgia and I got straight to making calls to clients, stocking up on PPE and getting out to film houses (a nice change of scenery!).
"Since then, we have filmed over 300 properties for Wilkinson Grant and we've been both surprised and very pleased at just how well they have been received. We are learning all the time and look forward to continuing and making them even better!"
"It's been fun," says Psychology graduate, Georgia. "Being able to get out, meet new people and filming lots of beautiful homes has been great. Maybe not so much the hours of editing - but we are very proud of the results we have achieved and it has been really satisfying to get such lovely feedback from clients.
"Several have said that they instructed Wilkinson Grant because of the quality of our videos – and having seen what we do, some property developers, student accommodation providers and Air B&B  landlords have commissioned us to shoot their portfolios.
"It's not exactly how I had expected to spend my past year - having started 2020 in South America with no return flight booked - but it is a great alternative.
"The income and flexibility of the job has enabled me to buy and start converting my own camper van - which I am very much looking forward to using when we can all travel again. But I don't plan to stop filming - although unexpected, this job has been a highlight of the year for us - it's fun work and how many people get to have their sister as a colleague!"  
If you would like Emily and Georgia to video your property call Wilkinson Grant & Co on 01392 427500 or email exeter@wilkinsongrant.co.uk