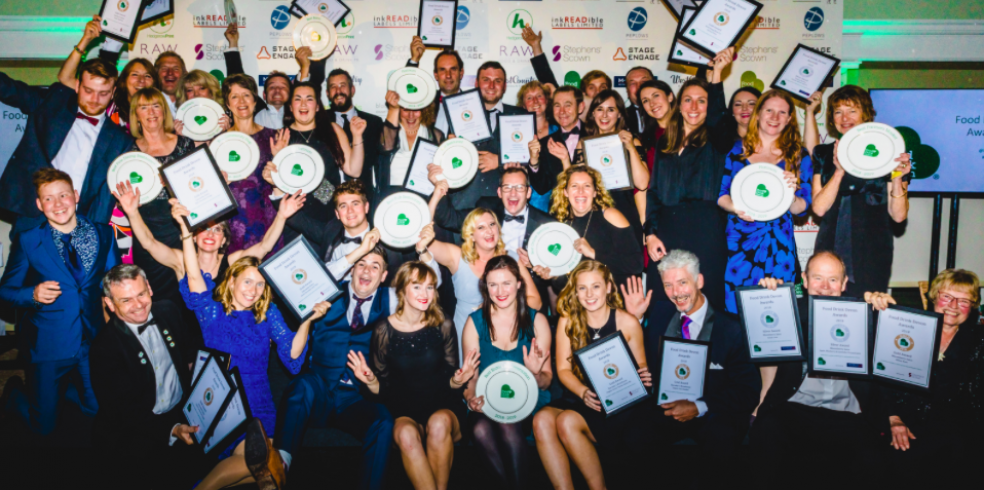 Winners of esteemed Food Drink Devon Awards announced
Devon is truly magnificent. At last night's annual Food Drink Devon Awards the pinnacle of the county's food and drink producers, hospitality businesses and speciality retailers celebrated in fantastic style at the Highbullen Hotel Golf & Country Club. The ceremony was hosted, for the fourth year running, by food and drink broadcaster Nigel Barden.
There was fierce competition in the 'Taste of Devon Producer Awards'. In the coveted 'Best Producer' Award, Hanlons Brewery was announced the winner with Otter Vale Products claiming the 'Best Brand' Award.
The 'Best Retailer' Award went to G.T Orsman Butchers, whilst the 'Best Online Retailer' was awarded to Pretty Local and in a new category for this year the 'Best Community Shop' went to Broadhempston Community Shop.
'Best Training School' went to The Husbandry School and Cullompton Farmers Market was named 'Best Farmers Market', with judges' comments highlighting 'a busy market with a great atmosphere'.
Our judges blind tasted over 250 products in the 'Taste of Devon' Awards. There were four products which really stood out, achieving a faultless score of 100% and receiving 'Platinum' Awards. These were Chocolate Heaven Made in Devon's Dark Chocolate Lemon & Thyme Sea Salt Truffle, Figgy's Christmas Puddings' Luxury Handmade Christmas Pudding, Foxcombe Bakehouse's  Gluten Free Chocolate Orange Oat Crunchie and Sharpham Wine & Cheese's Cremet. A further forty nine products achieved a score of 90-99% and gained 'Gold' Awards and a further thirty nine obtained Silver Awards after scoring 85-89%.
Barbara King, chair of Food Drink Devon, comments: "I've been so impressed with the quality of the entrants to the awards.  It is a fantastic reflection of the high standard of what's on offer in the county.  The Awards this year received over 250 product entries, 25 entries in the 'Retail' Awards and 70 entries in the 'Hospitality' Awards, showing the strength and depth of food and drink in Devon." 
Barbara continues: "The local community here in Devon takes such pride in what it produces. It is fiercely patriotic about the West Country and the county's hospitality and retail businesses strive to support these local producers.  Both the producers and the industry on the whole have exacting standards which is matched with a high level of entrepreneurialism, innovation and hard work, helping to create an environment which produces the very best.  Devon is lucky too because the climate and the nutritional values within the soil makes this a superb county for growing, rearing and producing food."
On a final note, Barbara adds: "As an organisation, we have a moral duty to promote Devon businesses and produce beyond our borders.  We're very proud of what we do and are now strongly building awareness and recognition across the UK and further afield."
In the 'Casual Dining' Awards The Grove Inn in Umberleigh was the proud winner of the 'Best Pub' Award'.  The 'Best Bistro' Award went to The Pig & Pallet in Topsham and Home Farm Café in Bovey Tracey the 'Best Café' category.  
This year's highly prestigious 'Best Fine Dining Restaurant' was awarded to The Salutation Inn, with judges commenting that 'the beautifully presented dishes demonstrated a clear love of food, all cooked to perfection'.
Celebrating the best of fine dining other 'Formal Dining' Awards went to the exceptional Fig Tree @ 36 in Plymouth who won the highly sought after 'Best Restaurant' Award, the contemporary and boutique South Sands Hotel near Salcombe triumphed as the 'Best Hotel Restaurant' and the Night Jar Inn in Aylesbeare was victorious in the 'Best Pub Restaurant' category.
Commenting on the Awards, food and drink broadcaster Nigel Barden, says: "I'm a huge fan of Devon and am thrilled to be involved with the Food Drink Devon Awards".  He continues: "The county is full of talented, enthusiastic and passionate food and drink producers, gifted chefs and focused retailers.  It has so much to offer both those living in the region and visitors from further afield.  These awards are a credit to all those who have entered and to the organisation itself."
Kind sponsors of this year's Awards include Stephens Scown Solicitors, Peplows Chartered Accountants, RAW Food & Drink PR, M.C Kelly, Black & White Asset Finance, West Country Fruit Sales, exclusive media sponsor Taste Buds and print sponsors Inkreadible Labels and Hedgerow Print.
For more information on Food Drink Devon and to sign up for our monthly newsletters featuring events, offers and  competitions, please visit www.fooddrinkdevon.co.uk and follow @FoodDrinkDevon on Twitter, Facebook & Instagram.  Food Drink Devon represents a membership of like-minded businesses, dedicated to providing good quality local food and drink and works tirelessly to increase the county's profile, both nationally and internationally.