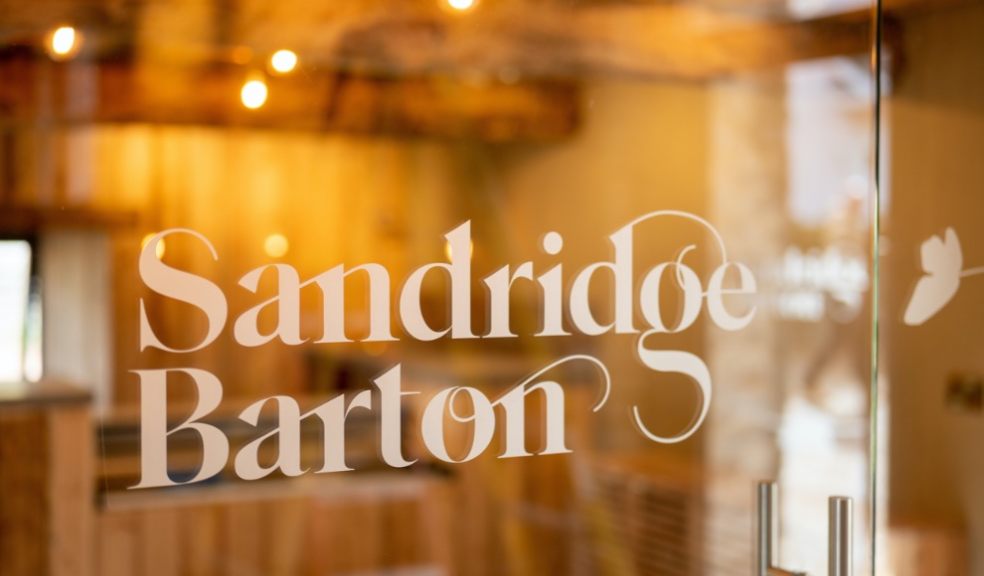 Sandridge Barton unveils new destination to tourism leaders
Tourist leaders and providers in Devon have been given a sneak-preview of a major new visitor attraction which, when it opens in June, should help reaffirm the county's position on the nation's food map. 
The new Sandridge Barton winery and visitor centre, set among the rolling hills between Torbay and the River Dart, is expected to attract thousands of keen wine-lovers and foodies a year. The Sandridge Barton Estate is the new home of award-winning Sharpham Wine, and is centred on acres of new vineyards located on the east bank of the Dart, as opposed to the west bank where the winemakers were based for 40 years. 
CEO and head winemaker of Sandridge Barton, Duncan Schwab, told some 50 guests from the region's tourist industry: "We are excited to welcome visitors to our new home. In the past, when we were positioned on the Sharpham Estate, we had around 20,000 people a year visit us and we expect a similar number of visitors at Sandridge Barton.  
"With the investment in the new tanks, barrels and other vital pieces of winemaking equipment, we are anticipating an excellent showcase of wines this year, amongst the very best produced here in England," Duncan continued.
Sally Everton, director of Visit Devon, commented: "A new visitor attraction like this will really help to pull a new audience to the county. Foodies and wine lovers will love the opportunity of being able to experience seeing how English wine is made, a leisurely wander through the vineyards growing in beautiful Devon countryside and sampling the end product as well as enjoying some wonderful local food and drink in such relaxed surroundings. With excellent local producers, Devon's food and drink is renowned for being outstanding, Sandridge Barton is a very welcome and unique addition.
This was echoed by John Sheaves, CEO of Taste of the West: "This new vineyard and visitor centre will not only help to put Westcountry wine on the map - a centre of excellence such as this will act as a great ambassador for the whole region's food and drink offering."
A fact which was applauded by Kath Hope, speaking on behalf of Food Drink Devon: "The ambition here at Sandridge Barton to make both world-beating white and red wines is well known. Now this amazing new winery supplies the world with bricks-and-mortar proof that this very impressive ambition really is beginning to happen. 
"Sharpham Wine has already won major international awards - now, with the planting of thousands of new vines and the building of Sandridge Barton's impressive new centre, we can only wait to see to what heights these Devon wine-makers will climb. The new centre and winery really does help underline the top-billing Devon already enjoys on the British food map."
From June, Sandridge Barton will host a range of experiences including guided and self-guided tastings, giving visitors the opportunity to learn about the different grape varieties grown on site and the techniques used in the winery to craft each style of wine. There are walking trails through the estate and vineyards to explore as well as the opportunity to enjoy wines by the glass in the gallery bar or lunch in the courtyard. There will also be a shop stocking the full range of wines as well as Sharpham Dairy cheeses and other local produce to take home.
The new on-site restaurant will be run by Devon-based company, Circa, which has designed a menu that showcases the world-class produce the area has to offer. From South Devon beef reared on the wider estate to hand-dived scallops and crab landed at Brixham, the best local and seasonal produce will be served both inside the restaurant and on the south-facing sun terrace outdoors. 
"The visitor centre and restaurant will put us on the map as the must-visit destination this summer," said Duncan Schwab. "We are really looking forward to sharing this new experience with guests from around the country and further afield."
To keep up to date with news and developments 'like' Sandridge Barton Wines on Facebook, 'follow' Sandridge Barton Wines on Instagram or Sandridge Barton (the home of Sharpham Wines) on Twitter or visit www.sandridgebarton.com.