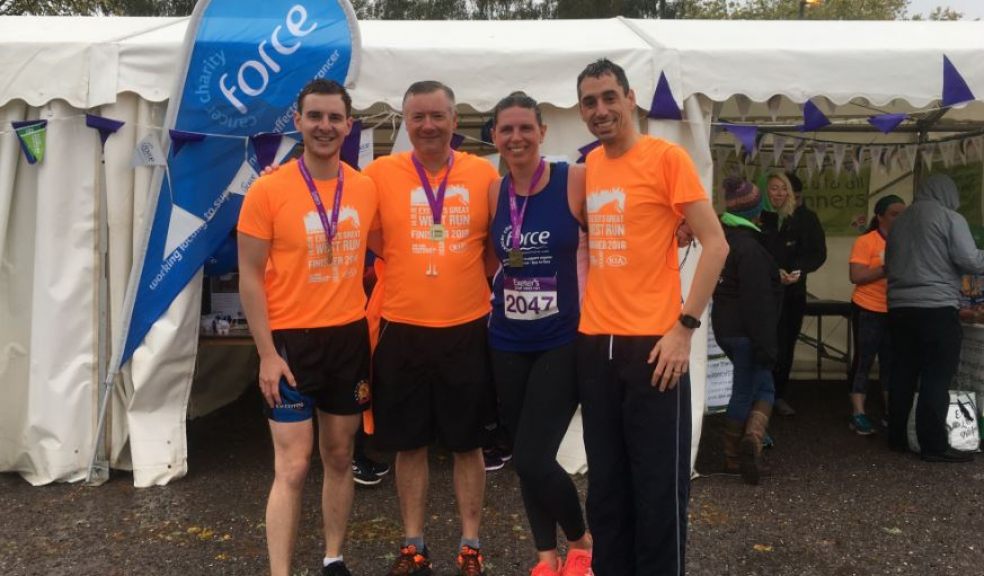 Staff from Old Mill raise over £2,600 running the Great West Run
Three staff from Exeter based accountants and financial planners Old Mill ran the Great West run on Sunday to raise funds for FORCE.
Stuart Coombe, Kim Barnard and Simon Cole have raised over £2,600 by taking on the Exeter half marathon in memory of their colleague Nick Baker, who sadly lost his battle with cancer in 2016.
FORCE is an Exeter based cancer charity that has been funding research and buying equipment to improve patient care since 1987.
FORCE also runs a cancer support and information centre in the grounds of the Royal Devon & Exeter Hospital to offer cancer sufferers, and their families, physical, emotional, psychological and practical support. The charity was a great support to Nick and his family, which is why FORCE is Old Mill Exeter's chosen charity.
Simon was joined by his son Matthew who was also running as part of the Old Mill team. They had very personal reasons to raise funds for FORCE. Simon's brother sadly died as a result of a melanoma on Boxing Day last year, and his family received support from FORCE, so they have both seen first-hand what enormous relief FORCE brings at such a difficult period in people's lives.
Oly Watts, Fundraising Development Officer at FORCE Cancer Charity says "Despite the rain we were incredibly lucky to have so many supporters running for FORCE at this year's Great West Run. Already Old Mill have helped raise a staggering amount which has helped contribute to an overall total of just under £12,000 so far. FORCE Cancer Charity relies entirely on voluntary contributions to keep the support and services we offer available to anyone affected by cancer and we can't thank Old Mill enough for their huge support."
Stuart Coombe, who organised the Old Mill effort said: "Cancer is the scourge of the modern era but the amazing people at FORCE do truly fantastic work to provide equipment and support to those in the local area. To raise a significant amount for FORCE we wanted to do something far outside of our comfort zone. It was a real challenge for the three of us and we are so proud to have completed it, especially in what can only be described as appalling weather conditions!"
Stuart concludes: "Initially we had hoped to raise £500 and we are delighted to have surpassed that target, and would now like to try and reach £3,000. There is still time to sponsor us; to donate visit https://uk.virginmoneygiving.com/Team/OldMillAccountantsandFinancialPlan... "