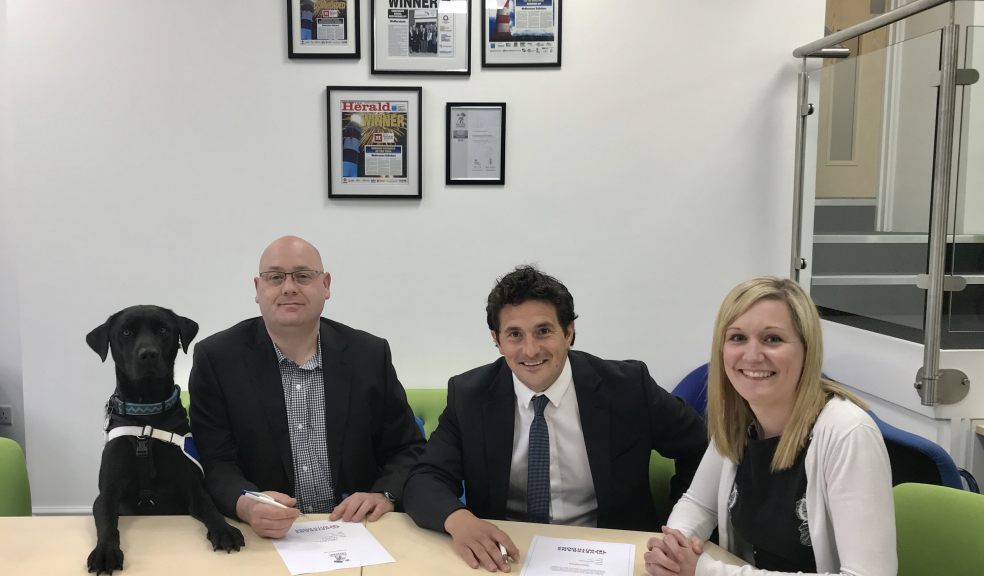 Devon-based Veterans with Dogs commits to Armed Forces Covenant
Local Devon-based charity, Veterans With Dogs, has signed the Armed Forces Covenant, witnessed by Johnny Mercer, MP for Plymouth Moor View.
The Armed Forces Covenant focusses on helping members of the armed forces community have the same access to government and commercial services and products as any other citizen.
Veterans With Dogs is the first UK registered charity to train dogs to increase independence for the British ex-servicemen and women with "invisible injuries" such as PTSD. The charity's aim is to improve the quality of life for veterans through the companionship of dogs by providing training, education and support services including, but not limited to, Assistance Dogs, companion animals and pets.
Mr Mercer, MP for Plymouth Moor View since 2015, is a former member of the Royal Artillery and served three tours in Afghanistan. Upon entering Parliament, in his maiden speech, he described improving provisions for mental health and war veterans as one of his "main missions".
Speaking of the Covenant signing, Mr Mercer said:
"Everyone knows I am a passionate campaigner for mental health support for veterans, so I was absolutely delighted to hear about local charity Veterans With Dogs and the extremely important work that it does. To have such a dedicated small team make such a huge difference to the lives of veterans is humbling which is why I was pleased to witness their signing of the Armed Forces Covenant."
Craig MacLellan, founder of Veterans With Dogs commented: "Everything that we do at the charity is focused on supporting veterans with PTSD to live as normal a life as possible which is why it makes perfect sense for us to sign the Covenant. Veterans, and their dogs, are and will continue to be our number one priority."
Since the charity was established in 2012, it has worked with over 90 veterans and helped in making a positive impact in their lives, sometimes profoundly, through the benefits of dog companionship and assistance dogs.
In December 2017, the charity received the Armed Forces Support Award at The Sun Milly Awards, an event attended by the Prime Minster, celebrities and dignitaries.