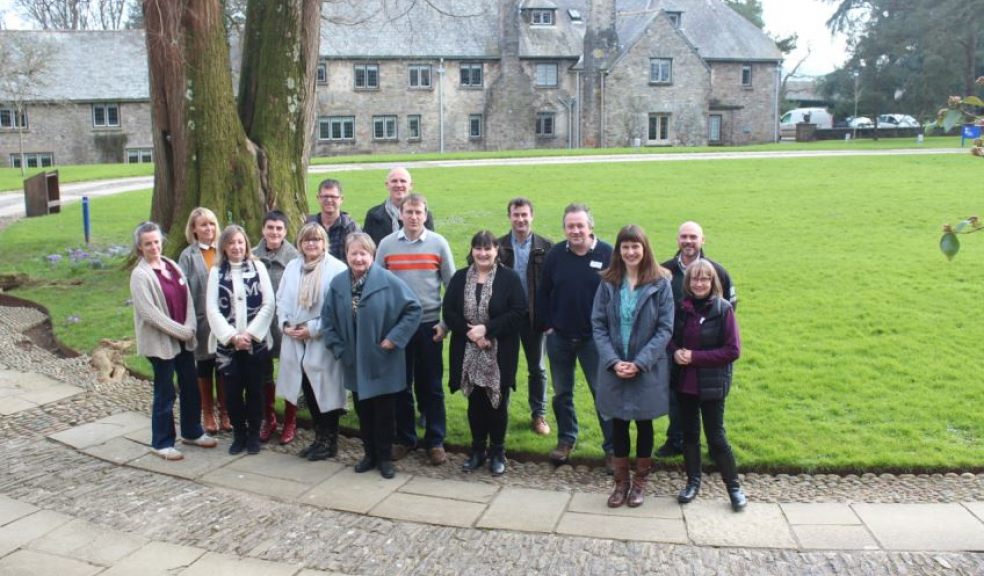 Seedbed celebrates first anniversary
A major investment fund which has helped dozens of South West social ventures to grow and flourish has celebrated its first anniversary with a special reception in the region.
The £1.2 million Seedbed accelerator programme has already supported 30 social ventures, including Exeter Community Initiative; Dontsendmeacard.com, Exeter and the Tanglewood Project, near Tiverton, with many more about to benefit from its exciting opportunities in 2016.
The success of these ventures has been celebrated at a special reception at Devon's Dartington Hall, where Seedbed recruits both past and present came together to share their achievements.
Dirk Rohwedder, Seedbed director, said: "To have been able to help so many social ventures with business support and affordable loans has been incredible. This last year has seen the development of some fantastic ideas, projects and products and we're looking forward to seeing how these grow and develop over the next few months.
"This year's ventures are another group of talented and hardworking entrepreneurs that I'm sure will benefit hugely from being on the Seedbed programme and having access to the Seedbed Loan Fund. We're looking forward to seeing the end results of this cohort and will continue to follow the ventures on their journey."
Seedbed is one of ten projects in the UK funded by the Cabinet Office-backed Social Incubator Fund, providing access to thousands of pounds of investment in the form of affordable loans, business coaching and action learning to help them expand and fulfil their potential.
The second year of the programme is now underway, with ventures from across the South West enrolled on a cutting-edge support package that is designed to help them grow, create sustainable jobs and contribute to the local economy and community.
Those enrolled onto the 2016 programme include Authentis Vocational Services LLP, Paignton;  Nature Workshops, Redruth; Counsellors Southwest CIC, Tavistock; Bunch and Blossom, Redruth; Moving Conflicts, Totnes; Inspire Cornwall CIC; North East Dartmoor Care (NED Care), Dartmoor; ETE Live Learning, Plymouth; Weheartfamily, Totnes; The Ocean Corner, Plymouth; RJWorking CIC, Redruth; Living Memories, Launceston; The Bristol Fish Project; MBS Farming Ltd; IfEveryoneCares CIC and The Family Law Panel.
Over the coming weeks these entrepreneurs will have access to one-to-one coaching, group workshops, business review panels, online support, legal and financial advice and the opportunity to meet other successful entrepreneurs.
During the foundation stage, the social enterprises will also be supported in applying for loans ranging from £4,000 to £40,000 to assist their development.
Each participant will put forward an investment proposal, with the possibility of progressing onto the Growth Stage of the programme, which Seedbed will begin recruiting for in April.
Jaki Bent, of IfEveryoneCares CIC, an online resource that connects people and communities, said: "Seedbed accelerator is going to take us to the next stage, to allow us to help even more people for a greater impact."
Julia Darby, of North East Dartmoor Care (NED Care), Dartmoor, is delighted to be part of the 2016 programme.
"The Seedbed accelerator programme is a supportive group of people with the skills and space to tackle business challenges," she said.
Mariana Lopez of The Ocean Corner, Plymouth, said Seedbed would support its work to protect the world's oceans.
"Connecting knowledge and people around the world will help to protect the ocean environment and its communities," she said.
Bob Greig, of The Family Law Panel, said: "The potential behind our social enterprise is real; we need Seedbed to take us to the next level."
Places on the Seedbed programme are free due to joint investment by the Big Lottery's Social Incubator Fund and project partners Dartington Hall Trust, Plymouth University and South West Investment Group.
Seedbed is currently recruiting social ventures for the Growth Stage, the second stage of the 2016 programme. Running from May to October 2016, the Growth Stage will mark a significant step change in business development. The nature of support work will change to reflect this, allowing ventures to feel comfortable that their venture will receive consistent and intensive support, while integrating their investment.
Applications for the Growth Stage must be made by 5pm on Friday 29th April 2016.  For more information about the Seedbed programme and to find out how to apply, visit www.seedbedenterprise.co.uk.