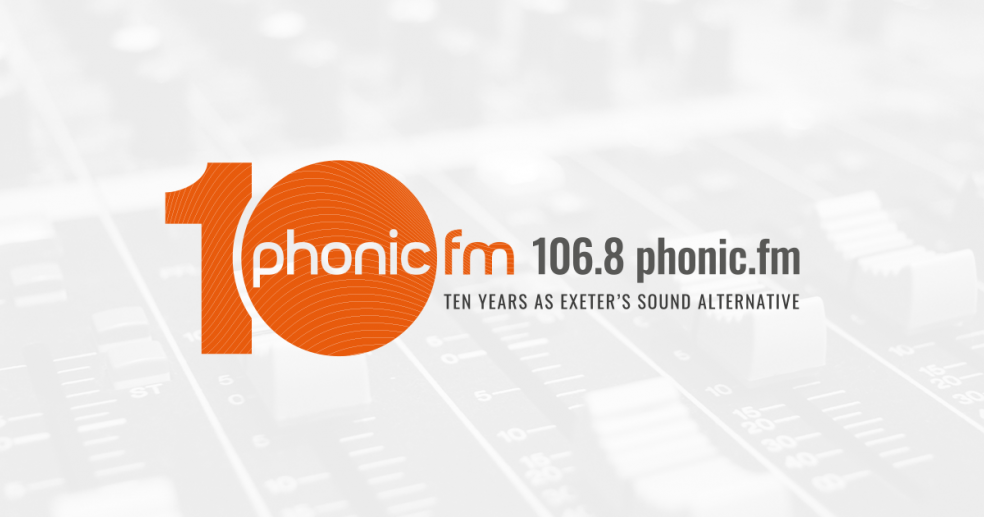 Phonic FM seeks a freelance Business Development Manager
Phonic FM is Exeter's community radio station. Broadcasting across Exeter since 2008, it provides a locally-rooted alternative to mainstream radio, on FM and online.
Staffed and funded by around 70 volunteer members (representing a diverse mix of backgrounds, cultures and musical preferences), it aims to support the arts – in the widest sense – in and around the city. The core offering of music is augmented by programmes featuring film, theatre, art (both visual and sonic) and more besides. Phonic FM has supported countless local artists of every type and genre – many of whom have gone on to achieve national recognition.
Exeter Community Radio (ECR), the non-for-profit company behind Phonic FM, is now looking to build on the success of its first decade and ensure the station is as relevant and accessible as possible, ready for the challenges and opportunities that will arise for community broadcasters in the coming years.
ECR has secured funding for the recruitment of a freelance Business Development Manager. It is seeking a friendly, professional and pro-active individual to help plan for its future, increase its income and develop its output. The objectives for the role are:
Create a solid plan for future development
Increase the organisation's income
Provide more (and better) opportunities for people to express themselves and develop their skills
Take Phonic FM to a wider audience
Knowledge of broadcasting is not required.
This role is offered on a freelance basis. It is funded for one year, with the post-holder to be paid monthly in arrears on receipt of an invoice for hours worked. The total fee will be £13,500, based on 17.5 hours per week (£27,000 full-time equivalent).
Exeter Community Radio works with young people and vulnerable adults. Satisfactory references and a DBS report will be required.
For more information, please see the Phonic FM website: http://phonic.fm/2018/phonic-fm-seeks-a-freelance-business-development-manager/
Please apply with a CV (including details of two referees) and a supporting letter, by email to info@phonic.fm. You can also use that email address for any questions you might have about the role.
The deadline for application submissions is 16 September 2018. Selected candidates will be invited to meet ECR's directors and discuss the role during the week commencing 24 September 2018.
This role has been funded by the Department for Digital, Culture, Media & Sport through the Community Radio Fund, awarded by Ofcom, the communications regulator.