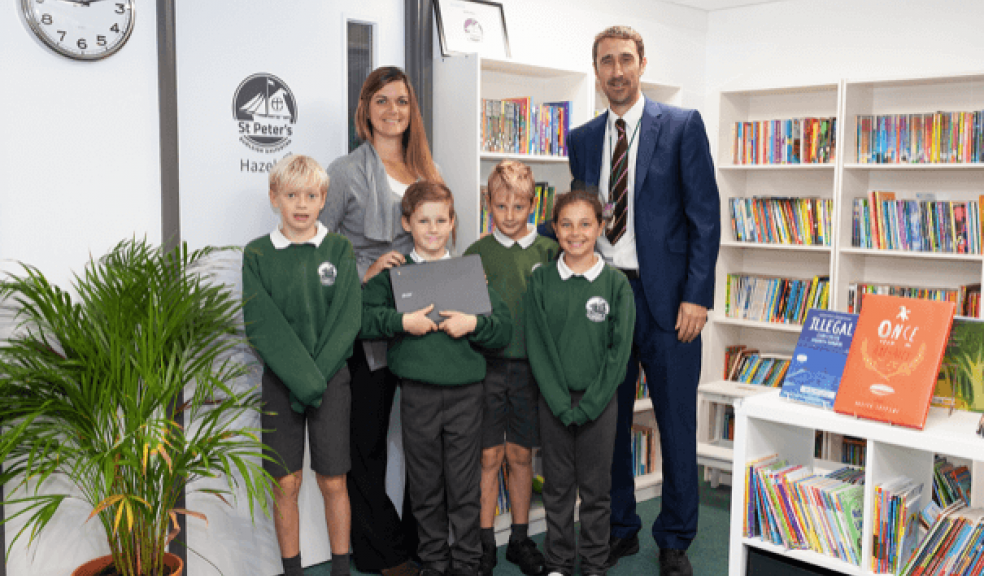 Nexus Open Systems celebrates milestone 20th anniversary with 20 days of giving back to the community
This November Nexus Open Systems Ltd is delighted to celebrate its 20th anniversary as a national IT solutions and service provider. Nexus was founded in 1998 with the aim of providing expert IT solutions and services for business across the South West.
To mark the occasion, Nexus will be hosting 20 events to give back to the local community who has supported their growth over the years, kicking off with an IT hardware donation at St. Peters School in Budleigh on Friday 12th October.
Over the past 20 years there have been many changes in how we work and communicate, with the relentless and increasing pace of innovations across such a wide variety of technology subjects. Enterprise technology is becoming ever more sophisticated, ensuring that the IT landscape is a very dynamic one.
Part of Nexus' success in the past two decades is undoubtedly its ability to evolve with the changing digital landscape, remaining at the forefront of the latest trends and empowering businesses with more efficient IT solutions. From cutting-edge Managed Services to training courses and cloud-based services, Nexus enable businesses to maximise their effective use of technology.
Now in 2018 the company, which operates from Exeter, counts over 1000 clients locally and nationally across a range of sectors including the public sector, education, professional services and local and central government.
The Nexus team includes over 50 experienced technicians and skilled sales personnel to service its impressive growing client base. Some of their local customers include renowned organisations and institutions from the Met Office to the University of Exeter, Flybe and Devon and Cornwall Police.
This year Nexus also celebrated its acceptance on G-Cloud 10, marking the fifth year running since Nexus was first certified as a Government supplier for cloud solutions and services. Such accreditation is a testament to the company's extensive experience and national reputation as an IT provider.
By way of thanks to the local South West community who has supported Nexus, the team is celebrating with a variety of volunteering and fundraising events, donation days and clean-up events throughout October and November*. Amongst breakfasts and beach clean-ups, the team will be donating IT hardware, training vouchers, books, toys, food, and volunteering work to local schools, hospices and charities.
As Nexus look ahead to 2019 the company is excited for further growth and expansion with new hires and further clients wins across the UK.
Stuart Wilson, Managing Director of Nexus, said: "We are very proud to celebrate this milestone. During these last 20 years, our undying passion for technology, the skills of our people and our culture of continuous improvement have been the force behind our constant efforts to invest heavily in new capabilities and innovations for our clients.
"Our ambition is to continue to follow this path and, through exceptional technical and commercial expertise, build closer, long-lasting relationships with our clients and strengthen our position as IT Experts, supporting our aspiration to be one of the most trusted IT solution providers in the UK. We're excited to be giving back to the local Devon community who've helped us grow into the business we are today". Concluded Wilson.
*Nexus Open Systems 20 days of giving back events schedule:
Friday 12th October - St Peters School Budleigh – IT hardware donation
Monday 15th October- Children's Charity Paid Day out
Tuesday 16th October- Oxfam Book donation-
Wednesday 17th October-  Fearn Sanctuary staff volunteering
Thursday 18th October-  Bear Trail sponsored team building
Friday 19th October- Dawlish Warren Beach Clean
Monday 22nd October- Bramble Ward toy Donation
Monday 22nd Monday 29th  October- Training course Vouchers Giveaway
Tuesday 23rd October- Rowcroft Hospice IT hardware donation
Wednesday 24th October- Sponsored Bike ride to Work Rowcroft
Wednesday 24th October- Breakfast for the Homeless staff volunteering
Monday 29th October- Age Concern
Tuesday 30th October- Woodbury Common Clean
Wednesday 31st October- Cranbrook Clean Up
Thursday 1st November & Monday 5th November- Cats Protection staff volunteering
Monday 5th November- Exeter Foodbank Donation
Tuesday 6th November- Dawlish Westcliff academy IT hardware donation
Wednesday 7th November- FORCE cancer charity IT hardware donation
Thursday 8th November- Rowcroft DVD Players and games.