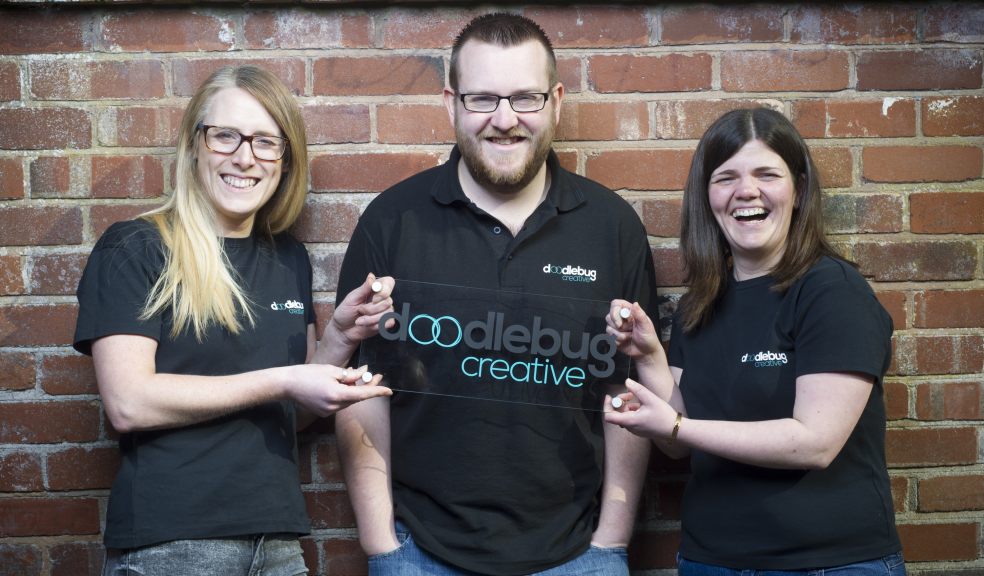 Doodlebug Creative welcomes new director
Doodlebug Creative Ltd based in Ebford, near Exeter are excited to announce news of their new Director Beci Boxall. The addition marks yet another milestone in the company's rapid growth during the last 12 months.
Managing Director Zoe Gill said 'We'd been working with Beci for some time before she joined the team in January this year, with her wealth of skills and experience it felt like a natural step that she should join Ben and myself as Directors'.
Doodlebug Creative and Boxall Graphic Design had been working in offices that were side by side for the best part of a year, following increased collaboration projects the first step was to remove the wall between offices to bring working relationships even closer and literally remove physical barriers. Following that and the addition of two new staff members in October and November 2015 Beci joined the fast growing business Doodlebug Creative in January as a team member.
Beci Boxall, newly appointed Creative Director at Doodlebug said 'It's great to join Zoe and Ben as a Director at Doodlebug, our ethos, approach and attitude to our work are so closely aligned it was a no-brainer when they approached me about the role. It's exciting times at Doodlebug and I'm over the moon to be a part of it'.
Doodlebug Creative Ltd started in March 2014 and has achieved rapid growth since then. The last 6 months alone have seen; the team more than double in size, customer base growth and a re-brand to celebrate their second birthday.
Zoe Gill says 'We're so proud of what the whole team has achieved, it's great to be a part of the successful business community in Exeter. We're all really excited about the next Doodlebug chapter.'