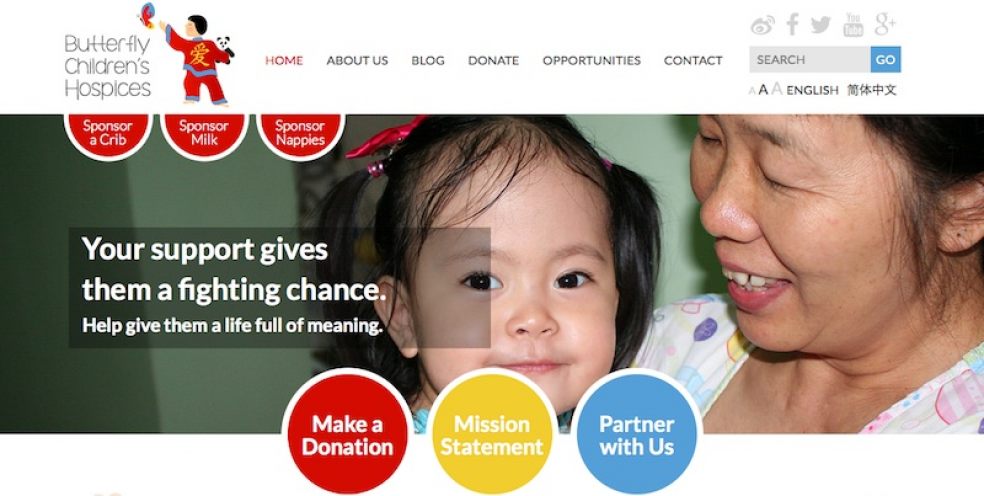 Beautiful new website for Exeter-based charity
Butterfly Children's Hospices, an international children's charity based in Exeter, have recently launched a beautiful new website in partnership with Exeter web design agency SwankyApple.
Founded by Lyn and Alan Gould, who had experienced first-hand the desperate hardship faced by Chinese children born with life-threatening illnesses, the charity provide care and support for children and their families.
Having introduced China's first palliative care service, Butterfly Children's Hospices have experienced significant growth. In 2010 work began with the Chinese government to provide care and treatment for orphaned and abandoned children. The success of the Butterfly Home quickly led to a second hospice being opened in Nanjing in 2013.
The rapid expansion of Butterfly Children's Hospices soon meant that a new website and branding package were required. This would meet the challenge of continuing to connect with supporters, volunteers and staff, whilst also communicating the charity's growing advocacy role in China and further afield.
Having worked with local charities including Exeter YMCA, Exeter Foodbank and St Petrock's, web design agency SwankyApple were commissioned to design and develop a new website and branding package.
The brief was to produce a multicultural, multilingual website that would reflect Butterfly Children's Hospices' international expansion and highest quality practice.
The site needed to be embedded in Chinese culture in order to connect with Chinese doctors, medical professionals and policy makers. It also required a fast, responsive design that would help to facilitate readership and donations from international supporters.
The new website was launched in late-2014 and has already received very positive feedback from users.
"Our new website has been instrumental in reaching new donors, supporters and the media", said Lyn Gould, Co-Founder and CEO of Butterfly Children's Hospices.
"It marks a milestone in our global development plan - the more people who know about us, the more families and children we can help."
SwankyApple Director Dan McIvor added: "It was such a pleasure to work with BCH and their passionate, talented team. This was an exciting project for us – incorporating the idiosyncrasies of Chinese design certain posed a unique challenge! We love working with charities and look forward to continuing to support BCH in achieving their ambitious goals."
You can visit the new Butterfly Children's Hospices website at www.butterflych.org and find more about SwankyApple at www.swankyapple.com.