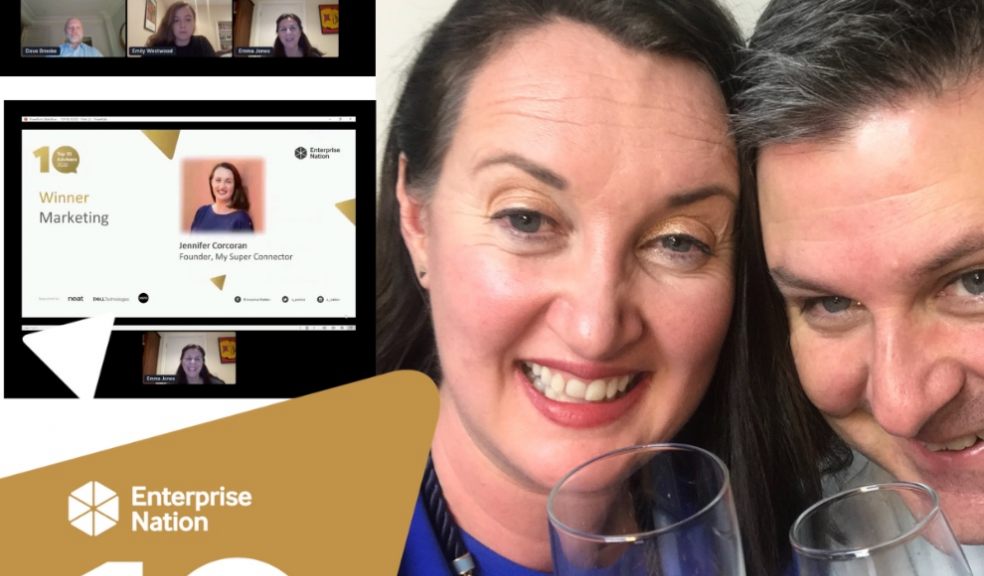 Devon small business mentor wins Enterprise Nation's 2020 Top 10 Advisers Award
Marketing expert Jennifer Corcoran, founder of My Super Connector based in Shaldon, Devon, has been crowned one of the UK's Top 10 advisers for the support she provides to small businesses and entrepreneurs to help them build their LinkedIn profile.
The virtual awards ceremony, which announced the winners of the Enterprise Nation Top 50 Advisers competition, across a range of professional disciplines such as legal, finance and funding, technology, HR, PR and marketing and a special 'Above & Beyond' category – took place on the evening of 25th November.
Jennifer, was picked from hundreds of advisers from up and down the UK, nominated for the behind-the-scenes guidance they have given to local entrepreneurs and small businesses, helping them navigate the challenges and opportunities they have faced during 2020 – not least Covid; for many, this professional advice has made the difference between their business surviving, or thriving.
The 46-year old social media expert founded her consultancy and training business My Super Connector in 2017, focused on helping entrepreneurs and executives to excel on LinkedIn.
"LinkedIn is the best platform to initiate connection amongst professionals and yet it's often under-used by those who need it the most" Jennifer said. "I help entrepreneurs and executives get more confident on LinkedIn by teaching them, on a one-to-one basis, how to optimise their profile and connect with authenticity. Essentially, I give them the confidence to leverage their professional profile and reputation and build a solid network, which can lead to a better job or alternatively more clients, collaboration opportunities, greater brand awareness and increased sales."  
The Covid pandemic has brought its own unique set of threats and challenges for executives and professionals including the risk of redundancy – not least for those working in businesses in the hardest hit sectors such as leisure, hospitality and retail. "This is when your LinkedIn profile can make a huge difference to your prospects – not least for networking purposes, in the absence of physical events" said Jennifer.
She relates, by way of example, how she helped a large number of Flybe employees who lost their job when the airline collapsed earlier this year.
"I'm based in Devon, near Exeter airport so wanted to help as much as I could and do something proactive. I reached out to around one thousand Flybe staff on LinkedIn over one weekend and offered them all free training. The response was overwhelming."
One of the responses came from pilot Mohammad (Mo) Jawaid. "He got in touch with me and told me that he had set up a company called 'Resilient Pilot' with several other pilots from other airlines – he asked me to become a partner and to do some workshops for the pilots, on a pro bono basis. As a result I've been helping Pilots all around the world really which has been fantastic!"
Mo said: "Jennifer helped me during what was a very difficult time. Having faced redundancy, it was important to reach out and connect with my industry, and Jennifer and My Super Connector provided some great insights into improving my LinkedIn presence to do this.  I was so impressed that I did not hesitate in recommending Jennifer to do a webinar for the Mentee's of Resilient Pilot."
Jennifer added: "If my expertise and advice can help  to increase the national level of survival in the small business sector and contribute to the wider economic recovery – especially during these particularly challenging times – then it's time well-spent not to mention professionally rewarding."
The Top 50 Adviser Awards are run by the UK's leading small businesses network Enterprise Nation – in association with Xero, Dell Technologies and Neat – and set out to highlight the work done behind the scenes by experts across nine professional disciplines, in helping Britain's army of entrepreneurs to build and grow a sustainable business.
This year also saw an additional special category: the 'Above and Beyond' award, which paid special tribute to those professionals – across all sectors – who provided free, one-to-one expert advice to SMEs to help them address the myriad challenges facing them as a result of the coronavirus epidemic, and in particular those who have given up their time for free as part of the Government-backed Recovery Advice for Business initiative.
The list of winners in the nine professional categories was compiled following a public vote on the shortlisted Top 50 SME-nominated advisers, with almost four thousand votes cast over a two-week period.
The winner of the Above and Beyond award was selected by the panel of five judges, drawn from To Market, BEIS, CMI and the Advertising Association, alongside Emma Jones.
Collecting the award, Jennifer said: "I'm honoured to be a Top 10 Adviser and am elated that LinkedIn is getting the recognition that it deserves. Too many of us feel lost when it comes to selling ourselves or our businesses online.  My vision is to empower millions of people to leverage LinkedIn to drive positive sustainable change and economic growth and I'm on a mission to get business owners tooting their horns about their fantastic services and products."   
Emma Jones, founder of Enterprise Nation said: "Business advisers are the unsung heroes behind Britain's booming small business culture and their insight and experience are needed now more than ever.

"The awards were designed to show how important their work is in action and the entries have uncovered incredible advice efforts that have helped firms pivot to keep trading.
"2020 has also seen a record increase in the number of start-ups. These fledgling businesses can greatly benefit from the expertise and support of a professional adviser, in particular during their crucial 'make-or-break' first year."